A Rutgers Business School junior studying Finance with a minor in French, Amna Khan was appointed the President of the Fashion Organization of Retail and Marketing (FORM) for the 2019-2020 school year after previously serving as the Director of Event Planning. But her campus involvement doesn't stop there – she's also a member of the Douglass Residential College and the Douglass Red Pine Ambassador Program, where she serves as a mentor for the Women's College and helps out with Model United Nations conferences across the country through the Institute for Domestic and International Affairs. Amna makes it clear through the spread of her interests that she is someone who knows what she wants, and won't stop until she gets there.
CS: Can you tell me a little bit what you do in FORM?
AK: At FORM I serve as the President. Basically we have a team of 8 really great individuals and we all work on providing networking opportunities and propelling students into getting that first step into the fashion industry, because it is such a difficult industry to break into. Our main goal is to produce as many students as we can to enter into the industry in whatever factor they want to go into – be it buying, editorial, even design. So that's kind of what we do. We're a pre-professional club.
CS: What made you want to get involved with FORM?
AK: Actually when I was deciding on colleges in high school, I knew I wanted to work in fashion and I thought I wanted to do buying. I still do, but I wasn't sure what that would really entail. I knew I had a really big interest in business and wanted to explore that in fashion, so I wasn't sure what kind of space I could explore that in at a campus like Rutgers. There was a point where I was looking at schools that were fashion schools, like FIT or Parsons, but I think I decided on Rutgers because for me Rutgers provided that business perspective. The other schools, sure they had fashion marketing programs, but the RBS had an overall finance degree. Fashion is a 2.4 trillion-dollar industry, so to be able to succeed in that industry I knew I would have to have a good knowledge of business. So I thought that coming to Rutgers would be the best option.
Then, after I realized that I wanted to explore the different avenues in fashion, because Rutgers doesn't have a fashion major or minor, I found FORM – and this was in senior year of high school that I found their blog online. Going into the involvement fair I looked out for FORM, and I was like this is an organization that I want to be a part of because it's that perfect happy medium between business and fashion. We recognize that fashion is this huge industry, and we also recognize that there are different steps that you need to take to get into fashion rather than a more traditional banking internship process. I knew I wanted to do FORM because it was the only fashion space on campus, and I thought that it being a professional club was so unique and I really wanted to just be a part of that.
CS: So when you came into to Rutgers freshman year, you just knew you wanted to be with FORM right away?
AK: I was ready. I know the first meeting was the first day of school, they're always on Tuesdays, so I was super excited. My whole family knew. I was like, "I'm going to FORM tonight, this is it!" And it was very chill, I think we had a resume building workshop for our first meeting. But the kind of people I've met – the president, the directors, they're all at Conde Nast or Bloomingdales. It's incredible, and I really think that FORM provides that kind of space and avenue for you to follow to get to positions like that. Seeing them now in these positions just makes me feel really warm and happy.
CS: And what was the position that you had held last year?
AK: Director of Event Planning. Basically I was in charge of putting on our biggest events. So we have a Fashion Career Fair in the fall, which is coming up, and we also have a big Spring Fashion Week where we have five different mini events and we conclude with a big fashion show. It's usually with local vendors and we employ student models, and it's really fun and very interactive. We also have networking sessions with different companies, Bloomingdale's came last year and Kohl's came as well.
CS: So coming up this fall you have the Fashion Career Fair, is there any other big event that you have planned for this semester?
AK: For this semester, besides our general meetings where we have a different agenda for each meeting, our biggest event is the fall Fashion Fair. We also have a company networking session that's coming down and an HQ visit. We've worked with Aerie, Tiffany & Co, and Michael Kors in the past. So about 10-15 students, anyone can sign up but it really is first come, first serve. If you sign up we all take a trip to city, and I know last year we visited Aerie's HQ and it was really cool. We sat down with the heads of the different departments and they gave us the 101 on what they did. So those are our three biggest events for the fall semester.
CS: How can someone get involved with FORM?
AK: Meetings, events, talk to me or any of the other board members. At events we're always there, so if you ever have any questions feel free to talk to us. Also we have a blog, like I said. If you send us an email to FORM and you want to be interested in writing for the blog, you can send us a submission and depending on the timing and the schedule we can post it. It's very easy to get involved, you just have to be active about it.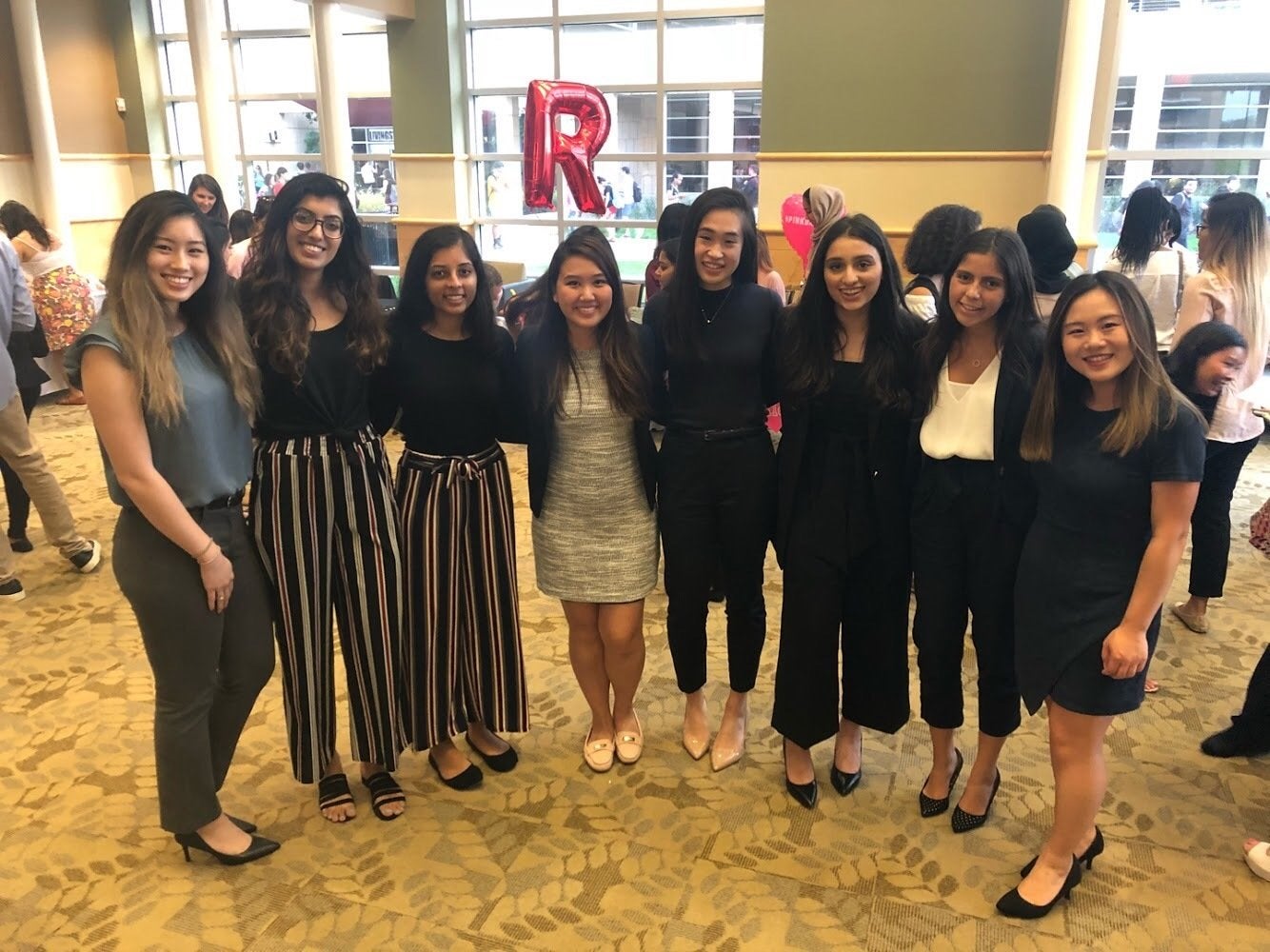 (Amna Khan)​
CS: You mentioned how a lot of your events have a very specific networking focus, or just try to build relationships with these companies, so how do those come together on your end?
AK: Basically for us, how this comes together it's usually the President working with the Director of Marketing, Director of Event Planning, and then Director of Advertising, so each person has a role. And we are really fortunate that the two former Rutgers alums who started the club a couple of years ago started building a database of connections, so that was really cool for us because we've started building relationships with different companies. With Aerie we're really tight with the talent acquisition head, Bloomingdale's as well, PVH, we have a lot of these connections that we've built in the past five years. It's been great, because I think for these companies as well they really like FORM because it is such a unique space on campus. And for a school that's so big like Rutgers, having a smaller pool of students who are interested specifically in fashion it's easier for them to recruit, and it makes it a little bit more intimate for us to be able to talk to those recruiters. For those events we have a really great relationship with a lot of these companies that helps exponentially.
CS: Can you tell me more about how you got interested in pursuing a career in the fashion industry?
AK: I grew up as an artist, so when I was little I thought I wanted to be a designer. I was always infatuated with fashion just because for me, fashion is another medium – how I would draw clothing is just like a pencil for an artist. I thought I wanted to do design for a while, up until around high school where I started exploring business and I realized the role that business plays in everyday life. I was really fascinated by how fashion is such a creative industry but there is such a level of finance behind it where the inner workings of the industry are so complex. On the outside it's very beautiful and glamorous, but on the inside it's a 2.4 trillion-dollar industry, you have to be able to manage that well. I knew I wanted to explore that avenue between business and fashion, so I thought about what kind of position I would want to do to both use my creative skills as an artist and also my analytical skills that I've garnered throughout high school and college as a Finance major. I kind of settled on buying because you do have to have a creative eye, but at the same time you have to have a good grasp of numbers and data and analytics as well. Which I think RBS provides greatly and they really hammer it in to their students. I knew that I wanted to do fashion at a young age, I just wasn't sure in what kind of retrospect I wanted to do it in, but by the time I was fifteen I was like I think buying is what I want to do.
CS: Do you have any advice for those that are trying to break into the fashion industry or think that it might be a career that they want to do?
AK: I'm still a student, so I can't provide so much advice for how to exactly break into it, but for me I think the biggest advice I could give is internships and connect with as many people as you can. People are here to help you, and I think if they see somebody who really wants something, they will be there for you, they will serve as your mentor, they will help you out. I've reached out to a bunch of people and I've never really received a response that was negative. I've been able to garner a lot of mentors in the industry and have connections in the industry, so I think just reaching out to as many people as you can and applying for internships – any sort of experience really helps. This past summer I had the opportunity to intern at Vera Wang, and that for me was incredible. I really enjoyed it, but I had applied to about 50 internships. I think it's just not losing hope, and fashion is definitely a difficult industry so you really have to want it. And if you do want it, then you will do it and you will get it. Also in terms of organizations, get involved in any space that you can even on a local level. If you don't get the internship, that's totally fine, you can get involved in any aspect of the industry. I worked retail in high school, cause for me that's pretty much all I could do and I still have that retail job now. I work at Club Monaco, which is owned by Ralph Lauren, and even though it's retail my boss has connections to the talent acquisition at Ralph Lauren corporate. Just getting that foot in any way you can is definitely the best means to eventually break in.
CS: What did you do at your internship at Vera Wang over the summer?
AK: I was in the bridal services department, and it was at the corporate headquarters. Basically I did a lot of client relations work as well as administrative work too, so I was in charge of the daily schedules for the stylists, a lot of the paperwork for the brides, and for the customers who bought ready to wear. And then for client relations I was the point person for a lot of our customers. I met a lot of the brides, a lot of their parents, and I kind of helped the stylists facilitate through a lot of concerns that the brides may have. A bride is in a very interesting point of her life so there's a lot of questions. I worked in terms of facilitating through that and making sure that the workroom is doing what they need to do, the stylist got what they got to do, and then if the bride is happy. That's kind of what I did.
CS: Had you had an interest in working with the wedding aspects of design before this?
AK: Not really. For Vera Wang, although primarily I was in the bridal services department, I did work a lot with the ready to wear department. For me it was interesting – the bridal industry is huge, so to have that kind of experience in both ready to wear, which is more typical Spring and Fall collections that we see on the runway, and bridal collections which are very different. But having the opportunity and the privilege to work at Vera Wang was really cool to see how she approached her designs, because she's not very much a traditionalist in terms of her bridal work. I would compare it to something you would see on the red carpet, a lot of it is more elaborate gowns and it's not the typical white straight-lined gown. So I was able to explore bridal, which I thought was really interesting, but I think I still prefer ready to wear. But then again any experience that you have is good experience, cause now I know what I prefer and what kind of avenues I would like to take.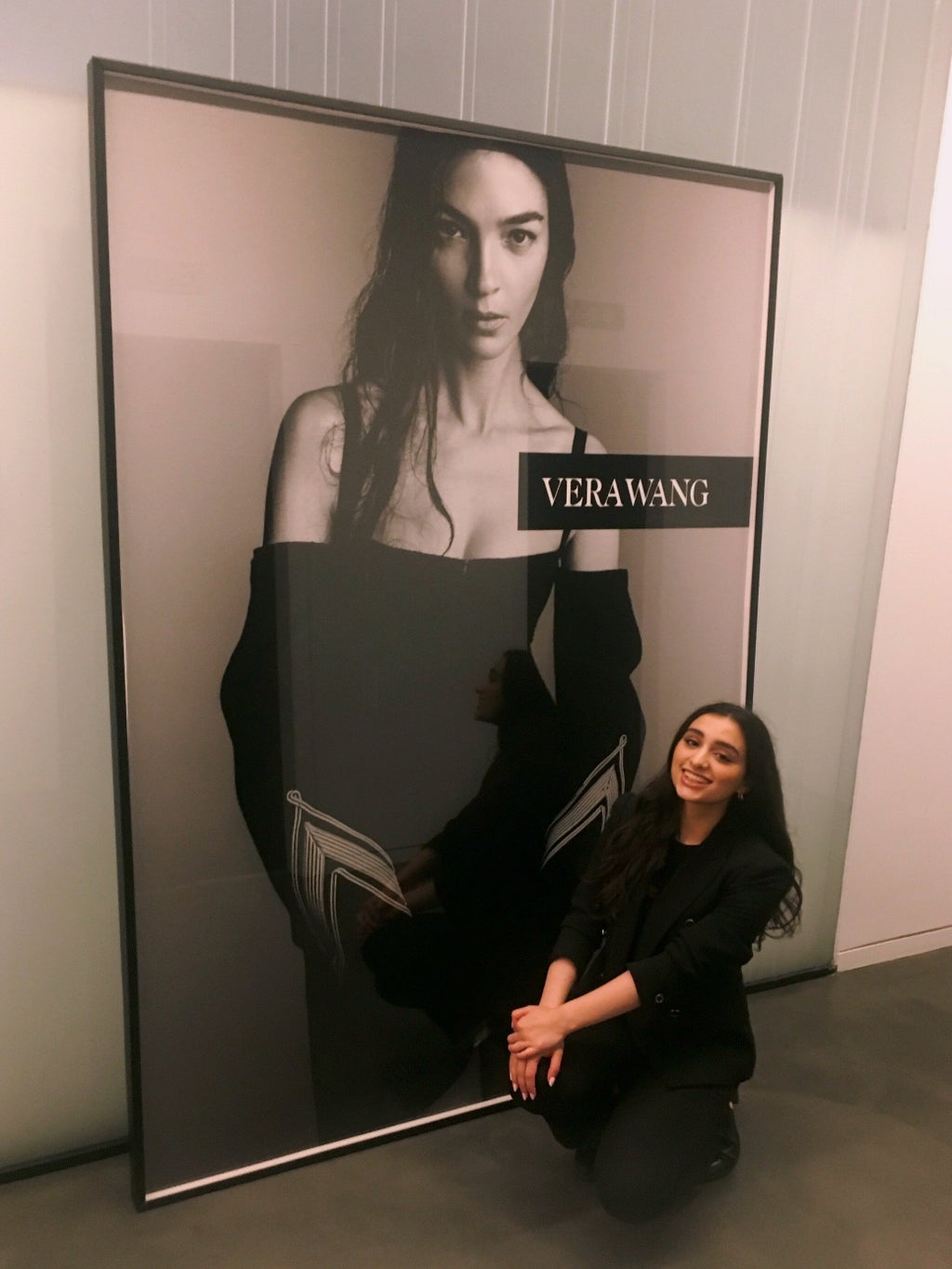 (Amna Khan)
CS: Do you have any internship plans for the future or any specific career goals before graduation?
AK: I didn't want to intern this fall because obviously academics are a priority, and I know that this fall I have a couple of classes that I need to direct my full attention to. I'm hopefully looking for an internship in the spring, and of course the summer, but fashion is different than banking or accounting because they recruit very late. I have friends who had their 2020 internships in last summer. For fashion, they recruit pretty much a month or two in advance, with the exception with a few companies. Vera Wang, they recruited a month and a half in advance. I know come October/November will be recruiting season and that's definitely when I'll head out. But I'm thinking what I would prefer is to work for another designer brand, hopefully in the spring, and then in the summer do a department store internship like Saks, Bloomingdale's or a Barney's.
CS: What are some of your favorite brands or favorite fashion trends for the fall right now?
AK: I think the color of the season is pistachio green. I see it everywhere and all of the designers are doing pistachio green, and I love it. Full leather ensembles are huge. I think leather's just a classic that people love, but leather ensembles as in leather shirts and long leather dresses. I really like Altuzarra, which is a ready to wear brand. I love Khaite, they're really cool. They're a brand that's based in New York but they've kind of erupted this fashion week and people just love them. I think for me, my style would be tailored but with feminine accents, so I like a blazer but I like it broadened at the waist. With bigger designer brands, I love a Dior moment, obviously Dior is incredible. Prada, Brandon Maxwell, Alexander McQueen. There's so many.
CS: So as a student leader on campus, how do you find time to balance running FORM, your classes and working a retail job too?
AK: I'm really fortunate that the retail job I work at, they're totally cool with me working once a week. On Friday's I don't have class so that's work day. How I balance classes and my involvement on campus, every day it's a new thing I have to deal with. I'll try to allocate days or hours, like for two hours on Tuesday during the break I have between classes I'm just focusing on FORM stuff, and then after it's homework. It's just allocating those time slots, but of course things aren't always scheduled and something might happen. We had to postpone FORM's Fashion Fair, because a couple of the companies had to attend to client meetings, so obviously there's some things that you don't plan for. I think just keeping a level head at all times, I struggle with that definitely because stress gets to you. Also giving yourself time to breathe and not do any work too, because you definitely will burnout and I've felt that before, so I definitely want to avoid that. I commute, so when I drive home I turn off my brain and I'm not thinking about FORM, school, any of my other organizations, it's just time for me to think about my day. I like to plan out what I do when I drive to campus and when I drive back from campus. [With FORM] we're looking at a long-term success; we're not just looking at short-term bursts of fulfillment. We want FORM to be successful in the long-term and when I'm gone, ten years from now I want FORM to be a big organization on campus. Just having that in mind and doing those little things every day will definitely help in balancing it out.
CS: Who is someone that empowers you?
AK: I'm very, very big about diversity and inclusion in the fashion industry because I think with fashion right now, diversity is a very hot topic and the actual mission behind it has kind of been shadowed. Fashion definitely struggles with tokenism instead of diversity. They have the three models of color, for example, and then everyone else is not. I feel empowered when I see people in an industry or a position that I want to work in who look like me or who come from a similar background to me. For me there's Anaa Saber, the founder of Our Second Skin, she's a blogger but she's worked with Puma, Burberry, a lot of these big designers. But she is Pakistani, and I'm Pakistani, and she grew up in the East Coast. Just seeing her get big in the industry has been really gratifying for me, because it's kind of like she's trailblazing the way for me. Also Roopal Patel, who is the Saks Fifth Avenue Fashion Director. That's a dream job for me, and seeing somebody of South Asian descent in a position where it's primarily a non-person of color field is the most amazing thing for me. Those two individuals are my fashion empowerment people.
And then on a more local level, I have three sisters and in each way they empower me. We all are studying different things – one of them is in medical school, one wants to be a lawyer, one wants to maybe be an engineer so we're all very different. But just in seeing their day to day lives and how they approach fashion too, fashion is something that everyone has a relationship with. That empowers me, because I want to be part of the industry that truly makes it more inclusive. For everyone – it doesn't matter if you're a doctor, or an engineer, or you're in fashion – I want it to be attainable for everyone. And of course my mom, too.
This interview has been edited for clarity.