Rutgers junior, Jazmine Alcon, dedicates her academic and free time towards searching for different ways to bridge gaps between health and communities. While studying for the Public Health major in the Edward J. Bloustein School of Planning and Public Policy with a minor in Health and Society, this year she became a leading member of the mental health organization Active Minds and a student employee for the Office of Violence Prevention and Victim Assistance (VPVA). As an immigrant from the Philippines who has spent the past several years advocating online for mental health conversations in her own communities, Jazmine's dedication towards a holistic understanding of the relationship between health and community has only grown during her time at RU so far.
CS: Can you talk to me a little bit about what you do for both VPVA and for Active Minds as well?
JA: For Active Minds I'm the Public Relations Chair, so I do a lot of marketing and engagement with our audience, online and offline. I'm kind of trying to see what students respond to in terms of mental health and how to start that conversation, because it is a little bit tricky. It's a very intimate topic, and it's very personal and individual. My job is to see how I can build a community based off of that very unique experience to everyone. For VPVA, I'm the Development Outreach Coordinator, so what I do is I reach out to other student organizations on campus to see if they want to do any work with us, any co-sponsorships, and also when we hold events just asking other student orgs that do similar work for help. My main thing with my position is that I really want to highlight minorities on campus and how that's a very different experience when it comes to experiencing any form of violence. And also highlighting the fact that they are the more frequent victims of violence, so to bring them to the table, have a conversation with them and make sure that they're included in what we're doing. Because if you're the most frequent victim of violence, we need to hear from you to make sure that we're doing what's best for you and your community.
CS: What made you want to get involved with Active Minds?
JA: Mental health has always been a really, really big thing in my life. I'm diagnosed with depression and anxiety, and that's something I've been dealing with since freshman year of college. I think my experience of going back and forth of wanting to do therapy but not knowing if I'm ready, needing that guidance and push from other people and just doing my own research to see what's best for me, I wanted to open that up to other students as well. I've done work with the American Foundation for Suicide Prevention before. I've been on a Teen Vogue feature for it; I've also done work with Instagram for it and I got interviewed by NAMI (National Alliance on Mental Illness), they're also another mental health non-profit. So I've been around just trying to start the conversation as to how it's a very different experience for different identities, cultures, and communities. Also class and fiscal situations, and how we need to be aware of that when we talk about self-care and advocacy. All of these really broad, mainstream things that are now being marketed towards people our age, we need to consider that not everyone has access to that for multiple types of reasons. When we're talking about self-care, what is that going to look like for everyone? We're not always going to be talking about facemasks and doing all of this and that which require a lot of money that some people don't have. And even with therapy, not everyone can pay for that. 
With Active Minds, I just wanted to start that conversation on campus. It's a really important conversation because we've had multiple suicides on campus before. We have a lot of either undiagnosed or diagnosed mental illness on campus, and it's just not talked about. And we have like three mental health orgs that are student-run on campus. It's a balance around topics of what needs to be talked about for students to feel comfortable and safe and welcome at Rutgers itself.
CS: So then the work that you were doing previously, was that all before you had joined Active Minds?
JA: Yeah, I've done a lot of mental health advocacy work on Instagram. I created an account around last year with my friend who goes to a school in New York called API Mental Health, which is a mental health account that focuses on the Asian Pacific Islander experience. But before that, again, highlighting different people's experiences and what they have to say has always been something that I've been very interested in and passionate about. I just joined Active Minds this semester.
CS: How about your involvement with VPVA, how did that get started? 
JA: I've always admired the work that they do on campus, cause they're huge at orientation and even with Turn the Campus Purple, they're around everywhere, so I was really curious. I found the application online that they were doing, and I was like, 'ok I'm gonna apply and see where it goes'. Again, social justice, advocacy and awareness is something that I push towards everyone, so work surrounding violence prevention is something that I haven't really done before. It's something that I know a little bit about, obviously all forms of violence is a really broad topic, so I went in for the interview and I was applying for either Marketing or Development Outreach Coordinator and I got the second position. With that work it just kind of came by chance. I love what I do for them, I love my staff, and I just really enjoy being a part of VPVA in any capacity. 
CS: VPVA recently started their Student Coalition for a lot of different organizations on campus. Why was there was a need for this to come together?
JA: There was a really big need with creating a network of student organizations on campus to not only bring us all together, but to remind us that a lot of us are doing similar work, and we can work together in that sense. As a department, VPVA, we want to be more involved in the student body beyond the capacity that we've already been in. I think that our main goal with this is to also bring to light what VPVA does for students and other student organizations, because we know that word of mouth is the best form of communication. We provide a lot of really great resources from counseling to workshops, and we always say in every space that we're in, not a lot of people know who we are. We're a really important resource on campus because it's 100% free. We don't take insurance, and there's the confidentiality part – which is a really, really important thing for a lot of people when they talk about their experience with violence, especially survivors. I think the lack of awareness that VPVA exists on campus or the myths around our office is something we wanted to debunk, which is why we spent such a long time in the beginning talking about what we do.
But with the Student Coalition, we just wanted to basically be a resource to students in another capacity than we have already been, because we want student orgs to know obviously we're there for all of you in any way we can be, and any way we're able to be. So that means co-sponsorships or doing workshops for your org, that's something we want to be able to help out with. But again, creating that community with other student organizations is very, very critical and important because Rutgers is a huge school, so I think creating a community within a community was our goal in a sense.
CS: So going forward now that it's started to come together, are there any plans for what the coalition is going to be involved in?
JA: Basically, like we outlined in the beginning of the meeting, we want to be able to show up for each other in the sense of when there are events going on and we need hands on deck, that other students and other orgs can help out. And we also wanted to see if we could start doing discussions on different subsets of violence and different topics surrounding that main topic, and kind of seeing how we all feel about it, what we think, discussions that come about, because we also think it's really important to start the conversation in the first place. So our main goal is to create conversation and also be a resource for each other.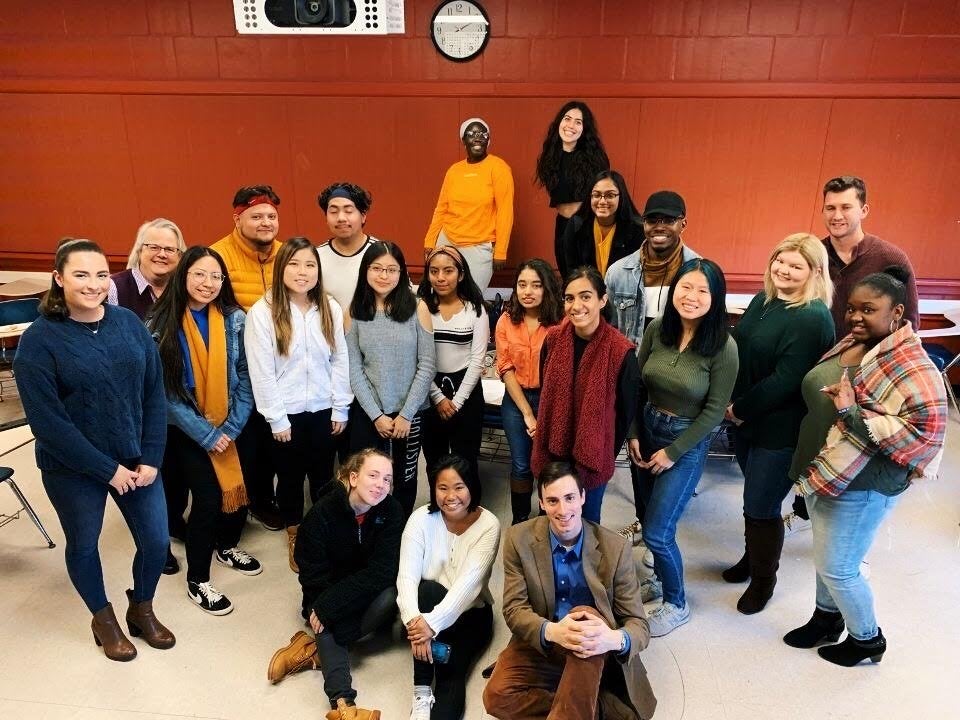 (Jazmine Alcon)
CS: Outside of the Coalition, what events does VPVA have planned for the end of this semester?
JA: We have Cocoa and Chatting, which is going to be an event on December 3rd from 6-9 p.m. at Livingston Student Center Coffee Lounge, which is basically going to be a very chill de-stress event where people can come in, make their own Hot Cocoa kits, make their own Self-Care kits, and we'll be discussing the topic of self-care. We want it to be a more of a people come in and out event, so they don't have to stay if they don't feel like it, and they can get whatever they want and need out of it. We'll be talking about what VPVA does, stuff we offer at our office, myths that we want to debunk, and we're gonna have something specifically for self-care that we'll be talking about.
CS: And what about Active Minds, are there any events in the works for them coming up?
JA: We actually had an event today! We had a Paint and Sip at Murray Hall, room 115 from 9-10 p.m. We explored how art therapy looks like and what that can do for people, and we had a prompt where people could kind of create their own unique painting experience off of that. It's again, more of a de-stress thing cause midterms is here, so we want people to just sit with their thoughts and feelings and not feel forced to discuss it, or not feel forced to listen to someone else discuss whatever topic. We might be having another meeting in December, and it's definitely gonna be on a Thursday because we have our meetings every Thursday, but I think the topic of the meeting has not been determined yet.
CS: What sorts of issues does Active Minds discuss or want to address at their meetings?
JA: We have a lot of discussion meetings. We've done discussions on OCD, Anxiety, and Depression. We've also done a discussion meeting on the Asian American experience and also how mental illness ties into different cultures, which was a really good meeting because we got a lot of different perspectives from cultures outside of the Asian American experience as well. We're planning to talk about intergenerational trauma soon, which I'm really hype about because there's some science in the background that really goes to show how deep trauma can run, and that's something that we're preparing for. We'll also be discussing relationships at some point and how that can affect our mental health in whatever capacity, or even seeing your friends in a toxic relationship and how that can affect your mental health as well as theirs. So we have a lot of interesting and fun stuff going on. Well, fun in a way that like we're all gonna learn.
CS: Do you have any advice for how students can get involved with resources such as these that work to help others on campus?
JA: Rutgers is so big that it's really hard to know that resources like these exist, unless your friends have experienced something that had led them to that. But I think, and I'm always going to be an advocate for this, social media is one of the greatest ways to make a really big world really small for you, and at the hands of your own fingertips in real time. So just going off of a network of organizations that you're already in and asking around like, "oh is there anything about mental health, any orgs that do work around that?" and again, there's only like three on campus, so we're on a list somewhere.
With VPVA, I think it's a little bit more tricky because we are a department and office, but again word of mouth is great for getting involved. For people that do want to get more involved with VPVA we have Gems, which are general members. They help a lot with planning and executing the events that our programming board does, and we have a lot of volunteer opportunities for them for when events do come around like Turn the Campus Teal or Turn the Campus Purple. Same with Active Minds, we're trying to work on having more volunteer opportunities where we can go into the local New Brunswick area and do work where we live and we're at every single day. For Gems, it's really low-commitment, there's bi-weekly meetings and any volunteer opportunity we have, you're not required to go to. You don't have to go to everything, because we understand life happens, you're a student, there's other priorities to attend to. For Active Minds, we have meetings every Thursday. We're trying to implement a general member system in a way that makes it a little bit more official. But turning up to general meetings is basically your best bet of getting involved, and then asking us what's gonna be going on for the month. We'll always be posting on our Instagram as well.
CS: You touched on this a little bit with your own work that you've done before you joined Active Minds, but outside of these two organizations have you had any other involvements?
JA: I have been involved in a couple of mental health initiatives. With the American Foundation of Suicide Prevention, it was a social media awareness campaign that they started called #RealConvo, so that's what I got interviewed for. They actually came to Rutgers because they wanted to get a student's perspective on mental health and what they were dealing with. I've also done work with NAMI, like I previously stated, and it was a Facebook Live that we did and there were questions from the audience as well as the interviewer about my experience. And API Mental Health, I think that's the main part as to the work I've been doing. I'm involved in RAUB, (Rutgers University Alternative Breaks), where we do a lot of service work. Basically they're service-led trips and the students plan the trips from nothing, and we get funding to have us and our group of students that we pick after our interviews to go to that location and do service work there. I'm also a part of the AMSA (American Medical Student Association) Steering Committee, which we plan the Pre-Health Conference for students on campus and outside of Rutgers as well, cause people from other universities come.
In high school I started this online magazine called Risen Zine, which was a platform for young people that were really interested in social justice. We wanted to open that up in ways beyond just writing about it, so we had articles of course, but also poetry, film, photography, also songs at some point. Some of my coworkers were international – in the U.K., Singapore, some were elsewhere, and then there was a majority of us in the U.S. I ran it, so I edited for it, I was the curator, I like made the website, ran the Instagram, I wrote for it and I took pictures for it as well. And that's how I started working with Instagram, because they found that page and they we're like, 'this is super cool, what's up with that?' It's still running now, but when I started college, I was like I don't think this is something that I can keep carrying forward 100%, so I passed it off to someone else, and they're still doing great work and they're still active. I think they're mostly based in the U.K. now, so they do in-person events as well. I just love advocacy work, and also youth empowerment is something I'm really passionate about, and I always have been.
CS: A big aspect that you're interested in is to advocate for other communities, so how do you see that affecting what your career interests would be in the future?
JA: I want to be a doctor. I think the biggest part about being a doctor that's most appealing to me, besides the science and medicine, is that you really do get to be an advocate for your patients. Especially since I'm trying to go into pediatrics so they can't really advocate for themselves. I think it's really important to know where everyone comes from, because without context and without knowing that context, you can do a lot of harm. With the work I'm doing now with violence prevention and awareness of mental health issues, I think you see your patients less as patients and more as their own people, and I really think that that's important.
My main thing with modern medicine is that a lot of doctors nowadays try to fix the symptoms and disease without knowing where they come from. A lot of times certain demographics are more prone to certain diseases, and then they go to a hospital, get it fixed, and then they come back again because the root of the issue is not being taken care of. Even with health literacy, people don't really know how to take their meds, how to stop, how frequently, doctors don't really take the time to explain things in a way that people understand. I feel like not a lot of doctors are really culturally competent, and that's a huge issue because it does more harm than good. Really taking in the community aspect of health and knowing that things are rooted beyond the body and the scope of the body is really helpful and important. And I think they should require med students to take Public Health courses to know why certain diseases are so much more prevalent in certain communities. So that's what I'm trying to get at with my degree.
CS: As a student leader on campus who's involved in Active Minds, VPVA and Alternative Breaks, how do you balance your time between your organizations and also with classes?
JA: Well the way I like to think of my involvement with student orgs on campus is more of my break from work, even though it is technically still work, the work that I am doing for these organizations is something that I'm really passionate about. While I am clocking in hours and putting my time, effort and care into the work that I do, it's work that I know will impact someone else beyond me. When it comes to balancing time it's just more or less prioritizing what's important today and why am I doing things. I think that self-reflection of where your energy goes when it comes to what you're involved in beyond class is so important, because personally to me, my energy is very important and I can't just give it out to anyone, anywhere. So with balancing a lot of what I do, it's like I can't do this every day, so what chunks of work can I do at this time while also prioritizing academics? Both organizations very kindly enough emphasize taking care of yourself, and they're like if you can't do this today, and if you know you're just not mentally here today or whatever reason you can't participate, that's ok. And I think that's a really important aspect that any department or organization on campus should adopt, your employees are students. Just knowing when you're not fully present and understanding that while they are student leaders, they can't always be their best selves. They can't always be at 110% or you're just running them into the ground. It really helps that VPVA really, really emphasizes that you can do this, but if you can't, that's okay. And I think that's just a really good way to treat people in general.
CS: Who is someone that empowers you?
JA: I would like to say my boyfriend. He does a lot of pushing and challenging me in ways of not necessarily questioning my energy, but being like why is this important to you, if you're doing this why are you doing this. He stimulates a lot of self-reflection on my end, and it also encourages me and validates me in the work that I do. When he sees that I kind of need to step up or do whatever, he makes sure that he says something. I think that the most empowering thing you can really do for a person is to support them in ways that they need to be supported. If you know someone's always working really hard and they're burning themselves to the ground, you should call them out on that. And that's exactly what he does, he just checks me on whatever I need to be checked on in the sense of the work I do on campus.
This interview has been edited for clarity.