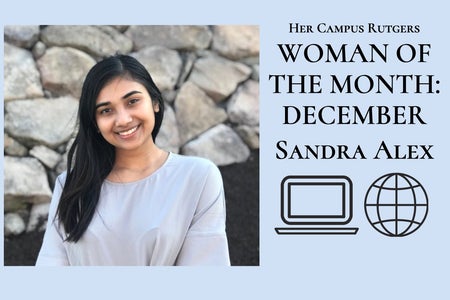 Sandra Alex and Cassidy Smedley
Woman of the Month – December: Sandra Alex
After unexpectedly joining the executive board for Women in Information Technology and Informatics (WITI) during the end of her freshman year as a Web Master, junior Sandra Alex grew her involvement with the club to become one of their current Co-Presidents. As a Business Analytics and Information Technology (BAIT) major and Computer Science minor who initially came to Rutgers to study Marketing, Alex's search for a community within tech studies that she now works to uphold led her to becoming an involved member of WITI. Once she develops even a slight interest in a topic, as with her first major exposure to technology fields through a high school Hackathon, Alex makes sure to follow through with it and discover the full extent of her interests – much like a certain empowering figure in her life.
CS: Can you tell me a little about your involvement with Women in ITI?
SA: Even though WITI is under the School of Communication and Information, I got exposed to them through Facebook. I was looking to get involved in my freshman year, and fall semester I wasn't really a part of that many student organizations, but I was trying to up my resume and get involved on campus somehow. A lot of student organizations  post Facebook events, so somebody else had actually said that they were interested in going to an event for WITI, and I thought, well I'm trying to be a BAIT major, I see the connection there. So I went to a general interest meeting, and weirdly enough that general interest meeting was where they were recruiting for their e-board. It was really random, so I was like, "I guess I'll apply," even though I only went to one meeting. I had applied for Web Master, and for the position of Web Master you had to know WordPress because that's what we were using at the time, and I actually had experience with WordPress in high school. So I interviewed, and I got in. Before the interview though they had a destress event, and I went to that event and I approached them to make sure they knew me. I got to know the e-board members, and I saw it was a really good fit for me because the person who interviewed me was also a BAIT major. Because  WITI is mainly for ITI majors, or it started out being for them at least, I didn't know if this was for me or if I was allowed to be on the e-board or in this club even. But she definitely reassured me that it's for anyone interested in technology. So that's how I joined the e-board, it was kind of random.
CS: What does your role as the Co-President involve?
SA: I kind of oversee everything. There's another Co-President, she oversees more of our social events, general interest meetings – we have those once a month. I mainly do a lot of the professional events. Our Tech Talks with Johnson & Johnson (J&J), Goldman Sachs or Google – that's all me. I also oversee the meetings, so I usually send our Secretary a list of topics that we want to talk about and she puts them in a format and then does the meeting minutes. I usually handle all of the email stuff too, so if someone gets a response from the WITI email it's usually me. And if we have some kind of issue with attendance, because that's always an issue, then I'm usually the person who reaches out.
CS: What are some events that you have in the works for the upcoming Spring semester?
SA: We actually have two really, really exciting events coming up. For one of them we're partnering with the Rutgers Student Activities, it's called the Women Empowerment Fair (Wednesday, February 12th from 5-9 pm at the Livingston Student Center). I got this idea based off of Tech Fair, I was like, "Wow we don't really have anything like that for any of the women empowerment or women-led clubs at Rutgers. That's a shame, we should have something like that." It's basically going to be like the Tech Fair for women-based clubs, so WITI, Her Campus, Women in Business, Women in Computer Science, all of the women-led student organizations. We're thinking of putting a little twist on it to have corporate sponsors in there as well, since we had companies who we have interacted with in the past say that they want to be a part of something like that. It's still kind of in the works, but we're looking pretty much to make it happen. So that's our biggest event, hopefully next semester.
And then every semester we have our Alumni Networking mixer (date TBA), which is basically when we invite WITI alumni to come back and talk about their experiences, how WITI has helped them and how Rutgers has helped them in general. It's a really fun event. We also have a LinkedIn and personal branding workshop with Jerry Lee from Google and Jonathan Javier, who's a CEO of Wonsulting, they do workshops called JWoW (Monday, February 10th from 6-9 pm). Basically they were doing posts on LinkedIn, and somebody I knew liked one of their posts so I hit them up. They do events in California, so I was like, "Hey do you want to do an event at Rutgers University in New Jersey?" And they were like, "Yeah sure, it's our first time going to New Jersey but we're down."
CS: So with these workshops that you've talked about, how does WITI put together panels with these major companies?
SA: This semester we started out with events with J&J, and I had interned at J&J this summer so that's kind of how that happened. I reached out to our tech recruiting team at J&J and said that I'm a part of this student organization at Rutgers, and they were familiar with WITI because our old President also worked at J&J and she'd had events with them before. So a lot of our events, if they're with companies that we've had events before in the past are from connections there. I'll look through our email and I'm like, ok so and so has contacted a recruiter and they responded, and then I just reach out to them again asking hey we did this event last year, would you like to do it again? With the Women Empowerment Fair, I was looking to get sponsorship from some kind of SC&I or Rutgers office in general, but it was really hard to get funding. I wanted it to be a big event, and we personally don't have the funding to do one event that costs like $3,000 dollars, it just wasn't possible. So I reached out to Karima Woodyard, the Director of Student Involvement, because she runs all of the student activities at Rutgers and thought it was a great idea. That's how that happened. And then the JWoW one, I just reached out to someone on LinkedIn and they responded.
But for planning the actual events, usually if I reach out to someone, I do so with an idea in mind. I never reach out to someone asking do you have any ideas? Cause then they're like oh why did you reach out to me if you don't have a specific purpose in mind? So I reach out with a purpose and an activity already planned, and then we select a date based on their availability. But then if there's certain things that they might want, then that's different. For example, we had the technical recruiter from Google reach out to us last semester for a resume and interview workshop, because she wanted to have that specifically with us. And then this upcoming semester she wanted to do an event with us about Google beyond Software Engineering, since that's what their events at Rutgers are usually about.
(Sandra Alex)
CS: What did you do at your internship at J&J this past summer?
SA: My official title was the Global Tax Technology Intern. I was the only intern with that title, so I was the only intern on the Tax Technology team. I was placed in New Brunswick, not at world headquarters but at Johnson Hall, which is right where Rutgers is. I lived at The Yard, which was awesome, and they paid for my housing which was great. Basically I did a lot of data analysis, and then I also worked with Power BI to do some data visualization for them. I analyzed data from their global tax warehouse and I compared it to other data. J&J owns a bunch of different mini brands like Neutrogena and Aveeno, and I worked with specifically those brands based in Europe, so I would compare records between them, note any discrepancies and them send it back to them. So that's mainly what I did. My team was global but really small, I think fourteen to fifteen people. But I was working with people based mainly in Belgium and Brazil, so that was cool.
CS: For WITI, why was there a need to create a student organization that's focused on Women studying tech fields at Rutgers?
SA: The biggest reason is because there's such a lack of diversity in the tech field, not just with women but with LGBTQ communities or even ethnicities. You just notice that there are a lot of Indian males or white males in that field specifically. And it's a shame that there isn't more diversity, because when there is more diversity you understand your customer base better. You might understand problems that you hadn't even thought of before. Even in my internship, I noticed there were certain meetings that I would go to and I was the only female. Like I'm an intern and I'm the only woman in the meeting, that makes me uncomfortable. And I don't get uncomfortable that quickly, like I'm not even someone who is normally very shy. I can't imagine someone who didn't have any exposure to the corporate world going to meetings like this, and they may not have as strong of a foundation as I do so they're not as comfortable in these kind of meetings either. You don't expect people to ignore you. They don't see value in you, they can't relate with you as much. You don't have a mentor to find, as much as someone else might, who is someone similar to them. And you see that so often. If you go and intern somewhere, usually there are people who are somewhat like you or they have common interests, and common interests are usually easiest found when they're like you, they share the same ethnicity, they share the same religion as you, something small like that usually forms a connection. But that's the number one reason.
We also we want internships for people like us. Before, big companies like Google or Goldman Sachs probably wouldn't have hired that many women. This is still an ongoing problem, which is why there's a strong need. And it's not just in computer science, it's also in IT. That's the main reason, and then also to form a community among us just cause it's nice. We all share the same interests, we all want to go into the same field, so let's support each other.
CS: How can someone get involved with WITI?
SA: Really just go to our events, it's the best way to get involved with us. A lot of our events are on Thursdays, specifically like 6-8 or 7-8 pm. So if those specific timeframes don't work for you, just email us, ask to be added to our newsletter and we'll definitely add you, then you'll get exposure to all of our events. But we don't just advertise our events, we also advertise certain cool events that might be happening at Rutgers, like we don't plan HackHERS but we promote it. There's also a lot of corporate emails that we get asking to advertise opportunities about internships or maybe of conferences going on, so we always promote that too. I would say going to our general interest meetings or our professional events, and then not just attending but making an effort to talk to someone on the e-board would be a great opportunity. We also have committees, so we have a Finance, Events and Marketing committees that we recruit for every semester and we will be recruiting again next semester. That was something that was created this year, mainly because we only recruit for the e-board once a year and we always have people reach out to us wanting to get involved throughout the semester I feel like at Rutgers, it's so hard to really be a part of a club unless you're somehow in a position. I just haven't found a club yet where I can go to the general interest meetings and really feel like I'm a part of the club. I don't know why, but it's just not here.
(Sandra Alex)
CS: What do you feel are some of the most pressing issues that women in Information and Technology Informatics industries face?
SA: I personally feel like the most pressing issue is that because , I'm a Computer Science minor, so sometimes I'm like 1 of 5 women in my class. I've had incidents where I have felt like I am not equal to them. I'll just be asking, "Ohh what did you get for that answer?" And they're like, "You don't understand that? I've been studying Java since I was born" Like... okay? That was not what I was looking for. There are certain things where they just don't make you feel appreciated specifically because you're a woman. There aren't even that many female CS professors. I haven't even had a female CS professor yet, though I know there are some, I just haven't had them. I just feel like there's a general attitude that men just don't think that women are on the same level as them, and it's unfortunate. Or there's a brotherhood in that kind of sense. There's a community there, but it's hard for you as a woman to get into that community. And that's not just here, but especially in the corporate world. And that definitely goes into like if you want to go up into the ranks and get to a manager position, or another leadership position – you're not always seen as an equal to another male applicant so you have to go the extra mile to really stand out. It is unfortunate that people feel like they have to do that. I've gone to so many panels and conferences where they're all saying that's the biggest issue. that I feel. I don't feel like I'm an equal to them, I feel like there's a brotherhood exclusive club that I can't join. And it's really sad, because there are's some really accomplished women out there who feel like that. It's so unfortunate.
CS: How did you become interested in pursuing a career in ITI?
SA: Well I went to a Hackathon, and I didn't at first know what a Hackathon was. My friend asked if I wanted to go to Hack BCA, which was a high school Hackathon in Burlington County. I went to that, didn't even know what it was and I just thought like oh we get food for two days, which was awesome, and I got a bunch of free stuff from companies. I was like I really need to go to more of these events, I don't know why people don't know about this. I'd went to a workshop for HTML where you make a website thought it was super cool. Afterwards I was like this is great, I want to do something like this. I had a strong interest in business too, because I did DECA in high school, and I knew I wanted to continue something in business and in tech, which is why I got to my major of BAIT.
For tech in general, I also kind of wanted to pursue it because my mom really wanted me to be a doctor, but I was really bad at science. My dad was an engineer, so he was always fixing random things. If my laptop was making weird noises, he'd be like oh you need to clear the vent in there, and I was like what is that? So I was like helping him do things like that. I helped my dad build the hard drive for a desktop, which was pretty cool. Small things like that I was just interested in. My first professional experience was this summer, and that just cemented my interest. It's hard to see what you really want to do until you actually start working in it, because studying in it is different from doing it, but I had a great time in my role and I really loved it. I would not mind doing this for the rest of my life.
CS: You've also been involved with HackRU here, so can you talk about your involvement with them?
SA: HackRU I joined at the end of my sophomore year as a finance and marketing organizer. Basically as a finance organizer, I would help reach out to companies to see if they could sponsor HackRU, and that's mainly what I did for the spring 2019 semester. Then after that semester though, I'm also involved with the Rutgers Entrepreneurial Society (RES) as their Creative Director, I had a lot going on at that point. I'd found out I was going to be one of WITI's Presidents - I didn't think I was going to be President, by the way. But I was like oh ok if I'm going to do that, and then  be on the e-board for the RES, and then at the time I was also supposed to be a FIGs instructor, but I decided not to do that anymore because I really had too much going on. So I quit the finance role, and then I was just doing marketing. For the spring I was mainly heading the Instagram for HackRU, I did all of the promotional material for that, and I also helped make some of the flyers. Then for fall I headed our Facebook page for HackRU, so I did promotional stuff for that. But I'm not going to continue it next semester because I'm going to be doing a co-op at Johnson & Johnson. It's exciting, but it's sad cause I want to be a part of HackRU, but I'm really doing too much. Because It's a full-time job so I'll be working, doing school, and I'm also going to be a part of WITI and RES, and I just can't do everything. But that's basically what I did for HackRU, and then I'd also be there during the event taking pictures and videos of things going on.
CS: As a student leader on campus, how do you balance your time between running an organization and your classes?
SA: I use Google Calendar every single day. I plan it out to like every thirty minutes, and I need to have a thirty minute break time. Or I plan out specific hours of the day for certain tasks, so I know if I have a class coming up then I'll schedule at least thirty minutes to an hour to review notes from the previous class before the next upcoming class. That really helps because then I don't have to cram for exams, because I already know the material. And it also helps with homework, that time is specifically allotted. If I'm taking five classes, I'll make sure that I spend at least thirty minutes to an hour per day to each class. It's totally doable, as long as you make yourself do it. And I do the same thing with my student org, I'll allot the time for it, though I might not use all of it. Thirty minutes to an hour per day for something for WITI, for RES, and you know I don't necessarily have to use those thirty minutes to an hour every day. So then I can do other things that I want to do. That's basically how I do it.
CS: And then do you allot specific time for breaks?
SA: This is the only bad thing – I'll be with my apartment mates or my friends want to hangout and a lot of it is spur of the moment, but I can't coordinate that all of the time. So sometimes I'll have to push things around a little bit and that gets a little messy, but I do allot specific break times. I'll be like, ok from three to four I don't have any classes, I'm done reviewing material, I'm going to review after that period. I'll just allot for free time, I'll like watch a movie on Netflix or stream something on Spotify. I try to be really consistent with that as well.
CS: Who is someone that empowers you?
SA: I have a lot of role models, but I want to say my mom cause she works really hard. My dad is a marine engineer, which means that he's away from our family like every three months so half the year, he's not with us. My mom works as a nurse practitioner, and she works full time while handling all of our family responsibilities. I have two younger sisters, and we're really far apart in ages, so I have one sister who's seven, one who's fourteen, and then I'm in college, and she manages to do everything. It's really crazy. She's able to go through so much and yet still be involved in all of the things that she wants to do. She's really active in her church community, she teaches kindergarten CCD, she helps plan events for the church. Even though I'm not necessarily involved in that, she tries to make me involved as much as possible when I'm not away from home. She really does a lot, and it's not like she just does her job, she's really passionate about her job. So she volunteers, she doesn't need to volunteer since she's already working, but she also volunteers at hospitals on the side. She just does it because she wants to. She's amazing. And she has interests and she actively follows them. Like if she's interested in yoga, she'll just take yoga classes and she'll consistently go. It's not like, 'oh I think I'm interested, I'll go to one class and I'll never go to one again,' she follows through with it. 
I'm Indian, and in India there's this stereotype that women should not work and they should be in the kitchen cooking and cleaning, that's their job. My mom is definitely not one of those people, she does not believe in that. She always tells me that you need to get your education, that's your priority, get your life organized first before you try to find someone. And when other people say something like, "Oh women should be in the kitchen," or something like that, she does not just let that sit there. She will say something about it. And that's something a lot of women may not necessarily have the courage to do, but she will do it. She's not someone who will sit there and let something happen, she will not deal with that. She's really strong, and I get a lot of my courage from her.
This interview has been edited for clarity.