Ever since I started college, I had wanted to study abroad, even if for a short while. I wanted to experience a class that would be more relevant if taken in a foreign setting.
I am a full-time student, but before that, I am a mom. So, although there were many class options, I was constrained by length of program and budget. That limited my options substantially. I knew I could always travel later on, but I was not in only for the travel experience: I wanted to study and be part of a community of like-minded people. 
 I set to the task of finding a class that would enrich me personally and academically, one that hopefully involved some form of volunteering, and let me explore other cultures. Being an English and Comparative Literature major, it made perfect sense to me to register for a three-week summer class in London. The class was on Shakespeare and included visits to The Globe and some days in Stratford-upon-Avon. Everything was perfect, the length of the program, the location, and the academics. Heaven upon Heaven. 
(Katherine Tapia)
Only that, in the end, the program did not run. They cancelled it due to low enrollment. I was a junior that summer, so I knew I had missed my only chance to finance my studies using financial aid and the assistance of scholarships since my graduation date was next May. 
I checked the study abroad website for my university. I carefully reviewed program by program and found nothing that overlapped my academic interests and my desired timeframe. So, without much hope, I made an appointment with my study abroad advisor. We checked some options and toward the end of the appointment she asked me to consider the Malta program, which was new and had not really been advertised on campus yet. 
My first reaction was NO. I wanted to take a class related to my major. The Malta program was on Medieval History and the Mediterranean World. I am a curious learner, so it sounded interesting, but my mind was still lingering around Big Ben and St. Paul's Cathedral. I was upset and could not let go of what I wanted, so the idea of a new program annoyed me. However, my advisor had pointed out that it was only two weeks long, and therefore more affordable. 
I agreed, partially, with my advisor. But I left her office, not having committed yet, and still upset. I could not picture Malta as an alternative because it was not what I had planned, and it made me uncomfortable to imagine myself in an island (I usually do not fare well in nature). 
(Katherine Tapia)
I went home and did some research. I found out that my preconception of Malta was wrong. Malta is a living, open-air museum with rich history and outstanding medieval artifacts, locations, and history. I want to be a medievalist, so, to me, this was just awesome. It was also easy to connect by air, or even ferry, from Italy. That gave me an idea. 
I had originally set aside three weeks to study abroad and had already made arrangements with my family regarding the care of my children. So, I asked if they would care for them for an extra five days. They agreed. 
I got financial aid assistance and some scholarships, but I still needed to stay within a budget. So, I decided to check for the cheapest roundtrip fares from Newark, New Jersey, to anywhere in Europe that would allow me to then connect by either bus, train, or plane, as affordable as possible, to other places in Europe. It ended up being Amsterdam. $432 nonstop flight. I was to arrive a little before 6 a.m., which was great to me because I had all day to explore the city. 
I had never considered Amsterdam, but I said to myself, sure, why not. I did have some cities I wanted to visit, if possible. But I made a point of leaving the UK off my list. I wanted this to be a journey of unexpected locations, outside my comfort zone. 
I spoke to a friend who lives in Spain since I wanted to visit her. She lives in Madrid. She said she would be happy to see me, so I included Madrid on my list. I also included Rome, since the airfare from there to Malta, one way, was $15, and then $11 from Malta to Rome to come back. Aside note: I would have never imagined low cost airlines could be that affordable and thought there had to be a catch. No. No catch as long as you do not bring carry-on luggage or check-in bags, which I did not. Also, to my surprise, I found out that, although not the most comfortable, taking a plane in Europe is sometimes cheaper than taking a train, or even a bus! 
My friend also suggested I visit Porto. She said it would be more suitable due to the short time I had to spend per city. My idea was to spend one day per country, or city, and then spend the night traveling by bus or plane to the next one to save money in hotels. 
I love exploring. I was excited to see the world, meet new people, and learn. 
(Katherine Tapia)
My final plan: 
Before class: one day in Amsterdam (Netherlands), flight from there to Porto (Portugal), flight from there to Madrid (Spain), spend two days there with my friend, bus from there to Barcelona (Spain), flight from there to Nice (France), bus from there to Rome (Italy), flight from there to Malta, spend fourteen days there for my study abroad class. 
After class: flight from Malta to Rome and visit the Vatican, bus from Rome to Venice (Italy), bus from there to Zurich (Switzerland), bus from there to Brussels (Belgium), and bus from there to Amsterdam again, for the flight back home. 
I know this is not ideal, but my budget was really limited. I knew that if I waited for the perfect opportunity for me to travel, five days per city staying at comfortable hotels, I would be waiting a long, long time. So, I decided to do it this way. I ended up spending far less than I would have spent flying straight from home to Malta and then back. Not even $800. 
Once in Europe, I trimmed some of my trip: I ended up spending one day in Madrid and one day in Toledo. Also, once I arrived at Venice at 6 a.m. (San Marcos Square was incredibly and wonderfully empty, except for some Instagrammers), I decided to see as much of the city as possible before 2 p.m., and then took a vaporetto to Burano and Murano. I missed my bus from Venice to Zurich which meant going from Venice to Milan, staying there some hours, and then rushing to make it to Zurich by noon. On the plus side, the bus route goes along the beautiful Alps. I would have missed the view since I was scheduled to travel at night. However, missing the bus and then arriving later allowed me to experience their gorgeous view. Amazing. And, once in Brussels, I decided last minute to visit Bruges for the afternoon and evening. It was an awesome choice. And in Amsterdam I decided to do a daytrip to Zaanse Schans to see the windmills. Beautiful.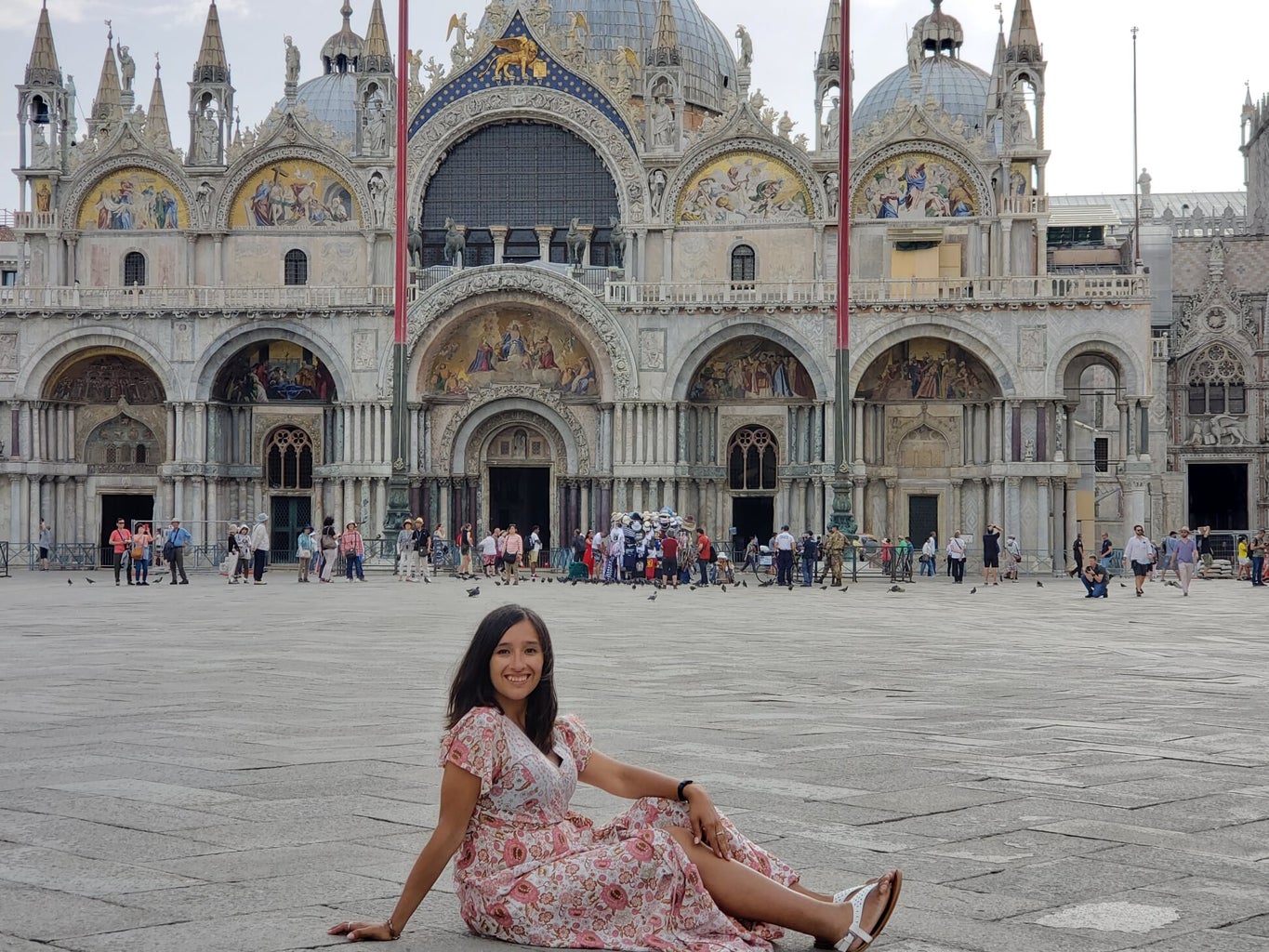 (Katherine Tapia)
Not everything was perfect, though. I got lost many times (which always led me to a great spot to discover since everything was new to me). Many times, I bought food at the supermarket to stay on budget. My backpack broke on the side, my selfie-stick broke as well, and I was scared when the vaporetto was 40 minutes late in Venice, which made me miss my bus from there to Zurich – I had to wait a couple of hours for the next bus standing outside, alone, after midnight: plain scary. In Amsterdam, I was afraid when I passed my station at night when trying to get to the airport because there was nobody on the streets (it happened to me twice, both times around midnight), and the same happened to me in Rome. 
But every time I found my way. I loved every bit of the journey.