25 Thoughts You Had During The Super Bowl Halftime Show
Last night, over 100 million people turned on their televisions to watch the epitome of American entertainment, a spectacle unlike any other- Super Bowl 50. Here at Her Campus, however, we know better than anyone that the Super Bowl is less about the football (sorry Eli? Maybe Peyton? We're not really sure…), and more about the half time show (especially when Beyonce's name is mentioned). So when Coldplay, Bruno Mars, and Bey took over Levi's Stadium, we made sure we didn't miss a second. With that being said, here are 25 thoughts that probably went through your head while watching this year's half time show.
1. Okay Coldplay, I can dig it.
2. Why is it so light outside?
3. Oh wait, they're in California.
4. This stage is so colorful.
5. Good throwback song (Viva la Vida)!
6. Jumping while playing the violin? That's talent.
7. Wait..Bruno Mars? 
8. Where is Beyonce???
9. Where is the left shark??
10. Why was Katy Perry not invited back?
11. Uptown Funk… c'mon we're all so over this song.
12. Bruno Mars actually has a nice voice though.
13. I hope Beyonce is soon.
14. WAIT HERE SHE IS.
15. Take over, queen.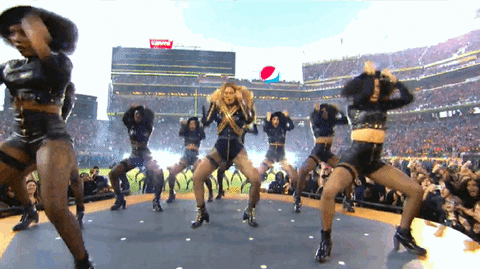 16. Only Beyonce could debut a brand new song at the Super Bowl.
17. This is why I love her.
18. How does one become a dancer for Beyonce?
19. Bruno vs. Beyonce dance off??? Let's make it happen!
20. Aw, a nice tribute video.
21. RIP Whitney.
22. RIP MJ.
23. Beyonce is totally outsinging Bruno Mars and Chris Martin right now.
24. It's over already?
25. Still wish the left shark was there.
In case you missed the show, check it out on YouTube: https://www.youtube.com/watch?v=UoGTDEPfAyg, and let us know what you thought in the comments below!