13 LGBTQ+ Artists You Need To Listen To Right Now
    GAYpril is in full swing, and what better way to start the month than celebrating some of the freshest and most inspiring artists in today's music industry? Here are thirteen LGBTQ+ artists you should be listening to on repeat.
1. King Princess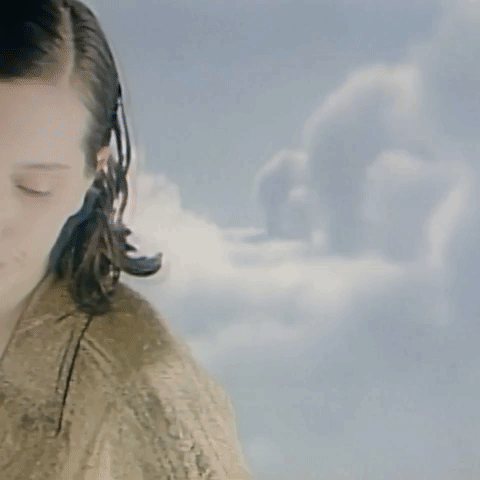 (Source: GIPHY)
    Mikaela Straus, also known as King Princess, is a singer-songwriter from Brooklyn, New York, whose songs feature heavy themes of queer love and pay tribute to the LGBTQ community, free love, and feminism. Her effortless and sultry vocals, paired with unabashed vulnerability in her lyrics, will leave you wanting more after each song ends. My recommendations include "1950" for something slower, "Talia" for something a bit more uptempo, and "Upper West Side" for something in-between the two.
2. Jeremiah Lloyd Harmon
    Jeremiah Lloyd Harmon has been making waves -- his American Idol audition that features his original song, "Almost Heaven", has amassed 3.2 million views in only three weeks, and I have a feeling it's not slowing down any time soon. The son of a pastor, Jeremiah writes about his sexuality and his religion in the aforementioned single, and sings with such a raw emotion in his voice that will have you, like me, questioning how you've lived this long without this song in your life. While he hasn't released many originals yet, Jeremiah is definitely one to watch. I recommend "Almost Heaven" for when you want a good cry, and "Shells" for something with a jazzier vibe.
3. Cub Sport
(Source: Huffington Post AU)
    I discovered Cub Sport recently when listening to triple j's Like A Version playlist on Spotify, and got immediate chills hearing them cover Billie Eilish's "When The Party's Over." From Brisbane, Australia, the group's alt-pop, dreamy sound is a contrast from Billie's emotional ballad, but it shows the group's ability to evoke different emotions in each of their songs. "Party Pill", "Trees", and "Come On Mess Me Up" do a great job at giving you all of the feels.
4. Rainbow Kitten Surprise
(Source: Ones to Watch)
    Spotify's been coming through lately. "American Hero" was a sponsored song on a playlist I was listening to, and vocalist Sam Melo's vocals drew me in instantly. I immediately listened to their whole "RKS" album in a day and have zero regrets. An alternative rock indie band, Rainbow Kitten Suprise's sound has been said to be influenced by Modest Mouse, Kings of Leon, Schoolboy Q, and Frank Ocean. "American Hero" showcases more of their rock influences of strong vocals and a good drum beat, while "Lady Lie" has a killer and unforgettable baseline. Rounding out my picks is "All's Well That Ends," a song that perfectly describes going through a tough time.
5. Hayley Kiyoko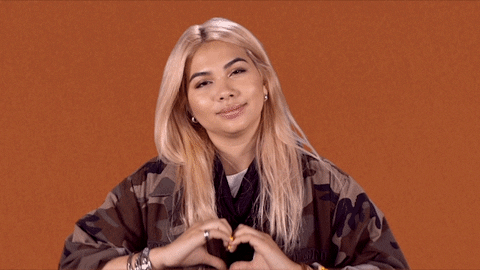 (Source: GIPHY)
    It's exciting to see a former Disney Channel star release music that deviates far from their beginnings. A triple threat, Hayley is a true performer, and listeners can see and hear this clearly in her music videos, but her songs were created to inspire confidence in young people dealing with similar struggles of judgment and rejection upon coming out. "Gravel to Tempo" draws directly from these experiences but maintains a bright sound, while "Feelings" exemplifies the boldness and confidence that goes along with openly flirting with someone you like and capitalizing on those feelings rather than being ashamed of your attraction.  Finally, "Pretty Girl" is a lighter piece that will have you blasting this relatable song about liking someone from afar but never speaking on it.
6. LP
(Source: Tsz Lo for Wonderland Magazine)
    American singer and songwriter Laura Pergolizzi, better known as LP, is quite well-known for writing songs for Rihanna, Cher, and Christina Aguilera. I personally knew her as a songwriter, but stumbled upon "Lost On You" years ago, and was entranced by her distinct and unique voice and deep lyrics. "Lost On You" describes how relationships can change over time, and sometimes, it's not for the better. Continuing the theme is my next recommendation, "Other People", which explains the aftereffects of two people in a relationship wanting two different things. "Tightrope" rounds out these indie and alt-rock jams.
7. Greyson Chance
(Source: Raelena Kniff for Capital Sound DC)
    I remember my friend and I watching Ellen one day after school and swooning over the tween boy playing Lady Gaga's "Paparazzi" at his school's talent show, a video which now has 64.5 million views on Youtube. It wasn't until a recent Seventeen Magazine Pop Song Lyric Challenge video appeared in my feed, and I was transported back to my twelve-year-old self who was enamored by such a spectacular voice. Greyson now falls in the genre of pop rock and funk, a stark but welcomed contrast from his purely pop days. His voice has matured beautifully, and can be heard on my favorites, "white roses", "stand", and "west texas".
8. Leo Kalyan
(Source: Acid Stag)
    Leo Kalyan's gentle vocals focus on, as he told The Guardian, "the conflicting intersectionality of being a person who is gay and from a Muslim background", which produces meaningful tunes that move listeners. He wrote "The Edge" as, "an ode to the queer men who have been executed for being who they are...that want to love other men but can't", a powerful message that is wrapped up in an addicting beat. "Focus" is about being tenacious, even when it feels like an uphill battle, and "Fingertips" is a more laid-back piece that'll have you attempting to sing along to Leo's smooth voice.
9. Kim Petras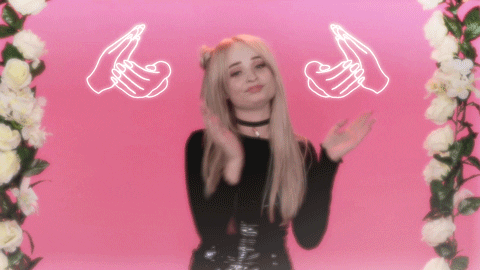 (Source: GIPHY)
    German singer and songwriter Kim Petras was the subject of media coverage after undergoing a gender transition at a young age, but today her, music is what has thrust her into the spotlight, as she's been named a RISE Artist by Spotify. Having most of her influences come from the 1990s-2000s pop era, Kim is a pure pop artist whose songs are carefree and fun to listen to. "I Don't Want It At All" is about wanting material things and embracing it, while "If U Think About Me..." and "Slow It Down" touch on being afraid to love and physical love, respectively. Despite having varying messages, all of the songs are super enjoyable and will be guaranteed to get stuck in your head.
10. Halestorm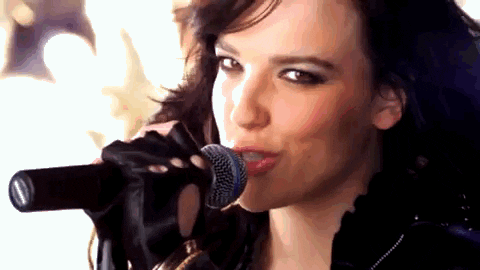 (Source: GIPHY)
    I've had the pleasure of getting to see Halestorm live in concert, and let me tell you, after being a fan for years prior, I was worried Lzzy Hale's vocals wouldn't rock as hard or sound as perfect as they did on the studio recordings, a fear I realized was unnecessary. The rock band from Pennsylvania is well-known for lead singer's powerhouse vocals, which can easily be heard on "Love Bites (So Do I)", a Grammy-winning track about the dealing with the hurt of being vulnerable in a relationship. I also recommend "Mayhem", which discusses the desire to have a mundane life shaken up. My last recommendation is "You Call Me A Bitch Like It's A Bad Thing", which notes the reaction Lzzy has when someone's namecalling her for not wanting to be with them. Any song Halestorm produces absolutely rocks, and I can't recommend the band enough.
11. BROCKHAMPTON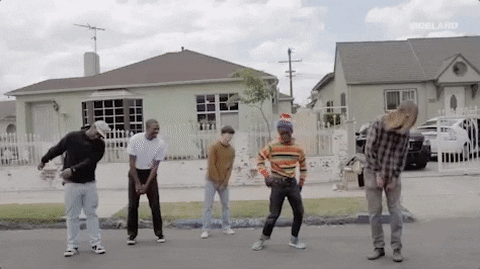 (Source: GIPHY)
    BROCKHAMPTON is described as an American musical collective of artists, but the artists themselves have described themselves as a boy band that simply does not fit the stereotype; the members are diversified, ranging in races and sexualities. I think the appeal to BROCKHAMPTON is the complete obliteration of the traditional boyband mold and their heavy rap influences. The first song I heard of theirs was "BOOGIE", which was admittedly one of my summer anthems, and made driving to my summer physics course much more bearable. Other goodies include "1997 DIANA" and "HOTTIE", both of which will have you breaking out in dance the seconds the first notes hit.
12. MNEK
(Source: Red Bull)
    English singer, songwriter, and record producer MNEK received a lot of praise for his collaboration with Zara Larsson on their single "Never Forget You," and has in no means slowed down since. He worked on Beyonce's "Hold Up", released a cover of Queen's "Don't Stop Me Now", and has delivered songs like "Paradise", "More Than A Miracle" and "The Rhythm", all of which I highly recommend if you're looking for songs to vibe to this month.
13. Christine and the Queens
(Source: Jamie Morgan for Rolling Stone)
    Last but not least, French singer, songwriter, and producer Héloïse Adelaide Letissier, known professionally as Christine and the Queens, recently had her second album, Chris, named as "Album of the Year" by The Guardian, so I'm not the only one who can vouch for why you should listen to her. Synth-pop bleeds through tracks like "5 dollars", "iT", and "The Walker", all of which I recommend if you're in need for some pump-up music.
    And there you have it, thirteen artists I absolutely think you should give a listen to this month. I hope these songs inspire you to live confidently, love boldly, and be true to yourself.