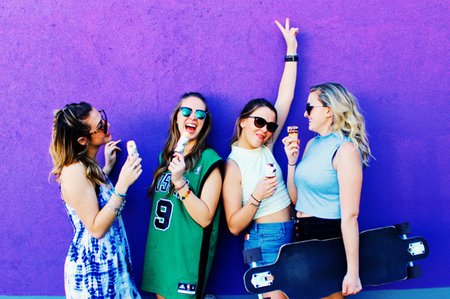 Amelia Kramer / Her Campus
An Orlando Native's Weekend Guide
When people think of Orlando, they might automatically think of Disney World. Do not get me wrong, I love going to Disney in fact, I am even an annual passholder. As an Orlando native, I can tell you there are tons of hidden gems. From Insta-worthy spots to the best places to go when you are craving something sweet, I'm going to show you all our college town has to offer. 
Icon Park   
On the Icon Park strip, there are so many fun things to do from mini golfing to going on the Star Flyer ride (calling all thrill seekers). You can never get bored here.  I recommend going at night because the scene is so lively with music surrounding the area and an atmosphere you won't want to leave. Not to mention, there's several cute photo-ops at Icon Park as well! 
Promenade at Sunset Walk
Sunset Walk is nestled in the Disney area, and every place I've eaten there has been amazing. I recommend trying out Estefan's Kitchen if you are looking for a delicious Latin restaurant. While you're eating, there is live music and salsa dancers- the setting resembles a fancy club. Next, try out Bahama Bucks for dessert. From fruity snow cones to creamy smoothies, there is something on the menu for everyone. My favorite is the Wavebender smoothie because it has the perfect rich taste of vanilla ice cream and tropical all in one. It is currently my favorite "sweet spot" right now! 
Lake Nona Town Center
Lake Nona Town Center is at the center of Orlando, so it's the best spot to be in. If you stop by the area, 99.9% of the time, there is always someone having a photoshoot here because there are so many picture worthy spots. However, you can't leave without eating at Canvas If you are a fish taco lover like me, you'll love the lunch special deal they offer. The meal comes with white fish tacos, harissa sauce, fresh chili, cilantro, and yuca fries. The aesthetic of the restaurant and lakeside view make it a delicious and insta-worthy spot. 
Park Ave
Park Ave is known for being upscale regarding both the dinning and store options, and is perfect if you're not looking to leave the Rollins campus area. If you are like me and enjoy little boutiques where you can find unique finds and peruse the racks for hours, this is the place to go. Park-Ave is the central spot for all my foodie lovers, and you can even make an entire food tour out of it!