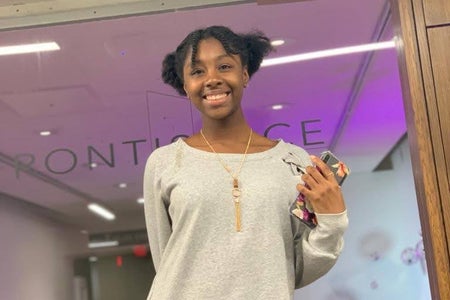 Original photo by Doreen Prempeh
Meet my fellow Her Campus Rochester member Doreen Prempeh! 
Doreen is a Biology major in the class of 2024. She was born in the United States but was raised in Ghana, but then she moved back to Rochester in 2017. "I chose to come to school in Rochester because this is where my parents lived and I definitely wanted a familiar environment as well." Because women empowerment has been an issue that has been undermined for so long, Doreen decided to join Her Campus to be a part of a group of women that support each other. "Why not join a group that uplifts each other instead?" 
Some fast facts about Doreen: Doreen enjoys throwback music especially when it's hip-hop. She loves Tatiana Manaois, and especially loves the passion behind her music because it really resonates with her. If she could, she would even have Manaois be in a movie that is about her life. She says that her favorite Disney movie would have to be Moana. She has watched the movie recently and loves the movie and the music. When asked where she would want to travel after the COVID pandemic is over she replied "Anywhere but the United States." One dream spot that she would love to go to is Singapore,  "I heard it is so clean and neat." If she could live anywhere, she would want to live in an all inclusive resort. She would want to be in a different resort in a different country each week if she could.  If Doreen could have a dream career, she would be an architect but also have a side hustle as a model.
Doreen says that if she could, she would like to have the power to heal and would love to be able to take away people's physical and emotional pain. "I feel like so many people are going through mental and physical pain and I hate seeing people sad so I would love to heal people and make them happy."
If she could meet with any person in the world (past or present) she says she would meet Princess Diana and Harriet Tubman. With everything going on right now in the world she feels like if Princess Diana was still alive today, hearing what she has to say would be very enlightening. "I feel like she had so much to say before she passed away. I would want to know what her life was really like, maybe why she broke so many rules." Doreen feels like Diana would've had a big influence on people's opinions on the current situation and the royal family.  Doreen would also love to be able to meet Harriet Tubman as she was such a strong woman who was willing to break every rule if it meant that people like her were free. Doreen asks, "Why exactly did she commit such a selfless act and what did she gain from it?" If it was possible she would love to be able to meet and have dinner with these women and speak to them about their lives.