This article is written by a student writer from the Her Campus at RIT chapter.
Growing up, I was never really a sports fan–I'm still not. I could never see the appeal of sitting for hours watching players pass around or throw a ball and standing up and cheering and yelling when it hits a goal. I'm also an anxious person who's always moving my leg up and down the seat impatiently.
Sports watching really isn't for me.
But one perk of having different friends who are into different things is joining them in daily activities that I'm not used to participating in–including watching hockey with RIT hockey enthusiasts who will reserve a whole row of front seat tickets (yes, my friends did do this). And maybe when I originally was applying for college I knew I couldn't picture myself sitting in a college football game cheering in the bleachers, mainly because I wouldn't understand what's going on.
But going to a hockey game at Rochester Institute of Technology's Gene Polisseni ice rink wearing one of my only RIT shirts? That's an experience that turned into a bi-weekly hobby. What makes it even better is getting to sit with my friends and their family, ready to jump up and shout the chants created by RIT's Corner Crew, preparing to throw ASL hockey signs while chanting goal counts and traditional song lyrics modified to encourage our team, ready to run up and grab the not-so-great food at the concessions stand, and ready to walk out the parking lot talking about the win or loss all the way on the walk home.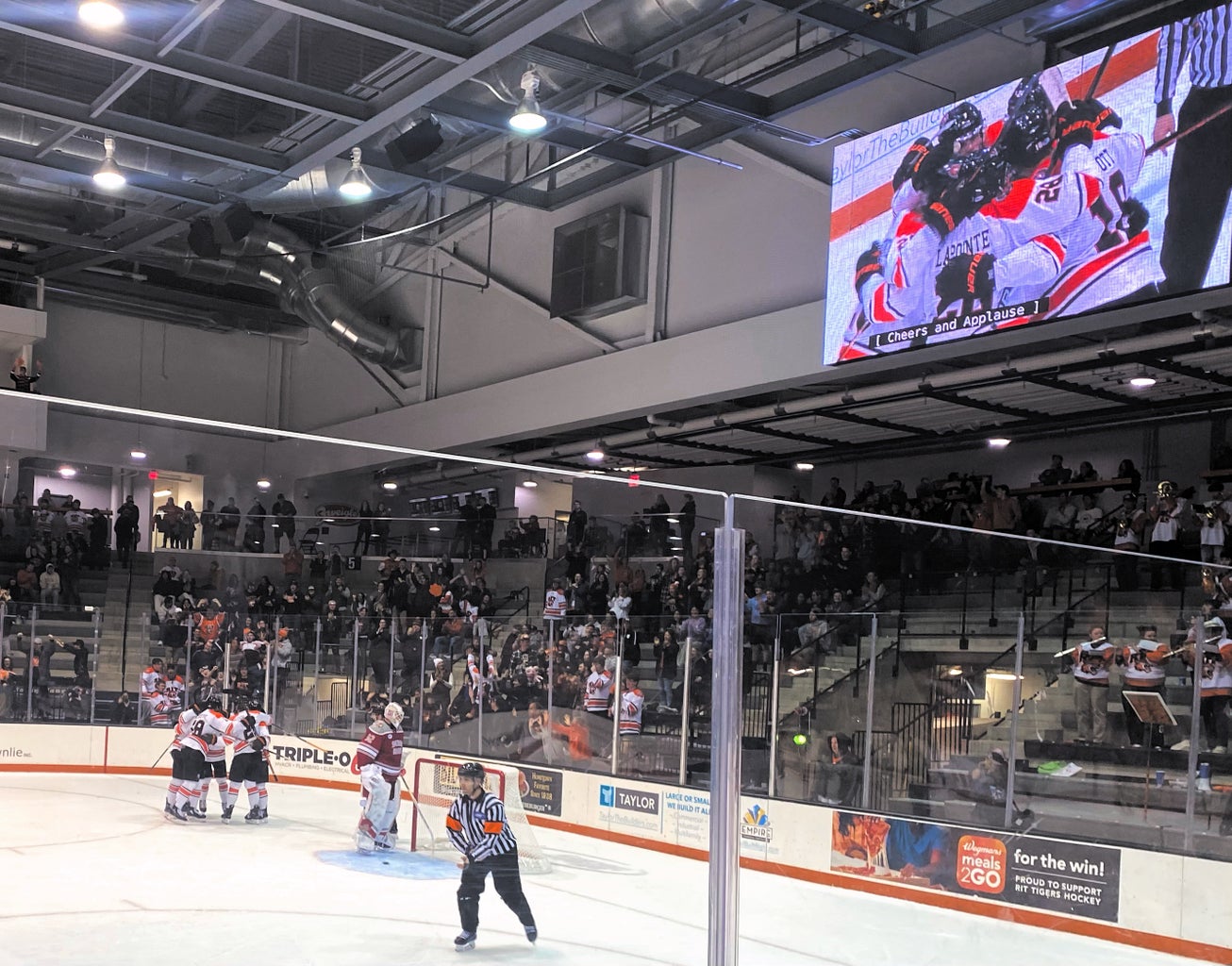 It's not specifically that arena or because RIT has the best Hockey team in the world. It's because it's my school on school grounds and it's the most popular sport in the area. It's knowing that almost everyone attends the games, whether they watch sports or not, because it's about getting into the school spirit. 
School pride is meaningless if you just focus on academics and how a school does on the percentile of highest GPA. It's about the extracurriculars: the variety of clubs for different representation population to quirky hobbies, the events for students passing by to make Christmas cookies between classes or petting therapy dogs for 5 minutes before heading home for the day, about the fraternities and sororities bribing you to participate in their tabling activity for the week.
In fact, Honor Society did a recent study in 2023 that explains how school pride can enhance student success. School pride is about bringing a culture of students from an institute to make connections among everyone, to create an identity within the school. 
The Honor Society article states that "It encourages students to take ownership of their educational experience and proudly represent their institution. This sense of identity can boost self-confidence and motivate students to excel in their studies and extracurricular pursuits."
In short, academic success and school spirit in sports and extracurriculars are not mutually exclusive. If anything, having school spirit gives students a sense of purpose and motivates for academic achievements. 
It's also about the emotional improvements: I don't need to know the logistics of how hockey works or the names of everyone sitting in the bleachers and the field. I just need to be there, in that environment, feeling that positive prideful energy.
It encourages students to take ownership of their educational experience and proudly represent their institution.

"Igniting Unity: How School Spirit Enhances the College Experience" | Honor Society – Official Honor Society® Website.
Attending RIT hockey games is about doing something fun with my friends that is now a tradition for us. Attending a hockey game is about leaving the baggage of the stress of my classes and research projects and assignments behind. Attending the hockey game is about chanting "If you can't go to college go to church" to the beat of "If you're happy and you know it" when the opposing team loses, because no other chant to me is as creative as that one.
It's about being involved, being a part of something bigger than just getting my degree–being in a community.
So, attend that hockey game or football game. Go to that event by that random club to make small potted plants for your dorm. Grab that free cookie by completing the 5-minute survey on your school's wellness. Reserve that study room space in the library and spend 5 hours with your friends co-existing, doing work, and just vibing with them before finals. 
See yourself bigger than just your academics and grades and GPA, because you won't regret it.