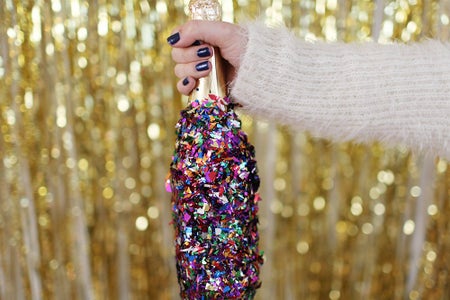 Molly Longest / Her Campus
Counting down to Mardi Gras
Are you going down to Nawlins this weekend for the Gras? If you're answer is no, rethink that answer because Mardi Gras only happens once a year, and my dude, it's a blast and a half no matter who you are. Take it from someone who's been to Mardi Gras every year of her life. Yes, since I was a wee child. If you're someone who stereotypes the Big Easy, you may question my parents' decision to bring me on a parade route at such a young impressionable age. But believe it or not, there are family-friendly things in addition to the not-so-family-friendly things that happen during Mardi Gras (yes, this may even be in the same block of each other, but I promise that going to Mardi Gras did not scar my childhood, and it won't scar yours).
If you still don't think you should go to Mardi Gras, let me give you a few reasons why you should:
Free stuff. So much free stuff. Granted, it's mostly plastic beads, but hey, would you rather them on the ground or in your possession? If you don't go to Mardi Gras, you're essentially supporting pollution, and frankly, that's a bad decision.
Food. New Orleans is literally known for food. Crawfish! King Cake! Etouffee! Po Boys! Beignets! So! Much! Good! Food!
Hand-eye-coordination Practice. Do you play a sport where you have to catch something? Would you like to play a sport where you catch something? Do you like to catch things that aren't colds? Well, I guarantee that you will be able to practice your catching skills on the parade route.
Confidence. Do you struggle with asserting yourself in crowds? Do you struggle with asking for what you want? Five minutes on the parade route will change that. You will learn quickly how to push your way to the edge of the float to demand those beads that you deserve.
Memories. Don't you want to make some memories? They say that Disney World is the place where dreams come true, but Mardi Gras is where memories are made. What kind of memories you may ask? That, my friend, is up to you.
So since you've now correctly decided to go to Mardi Gras, I have a few tips to share with you as you embark on your memory-making adventure:
I hate that I must say this, but you don't need to show your boobies for beads. Don't give some strange creepy guy in a mask that pleasure. Just smile and wave like the penguins in Madagascar and that should do the trick.
They're just beads, or it's just a stuffed animal. So don't get in a fight with someone over it. You may think that surely grown adults don't have fights in the middle of the street over who was thrown a stuffed dolphin, but trust me, it happens, and it's not a good look.
Don't buy any beads. You will get so many for free at the parades (literally bags upon bags of plastic goodies and even some stuffed animals). Save your money for literally anything else. Like food. Food is good.
If you're on the parade route and there's a marching band coming, stand on/behind the curb. You will be yelled at if you don't, especially if it's a large band. If you're worried about getting hit with a moving trumpet or drum stick, put your back to the street and keep that pretty face safe.
Download a parade tracker app. It'll tell you where the parade is, how long it'll take to get to you, how many floats there are—just about everything you'd need to know. (They work great for when you're trying to schedule a bathroom break.)
Take the same precaution you would in any big city. Stay in groups, walk in well-lit areas, don't get into an Uber unless you're sure it's your Uber, use common sense, etc.
Wear comfortable shoes that you're okay with getting a lil dirty.
Don't bring a purse. You won't want to carry it all day, and they're easier for people to take and to lose.
Obviously, try some New Orleans food!
Donate your beads! They're a lot of programs, who employ those with intellectual disabilities, that repackage Mardi Gras beads to reuse the next year. Here's a link to some! 
Also, here's some coolio boolio New Orleans terminology to know:
Krewe: the organization that is putting on the parade that you're seeing. Examples include Bacchus, Endymion, Thoth, and Tucks. Usually, there's some sort of court with maids, junior maids, princesses, and a king and a queen who'll ride on their own floats. The court normally has a ball—sometimes immediately after the parade, sometimes a few weeks before, just depends.
Ball: think of it like a presentation of the court where members of the court come out on stage, do some curtsies with a scepter here and there, and then afterwards there's some big ole party
Captain: the man (or woman if a female krewe) in charge of the krewe, whose identity is usually hidden with costume
Lieutenant: those in the upper workings of the krewe who help the captain
Throw: anything that is thrown off a float—includes beads, stuffed animals, toilet paper, chips, garters, etc.
Flambeaux: these are the things at night parades with fire—people can put change in buckets that their carriers tote around
King Cake: the best seasonal dessert out there. Randazzo's makes the best king cakes in my opinion.
Neutral Ground/Sidewalk Side: there are two sides to stand on when you're on the parade route. One of them is the sidewalk side, and the other is the neutral ground. If you're not from NOLA, neutral ground=median. (The street is obviously between the neutral ground and the sidewalk and that's where the parade happens.)
I hope that you enjoy your time in New Orleans! Remember to be safe and have fun! I promise New Orleans is excited for you to join in our Mardi Gras celebration!