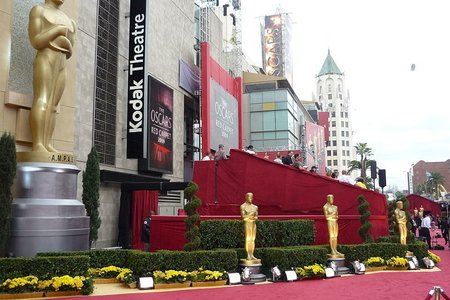 Your Complete 2020 Oscars Round Up
A soggy red carpet welcomed stars of the film industry to the 92nd Academy Awards this weekend, foreshadowing the underwhelming ceremony to come.
The fashion too was a bit of a drip – even Billy Porter, who has wowed us on other red carpets this year, stepped from glamour into gaudy. At least he tried though, whilst most of the other men stuck to their usual black tux uniform. Meanwhile, it was a mixed bag for the night's leading ladies. The most talked about outfit was most likely Natalie Portman and her cape.
Slung over a black and gold, floor-length dress – the intricacy of the decoration almost reminiscent of some of her Queen Amidala costumes – Portman's black cape was embroidered with the names of the female directors who had been snubbed in the nominations. You might remember when she introduced the "all male nominees" at the 75th Golden Globes ceremony. It seems she's not ready to let the award season's misogyny go just yet, and rightly so. She gave her own spotlight over to Lorene Scafaria, Hustlers; Lulu Wang, The Farewell; Greta Gerwig, Little Women; Mati Diop, Atlantics; Marielle Heller, A Beautiful Day in the Neighbourhood; Melina Matsoukas, Queen & Slim; Alma Har'el, Honey Boy; Celine Sciamma, Portrait of a Lady on Fire. These are women who otherwise wouldn't have been recognised at the awards show.
Still, there's something to be said about actions speaking louder than words. Someone might need to remind Portman that her own production company only has one hired female director. And it's herself.
Her statement was a lot more sophisticated though than Chris Rock and Steve Martin's attempt at an opening monologue. It seemed as if they were trying to imitate Tina Fey and Amy Poehler's infamous duo act, except they forgot to add any chemistry. Jokes about the lack of people of colour amongst the acting nominees are also becoming stale, given the fact that the Oscars still hasn't learned from #OscarsSoWhite. It's not funny anymore – just exhausting to see excellence ignored.
It was a relatively harmful monologue, and they misused a perfect opportunity to properly roast Jeff Bezos. (In the year of Parasite, couldn't they have managed one dig against the King of Capitalism?) Before Martin and Rock gave their non-host hosting speech, Janelle Monae turned the heat up with an opening musical number that was only surpassed in the show by Elton John's.
Hosts who outshone Martin and Rock include Maya Rudolph and Kristen Wiig's audition for the casting directors in the room, giving us the second best audience reaction of the night in Billie Eilish's grimace of confusion. (First best audience reaction obviously has to go to Martin Scorsese's snooze during Eminem's absurd and still unexplained appearance.)
Presenting Best Actress, Olivia Colman gave the night a dash of much needed cheekiness, telling everyone that "Last year was the best night of my husband's life." Honestly, if the Oscars go sans-host again next year instead of hiring her, they've missed a trick.
The lowlight of the chosen presenters was without a doubt James Corden and Rebel Wilson rocking up in full cat suits. (If you need to be told why they were wearing cat suits, then you've missed a trick.) Funny as other award show's shoutouts to Cats! have been, this one felt like it was just making a joke out of the recipients. You work your whole life to win an Oscar, and then have to accept it from that. Maybe not the moment you had always dreamed of.
Without further ado though… it might be time to actually mention the awards. It would be rude to start anywhere other than with Parasite, Bong Joon-ho's masterpiece which absolutely cleaned up. Taking home four Oscars, the director joins Walt Disney in the ranks of people who have taken home four golden men in one night. And he was loving every second of it, as were the crowd, who were led by Tom Hanks in a chant of "UP!" when the Academy tried to dim the lights on the film team's victory.
It was more than heartwarming to see Bong take to the stage four times over the night, especially after 1917 was slated to win Best Picture, given its winning sweep at other award ceremonies this season. More than that, it was historical. Parasite's win for Best Picture marks the first time a film not in the English language has ever won the most coveted award of the night.
Bong's declaration that he was planning on drinking for the rest of the night was well-deserved. He's led an incredibly talented team to a landmark victory, which will go down in film history (hopefully as revolutionary, and not just a one-off).
Thankfully, it wasn't the only first of the evening. Even though it's been a long-time coming, the 92nd year could be a turning point as Taika Waititi's win for Best Adapted Screenplay made him the first Maori person, and the second person of Indigenous descent, to win an Oscar. He dedicated his award to the author of the book that Jojo Rabbit was based on and Indigenous children globally, encouraging them to be heard. Sunday night also saw the first woman win Best Original Score, thanks to Hildur Gudnadottir's work on 1917. Introduced by the presenters before leading the orchestra through the Best Original Score nominees, Eimear Noone became the first woman to conduct at the Oscars – although, just for one segment.
A lot of this might have felt overshadowed by Joaquin Phoenix's powerful acceptance speech, in which he called attention to the environmental crisis and asked people to use compassion when it comes to our diet. He ended with moving words by his late brother, River: "Run to the rescue with love – and peace will follow." It eloquently concluded an emotionally unveiled, and drove home the point that our lives are fleeting, whilst the earth is not.
In comparison, Renee Zellweger's acceptance speech was… feeble. Her attempt at the end to put out a message of coming together through love for our heroes sounded half-hearted and immature, especially after Phoenix's raw honesty. Which is why it doesn't really deserve that much of a mention.
The jarring difference between their two speeches embodies the reality that was the 92nd Academy Awards: moments of euphoria as Bong gazed lovingly at his statue, next to moments of anger as the Academy didn't let Bombshell's hair and make-up team finish, all muddled up with unfunny presenters, camera gaffes, and the unspoken awareness of everyone who was snubbed.
Just as they wrapped up the night, Parasite will wrap up this article too. It deserves every shout out sent its way, as do the wonderful cast and crew who turned Parasite into reality. The Academy might have succeeded in playing them off the second time, but one thing is for certain – Bong Joon-ho's name will be heard for a long, long time to come.