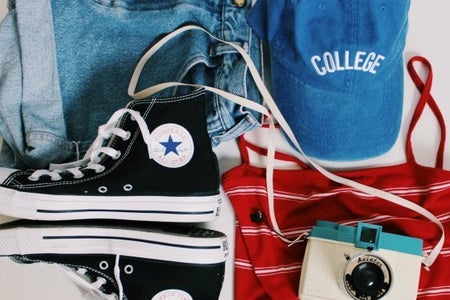 Anna Schultz / Her Campus
Meet the Queen's Girls Behind "Forget Me Not Outfitters"
I, Eirinn, sat down with Logan and Martha, co founders of the new online consignment shop at Queen's called 'Forget Me Not Outfitters', to discuss their business, how they wanted to bring a new outlook on style and fashion to Queen's students, and a little bit about themselves. 
Eirinn: Hi girls, first off I would love for you to introduce yourselves…
Martha: My name is Martha Hillen. I am a third year Global Development major at Queen's!
Logan: I'm Logan Kenny and I'm a fifth year Sociology Major and Philosophy Minor at Queen's as well!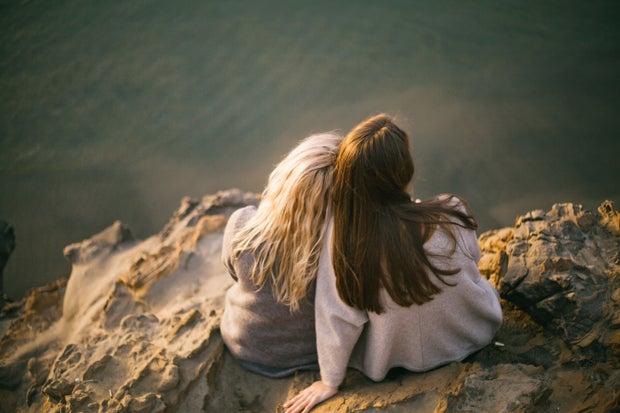 Molly Peach / Her Campus
E: What inspired you to start Forget Me Not Outfitters (FMNO)? 
M: Mainly a disdain for my day job…. Just kidding! 
L: We both have worked at Urban Outfitters and noticed many of their pieces are quite similar to  thrifted looks but are sold for a substantial upcharge. I had a discount while working there, but without it the prices would have been quite inaccessible to me. 
M: We wanted to create a curated experience of really cute clothing that is within the range of  student budgets. As well, thrifting can be very time consuming, especially with the pandemic. Not many people wanted to go out to stores, so we decided to bring that experience to students through an online format!
E: What would you say is your vision for the shop over the next year? How does being completely online at Queen's factor into your goals? 
M: The way that we are able to use creative direction to make our items more appealing adds a whole other aspect that I would really like to push forward. I think it brings up the value of our store and genuinely makes it more fun, allowing  us to stand out amongst the crowd. 
L: It is a lot of work with the creative direction, but we want to expand our team and work with people like makeup artists, models from the Queen's community and graphic designers to make more local connections and collaborations. We just had a Thanksgiving food drive because we want to expand beyond simply being an online store and give back to the local community! 
M: Because of the pandemic we haven't been able to build as many connections amongst the Queen's community as we wanted but this has helped us create so many new connections with other students which we love. 
L: We want to keep on with the themed drops and hopefully expand our inventory so that everyone is able to find something they really love.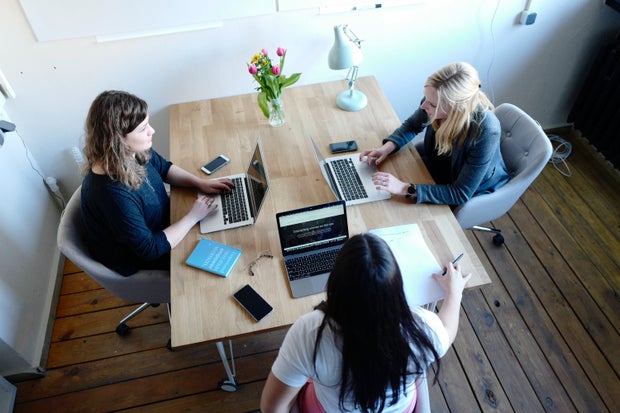 CoWomen from Unsplash
E: How do you fit sustainability into your goals at FMNO? 
L: FMNO is anti-fast fashion. We don't buy any new products and only use thrifted or donated pieces. We do drop offs with minimal packaging to prevent plastic waste and since we do themed drops, we try to buy things that fit only into these specific themes rather than in bulk at the thrifts we go to. 
M: We recognize that as much as we try to not have an impact on a thrift store by buying for consignments, it's bound to happen. However, we try to mitigate this by donating bags of items to the stores we go to essentially every time we buy things. 
E: What has been your favourite part of selling to students at Queen's? Has it overall been a rewarding experience so far?
M: I think my favourite part has been getting to meet people in the community and getting to hear the positive reactions of people who buy our stuff!
L: I am so grateful for all the people that have and continue to support us in the community. It's made me feel so much more confident in our personal style. Some people come out consistently to every pop-up we have done and it's been so nice to see everyone showing their love and support.
M: Doing photoshoots has definitely boosted my confidence because people are so receptive to the pieces we sell and love all the photos. We have been able to make so many meaningful connections so it definitely has been super rewarding! 
L: It has also been so fun to introduce people to new and more diverse types of styles as we sell things that are sort of 'out of the box', especially when considering the stereotypical Queen's student's outfit.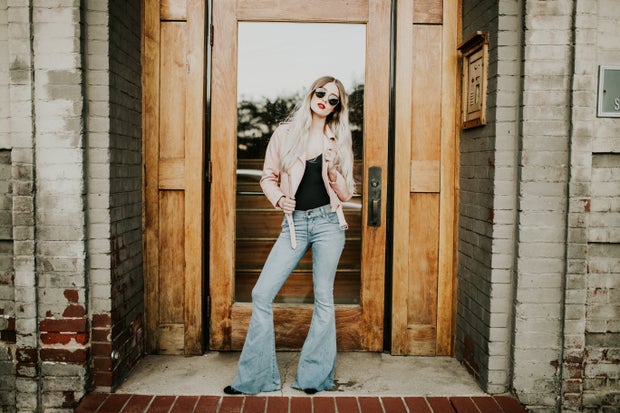 Arianna Tucker / Her Campus
E: As you guys have been doing themed drops, what drops are coming in the future? What kind of pieces do you love in the upcoming drops that we should all look out for?
M: Athleisure is our next drop! I'm really excited for this one because I think it's going to appeal to a wider variety of students, adding more gender neutral clothing than effeminate things.
L: We have tons of cozy crewnecks coming which I think everyone should be excited for! Other than that I think we're going to do a Halloween drop, a grunge drop and a workwear drop which will have stuff like cargo pants and overalls for example. 
E: What has been your favourite piece from your collections that have already dropped? 
M: My favourite piece has been the Burberry bucket hat from our Y2K drop! 
L: This is super tough… I think my favourite has to be the contrast stitch skirt from our streetwear drop! I love it because I really appreciate attention to detail and how it can really elevate a piece. I can't believe no one has bought it yet (quick plug!). 
E: Finally, for anyone who hasn't heard of you guys already…. Where can we find your store and how do people go about purchasing your items?
L: You can find us by searching @forgetmenotoutfitters on Instagram! 
M: We are also on Facebook at Forget Me Not Outfitters.
L: Follow our social media because we are hoping to do more in person (with all COVID precautions) pop-ups and always post about when/where those will be!
E: Thank you guys so much for chatting with me about FMNO! I'm sure everyone will be excited to see what you guys have coming up in the future. 
M: We've been so appreciative of all the support of our peers and we hope we can find things everyone will love in the near future!
L: We are always open to any feedback and requests from our patrons to create the best curated experience for everyone!!