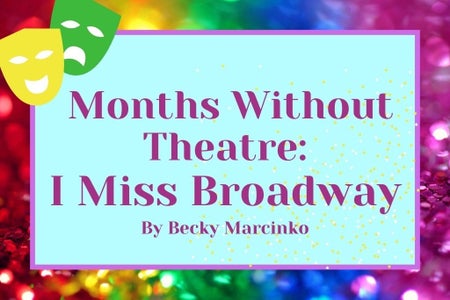 A World Without Theater: My Thoughts Six Months After the Broadway Shutdown
I really, really love theatre. I was in third grade constantly listening to "Wicked" and "Rent" — two shows that are definitely too mature for an eight-year-old. In 2019, I took five trips to New York City specifically for Broadway, and three more in 2020 before March. 
I told people that I really only had a job to be able to afford to go to see shows. 
On March 12th, I was sitting in the airport in Detroit on my way to Birmingham, AL. to see my friend in her school's musical. I had other trips planned for the month as well, because I was planning to be in New York the weekend of March 28th. 
The main attraction of the trip was the revival of "Company" with Patti LuPone. 
As the spread of the coronavirus was slowly getting worse — especially in New York City — I was avidly following the BroadwayWorld message board as others speculated the future of Broadway. I remember reading a post that was something like "If Broadway shuts down, you know the city is seriously in danger. I doubt that would happen." 
During my layover in Detroit, Broadway shut down. I got an email that my tickets for "Company" would be refunded. 
At the time, I didn't think much of the Broadway shutdown. I thought it was absolutely crazy, and that Broadway would surely be back in April as the Broadway League was promising at the time. 
During my weekend in Alabama, I saw one of my best friends star in her school's production of "35mm: A Musical Exhibition." We went to see the show four times that weekend, not realizing that it would be the last piece of live theatre I would see in 2020. 
Now, we are six months into the Broadway shutdown. Though I was (obviously) not directly working for a Broadway show, I feel so deeply for those who are. These performers, technicians, artists, designers and more have mostly trained their entire lives to work in a field that is completely obsolete. 
I used to frequent the city with two of my friends, Bella and Stephanie. We text each other at least once a week about how much we miss Broadway. 
If the world were still in its pre-March 2020 state, the Broadway Cares Flea Market and Grand Auction would be quickly approaching, so my friends and I would be planning to be in the city for that weekend. 
Last year at the flea market, I saw "Beetlejuice" and "Oklahoma!" and filled the rest of the day at the flea market. I'm happy to say that I purchased a ridiculous amount of "Hedwig and the Angry Inch" and "Hadestown" memorabilia. 
Clearly, this was heaven for the Broadway-obsessed. 
I've noticed recently that my life almost seems flat without not only Broadway, but all live music and theatre. 
During the fall 2019 semester, my beat for Penn State's student-run newspaper was performing arts. This meant I was covering music and theatre events one or more times a week. I miss a lot about fall 2019 and the abundant normalcy of that semester, but the experience of much art and culture is what I miss the most. 
Live theatre will return someday. For now, I guess I'll just have to continue to listen to only the "Hadestown" cast recording. 
But I do know that once Broadway reopens, I will absolutely be there the first night back.