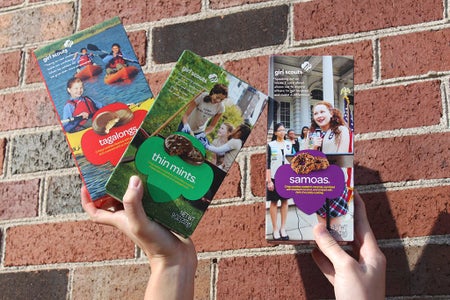 What Girl Scout Cookie You Should Try Based on Your Star Sign
Okay, I'll be the first to admit it — the winter months suck. The one benefit to the cold weather, though, is Girl Scout Cookies. The feeling of utter euphoria that overtakes me when I see a group of Girl Scouts at a table outside of Sam's Club is like no other. If you're looking to try out a new flavor, you should definitely consider checking out these cookies based on your star sign.
As a Capricorn, you run a pretty tight ship. You're the most responsible, serious, independent, and disciplined out of all of the earth signs. This cookie season, you absolutely need to grab a box of Thin Mints from your local Girl Scout. The mint-flavored cookie with a rich chocolate coating is the perfect 'anytime' snack for you, Capricorn. Your structured personality and this sweet and classy treat will surely go hand in hand.

When it comes to you, Aquarius, you've got a lot going for you. You're friendly, loyal, original, and an independent ray of sunshine. A sunny personality deserves a sunny cookie — so the Lemonades are just for you! Lemonades are a newer addition to the Girl Scout franchise. The lemon icing sandwiched between two delicious shortbread cookies is the perfect serving size of sunshine for you!

Everyone loves a good Pisces. As a water sign, you're so easygoing. You're romantic, wise, empathetic, and affectionate. You absolutely need to try the Caramel Chocolate Chip Cookie. Rich caramel bits, semisweet chocolate chips, and just a hint of sea salt are baked into a soft, chewy cookie for you to enjoy. This sweet treat was introduced to the cookie lineup back in 2019, and thankfully, it is here to stay! Whether you decide just to treat yourself or share with your lover, the caramel chocolatey richness will have you head over heels, Pisces.

You've got a lot going on, Aries. As a fire sign, you lead a dynamic life. You are attracted to adventure, you live on the edge, and you don't mind a little friendly competition. As the thrill seeker, you're always on your toes looking for trouble. The next time you buy Girl Scout Cookies, be sure to test out Tagalongs. The trusty Tagalong has been actively produced since 1976; all within good reason, too. The crunchy cookie base topped with a thick layer of peanut butter encased in a chocolate shell will surely keep you energized for life's latest adventure.

As a Taurus, you're definitely notorious for being stubborn. On the bright side, you're patient, strong, dependable, and determined. Since dependability sits at your core, you definitely want a cookie that has been loved for years. Try the Do-si-dos! Do-si-dos are sandwich cookies with crisp and flaky outsides and smooth and creamy peanut butter insides. Girl Scout Cookie lovers have been enjoying these bad boys since 1974, and you will too!

Oh, Gemini. I really feel like you get an unnecessarily bad rap. Don't worry, though! You have so many good qualities including intelligence, versatility, liveliness, curiosity, and kindness. Since you're not known to be picky, you should look into the Samoas. The toasted cookie drizzled with caramel and sprinkled with coconut flakes is intimidating at first, but it's for sure worth a try, Gemini.

Cancer, you're really unlike any other sign. Finding the perfect Girl Scout Cookie for you was no easy feat. You probably get this a lot, but you're emotional, imaginative, sympathetic, and sentimental. Your childlike aura would absolutely love this season's new cookie. Toast-Yay! is practically Cinnamon Toast Crunch in cookie form. The toast shape in combination with the French toast flavoring is a nostalgic treat that you're sure to love!

To call you a firecracker, Leo, would be an understatement. You're the most bold, confident, and creative sign of the Zodiac. Your personality can be intimidating at first, but your friends know just how loyal you are. The ABC Bakers Girl Scout S'more is the ideal cookie for you. Whether sharing these cookies with friends or munching on them by yourself, the crispy graham cracker cookie double dipped with crème icing and layered with chocolate coating is sure to defy your expectations.

As a Virgo, you're always on top of things. You are systematic, practical, and analytic. A diligent worker like you would love the Trefoil. The shortbread cookie stamped with the Girl Scout logo is a reliable and classic favorite. The Trefoil has captured the hearts of generations; it's the oldest Girl Scout Cookie that is still in active production today. This original and timeless treat is sure to live up to your standards, Virgo.

Libra, you are undoubtedly a people person. You're notable for being charming, sociable, and easygoing. As a social butterfly, you need a cookie that's perfect to share with friends, family, coworkers, and strangers you meet on your morning commute. Whenever you're out and about, snag a box of the Toffee-tastics. You and your friends will be delighted to bite into the buttery cookies topped with sweet, crunchy, golden toffee bits. Keep these cookies handy 24/7, Libra! You never know when you'll meet a new friendly face to share with. 

As a Scorpio, you are super inspirational and just overall adorable. You're determined, passionate, resourceful, and powerful — what's not to love? Your energy is absolutely magnetic, and you need a dynamic cookie to match! The Little Brownie Girl Scout S'mores are perfect for you. The crunchy graham cracker outside with creamy chocolate and marshmallow filling will make a huge statement — much like you, Scorpio!

As the final fire sign of the calendar year, you are definitely feisty, Sagittarius! Optimism, honesty, humor, and extroversion are your strong suits. Your feisty personality should be complimented with an equally zesty cookie. The Lemon-Ups are relatively new to the cookie timeline, having debuted in 2020. Nonetheless, these cookies are phenomenal for you, Sagittarius. Not to be confused with the Lemonades, the Lemon-Ups are a classic, crispy, lemon cookie. Each cookie is printed with an inspiring message to promote positivity. Be sure to check these out!
Now, I know the thought of these cookies alone is absolutely mouth watering. Most Girl Scout Cookies retail for about five dollars, which is somewhat steep (considering they went for $3.50 back in my day). Just remember, Girl Scouts is an organization that aims to motivate and inspire young women and girls all over the globe. Each box sold directly benefits girls in the program, their communities, and selected charities — totally worth it!