The Tea on the Jordyn Woods and Khloe Kardashian Drama
Everyday it seems to get harder and harder to keep up with the Kardashians.
If one of them isn't creating a new beauty line, having a baby or walking a runway its thought provoking to what else goes on in their day to day lives. However, news stands and social media are here to inform us that their lives are no walk in the park. Especially for Kylie Jenner and Khloe Kardashian.
Early last week, news broke about Kylie's best friend, Jordyn Woods, and Khloe's baby's father, Tristan Thompson, hooking up at a party in LA The fact that Tristan cheated wasn't a surprise to fans of the family, but the fact the Jordyn was involved certainly was.
Jordyn and Kylie have been best friends for years. They created a palette together under Kylie's skyrocketing beauty company, and are inseparable on both the television show and social media. Their friendship proved to be goals for best friends everywhere, so when news broke about Jordyn and Tristan fans were more than a little upset.
The first week brought tons of memes depicting Kylie turning off Jordyn's phone and kicking her out of her Calabasses guest house. Fans weren't afraid to refer to Jordyn as a "home wrecker" and everyone seemed to be backing Khloe fully.
However, the tables began to turn this week when fans were then directing their anger towards Khloe herself. Khloe was bashing Jordyn on Twitter and was refusing to bring Tristan up because "that's the father of my child."
Even celebrities were weighing in on the latest Kardashian drama.
Jeffree Star took to Twitter and called Khloe out on not treating both sides of the scandal equally. Jeffree quote tweeted the Kardashian and said, "Learn to co-parent on a healthy level and stop acting like your man isn't trash either…thank you, now shut the f*ck up."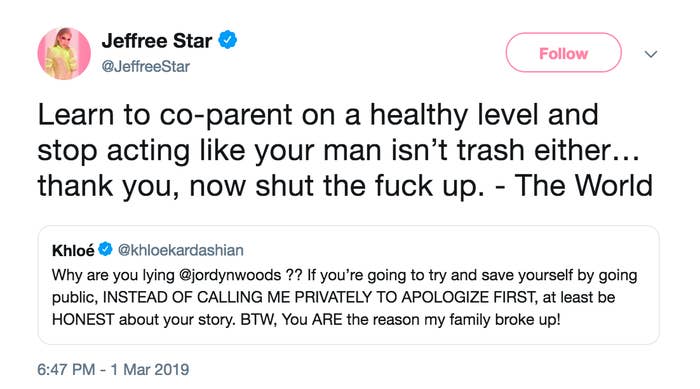 Everyone was eager to hear Jordyn's side of the argument, but it seemed like Jordyn was going to stay silent.
This was until the middle of the week when Jordyn teased an interview with Jada Pinkett-Smith on her Red Table Talk series. The news of the interview spread like wildfire and everyone was watching their phones waiting for Jordyn to finally weigh in.
During the interview, Jordyn told the story of how her and Tristan were partying at the same bar separately, and then her and a group of friends ended up at the NBA player's house.
It was there that she painted the scene of everyone "just chilling" as she hung her legs over his.
Surprisingly, she did admit that he kissed her on the lips as she was leaving his house early that morning. Jordyn seemed to be remorseful and honest throughout her interview with Jada, but people were still speculating on the innocence of that evening.
Once again, Khloe called Jordyn out on Twitter and accused her of lying during the interview. She then admitted that although Jordyn wasn't the cause of her and Tristan's breakup, but that she was hurt that someone so close to her could add to the cheating scandals.
Kylie still hasn't discussed the fate of her and her best friend's relationship, and has yet to weigh in on the situation at all.
Maybe the next lip-kit will be frenemy themed.