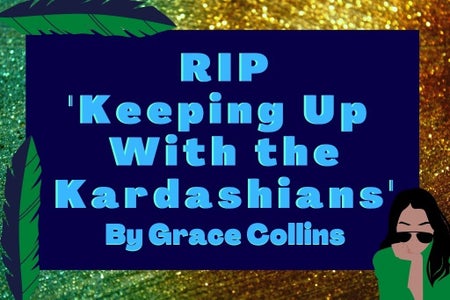 As embarrassing as it might sound, it was a sad day when the Kardashians announced that after their 20th season on air, they will officially stop filming. Looking back, almost everyone has had some experience watching the show. Whether it was waiting every week for new episodes, binging in your bedroom if your parents didn't allow you to watch it, or putting it on after a long weekend to relax - we have all had the show on at some point. The number of iconic sister fights we have all resonated with will always hold a special place in our hearts and our phones, where their hilarious memes can live on forever. 
As controversial as the 'Kardashian klan' can be, they also bring many social issues to light through the show and on their social media platforms. We have watched all of the sisters go through boyfriends, husbands, and friends, which can make the "common" person feel less alone - not to mention the multiple divorces the sisters have experienced, which could further help anyone watching and experiencing something similar. They openly talk about prison reform on the show, as Kim and Kourtney have fought against wrongful imprisonment cases. Kourtney has also traveled to Washington D.C. to lobby against unnecessary and harmful chemicals in everyday beauty and personal care products. 
Watching the transition of Caitlyn Jenner really opened the public's eyes to transgender rights and made people more aware of the LGBTQIA+ community. Since Caitlyn - formerly known as Bruce - was once an Olympic gold-medal-winning track star, the sports community was also involved and made aware of the transgender community. This was a transformative part of the show considering LGBTQIA+ rights were seldom fought for, nor were they as public then as they are now. 
As much as people joke about the Kardashian family and their show, it was extraordinarily successful, and people looked toward the family for a sense of comfort - excited to sit down and watch the ins and outs of their lives. Kris Jenner taught us how to be the best manager for ourselves. Kim Kardashian taught us to ignore the haters and stay strong. Kourtney taught us how to live a healthy lifestyle with her blog, Poosh. Rob taught us that even in dark times, your family will always care and be there for you. Khloe taught us that we do not need a man and can be a boss on our own. Kendall taught us to work hard in order to reap the rewards. Finally, Kylie taught us how to start your own company and sell it. Most importantly, however, Kylie taught us that pigs are not chickens. Keeping Up With the Kardashians, you will be missed by many all over the world.