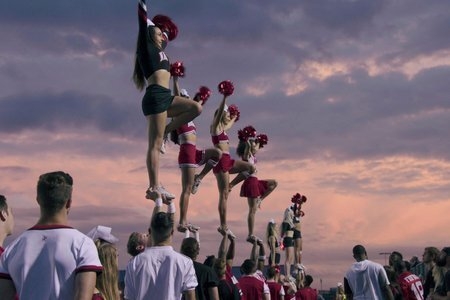 A Review of Netflix's Cheer From the Perspective of Someone Who Did One Season of All-Star Cheerleading
If you have a Netflix account or any social media you have probably heard of one of the most popular documentaries right now. Netflix's Cheer, which follows Navarro College's elite, title winning cheer team has surged to massive popularity over the past month. Their tumbling is amazing, their jumps are clean, but their pyramid is well...a bit of a mess but through 6 glorious episodes. We watch the triumphs and downfalls of this Junior College's Cheer Team. 
Now, as someone who was on an All-Star Cheer team for about 6 months from 2015-2016, I decided to come out of retirement and review this documentary series that I was repeatedly told was a must watch. Here are my thoughts:
Loren Rylander
Let me start off by saying that I was on a level 1 cheer team, so nothing that I did was even close to the stunts and tumbling that this cheer team repeatedly performs. First of all, the coach of this team, Monica Aldama, is a literal queen (no really, her cheer team calls her the Queen) in that she applied for this cheer team job by chance, got it and has turned this program into one of the best Collegiate Cheer programs in the country. Aldama is extremely tough and strives for perfection yet if anyone attempts to mess with anyone on her squad, she will fiercely defend her athletes. The series follows the 40 person cheer team as they all attempt to learn a complex routine for their competition in Daytona. Only 20 members of the 40 person team can "make mat," meaning that although they all work extremely hard to learn the routine, only 20 people can perform at the competition. When I did cheer, everyone made mat, even me who wasn't strong enough to be a base nor flexible enough to be a flyer.
Although the docu-series follows the team as a whole, there are about five members whom the show really focused on. Lexi Brumback, the platinum haired girl who "tumbles like a boy," is not your typical cheerleader. Brumback discovered cheerleading after getting into a lot of trouble when she was younger, and credits the sport as saving her. She is one of the primary tumblers on the team. 
Morgan Simianer is a tiny flyer with not a lot of experience, but she has a ton of heart and uses cheerleading as a coping mechanism. She also has a powerful back-story — she was abandoned by her parents and forced to live in a trailer with only her brother to Jerry Harris who is famous for his mat talk — hyping up teammates while they are performing — cheer is his life and the only way he could cope after losing his mom to cancer at a young age. I'm not kidding when I say that I would literally give my kidney to Harris if he needed it. 
La'Darius Marshall is amazing at every aspect of cheer, but she has a cocky attitude stemming from childhood trauma.
Gabi Butler, who has been famous for cheerleading since she was a child, is flawless. But, she is constantly controlled by her overbearing parents. 
After watching everything these five have gone through in order to get to where they are today, you are left with no choice but to root for them to make mat.
Netflix
When I started this show, I was skeptical because my experience with cheer was short and not the best. I became so invested in this team and who would make mat that I ended up watching all six episodes in one day. These athletes battle both injuries and sickness for the chance to perform a two and a half minute routine one time. If you are able to watch this series without wanting to become a Navarro cheerleader, I applaud you because it has now become my mission to make Monica's squad. I urge you if you have any spare time, watch "Cheer" — you won't regret it. See you on the mat, Collegiettes!