Penn State vs. Wisconsin: More Than A Game
With the Big Ten Championship game just a couple hours away, the buzz around college football has never been bigger. However, here at HC Penn State, we've decided to team up with our friends at HC Wisconsin to take a break from all the football talk and compare the two schools off the field. Check out how each respective school feels about their most coveted assets. 
Tailgating
Penn State: Undoubtedly the best part of game day in Happy Valley is the tailgating. People tailgate everywhere – in fraternity houses, apartments and the legendary tailgate lots. Cars are packed like sardines on grass lots, rain or shine. People set up their tailgates from 7 a.m, until game time and even stay after the game. The tailgates consist of amazing food, games, and quality time with other people who love Penn State. Penn State tailgating is a feeling. It is unexplainable. Being surrounded by thousands of people who share the same energy, love and dedication to your school is unbelievable.
Wisconsin: The best way to prepare for a game is to find a tailgate that includes all of the necessities: free food, beer, and activities. Would it even be game day without streets full of people playing beer pong and drinking from two story-long beer bongs?
The Bars
Penn State: With over 25 bars at Penn State, it's no question that WE ARE the best in the comparison between Wisconsin and Penn State. From the fries in your sandwiches from Pramanti Brothers to the classier Bill Pickles Tap Room, there's always a bar for your mood. It's pretty safe to say that Wisconsin doesn't have a place better than the Phyrst to celebrate your 21st birthday!  
Wisconsin: After a Badger win, what better way to celebrate (and soak up the beer) than at Ian's Pizza! Although we'd rather be cheering on the Badgers from the sidelines, Lucky's 1313 might be the next best thing (plus $3 beer). If you're looking for a good time full of Badger fans and booze, the game day go-to bars are definitely State Street Brats, Chasers, and The UU.
Game Day Traditions
Penn State: Imagine standing in a sea of white with 107,000 other people. Now imagine 53,500 people yelling "WE ARE" and 53,500 yelling "PENN STATE" right back without hesitation. That is the reality that is every Penn State home football game and that's only the beginning. The Penn State Blue Band kicks off the night with their trademark drill "The Floating Lion" complete with a flip from the drum major, which with a successful landing is said to signal a PSU win. After every touchdown scored by our Nittany Lions hundreds of students are sent flying into the air once for every point on the board, which is truly one of the craziest sights to see. The most special tradition, however, is always saved for last. After every game, the team, the band and the students come together to sing Penn State's most beloved song—The Alma Mater.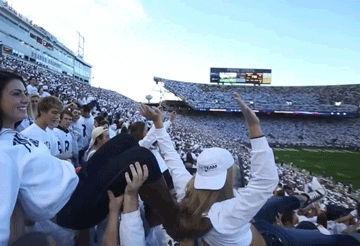 Wisconsin: Do game days actually happen if you don't get a picture in your Badger red on a giant terrace chair? Perhaps our favorite way to start a game day is walking through that sea of Cardinal red singing "Build Me Up Buttercup" as we enter Camp Randall.
Mascots
Penn State: It's pretty well recognized that the Nittany Lion is one of the most iconic mascots of all time. A lion or a badger? The choice is pretty obvious. 
Wisconsin: Can your mascot do 50 pushups in a row? Didn't think so! Learn how to do pushups from Bucky when we lead you 50-0 this weekend!
Downtown
Penn State: State College has proven to be one of the best college towns in the country. Everything you need is walking distance away - Chipotle, Target, Urban Outfitters - not to mention a plethora of bars and restaurants. 
Wisconsin: The most popular post-game bites are typically places like Buffalo Wild Wings, Toppers, Wendy's and State Street Brats - basically anywhere you can get fried food after a long day of drinking and standing.
Campus Icons
Penn State: The Lion Shrine is its own destination at Penn State. Students, families, fans, and visitors alike love to stop here for a picture with the lion. It is especially busy during game weekends, where people form lines just to snap a quick picture at the legendary site. Do you really go to Penn State if you don't have a picture at the Lion Shrine? Another new addition to Penn State's icons is the We Are statue. This shiny symbol catches the attention of all those who pass it. It sits right across from Beaver Stadium making it the perfect stop to pose for a picture before going into the football games.
Wisconsin: We're always thankful for Abe's watchful eye (and good luck) on game days. Badger-wear wouldn't be complete without the Motion W and we couldn't be more proud to deck out in it from head to toe on game days! When a chair reminds you of a University, you know that your campus is iconic. From Terrace Chairs, to Bascom Hill, or Abe Lincoln watching over campus, and the state capitol building always in site- UW-Madison has many icons that make its campus stand out.
The Stadiums
Penn State: Ranked the best student section in the country by ESPN analyst Kirk Herbstreit, Penn State's Beaver Stadium is filled with the most dedicated Nittany lion fans each and every game. Regardless of the weather, Beaver Stadium never fails to bring energy and heat to Penn State football. Not only is Penn State's stadium one of the largest in college football, it's also the home of traditions like the White Out game, touchdown tosses, the S-Zone and Nittanyville. How many other college students camp out for a week to get the best game day seats?  From fireworks to chicken baskets, the rich traditions of Beaver Stadium are unbeatable. With a history of being so loud it's off the Richter scale, Beaver Stadium packs over 100,000 people while Wisconsin's Randall stadium fits only about 80,000. Sorry Wisconsin, but the roar of the Nittany lions is louder than some badgers. Wisconsin: Our student section sticks around till the 4th quarter through any weather just to participate in Jump around, historically one of any colleges' best game day traditions. No matter where we're playing, you won't find a more dedicated group of fans! Before and after the game, you are sure to be in full gameday spirit walking to and from the game in the massive sea of red.
School Colors
Penn State: No colors shine brighter than that Penn State navy and white. We couldn't be prouder to rep these colors on game day and let's be honest—everyone looks good in blue and white.
Wisconsin: Have you ever seen a prettier sight than walking through the sea of cardinal red on your way into Camp Randall stadium?