"Anything Goes"- Emma Chamberlin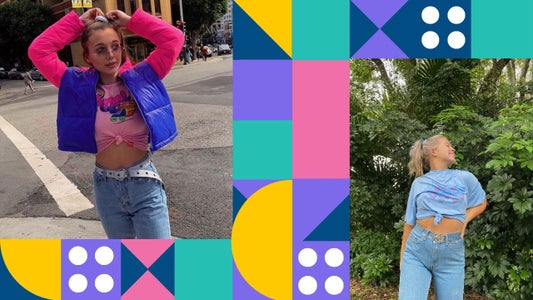 This is by far my favorite and most underrated podcast I've ever listened to. I've been a big fan of Emma on Youtube for years and I'm kicking myself that I didn't start listening to her sooner. If you also enjoy watching her Youtube videos, I highly recommend listening to "Anything Goes."
What I love about this podcast is how personal it feels. It gives off the illusion as if you're talking to one of your friends. It makes the podcast so conversational and comforting. I also like how she picks one topic and sticks to it; she rarely goes off on tangents and dives super deep into that specific subject.
In a recent episode, she talks about the "feminine mold." When I saw this title I was immediately intrigued. I had a general idea of what the podcast would be about but I wondered how she was going to approach it.
Emma explains her struggles of living up to society's beauty standards for women. She's always felt that she never fit into the "feminine mold." More specifically, she talks about how she didn't think she had the body that fit the beauty standard and questioned how boys could ever possibly find her attractive. This is an extremely heartfelt topic that I not only relate to but probably so many other girls. This is just one out of many episodes that really vocalize topics some girls may be too afraid to talk about. Her podcast is just one big hug. She makes you feel like you're talking to your big sister and something about that is just so refreshing.
2. "Unsolicited Advice"- Taryne Renee and Ashley Nicole
This podcast is perfect whenever you're in need of some good advice. Or if you're like me and enjoy listening to other people's problems. Either way, this podcast can unintentionally solve all your troubles.
The two hosts, Taryne and Ashley, read aloud stories submitted by listeners and give them advice on the problem they have, hence the title, "unsolicited advice." They actually have a great perspective on a lot of things and I often find myself actually taking some of their advice, I know crazy.
The relationship and banter the two have are unmatched and are very entertaining to listen to. They keep the episode very light-hearted and full of energy. I've heard so many crazy stories people have submitted and I find myself relating to ones I didn't expect to. They give advice for literally anything. It ranges from relationships to jobs to even some embarrassing stories that are hilarious.
3. "Pretty Basic"– Alshia Marie and Remi Cruz
If you couldn't get enough of them on Youtube, don't worry because your favorite childhood lifestyle influencers stars have their own podcast too! I don't know about you but, Alshia and Remi, practically raised me on Youtube. I watched their videos in middle school like crazy. I adore their friendship so much, that's why I was so excited when they announced they were making a podcast together. I knew since loved watching their old videos, I'd end up being obsessed with their podcast too.
If you don't know who I'm talking about, it doesn't matter. Pretty Basic is so up-to-date with what's going on, any teenage girl can relate to it. I personally love listening to it when I'm walking to class because they're always laughing or just talking about fun girly things. Whether that's clothes, boys, drama, food, etc, it feels like I'm just hanging out with all my friends having a girls' night.
4. "Tiny Meat Gang"– Cody Ko and Noel Miller
Tiny Meat Gang will always be my go-to listen whenever I need a good laugh. With tons of viral and hilarious videos on Youtube, their content doesn't end there. Cody and Noel's podcast will leave you in literal tears and I'm not talking about the sad ones.
The way they bounce off each other is hysterical and their comedic chemistry is incomparable. They honestly just talk about dumb stuff, but it's just so comical that I find myself coming back to listen to it every week. So, If you're ever having a bad day, I can guarantee you this podcast will make it just a little better.
5. "Sleep With Me" – Dearest Scooter
Now, this podcast is for all you ladies who have trouble falling asleep. Sleep With Me presents a different bedtime story each episode that is so boring you fall asleep. I'm not kidding. They are so boring you have no choice but to hit the hay.
I totally recommend this podcast, it's the perfect one to have in your back pocket if you ever have trouble falling asleep at night or your mind is racing back and forth and you can't seem to relax.