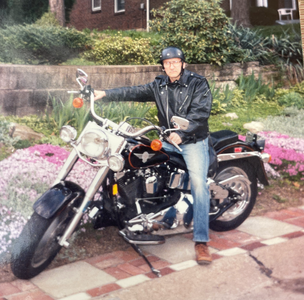 I've never really understood why people like babies and toddlers. Sure, they're cute, but they're also painfully problematic. I, for one, would prefer a chat with an old person over a day with a baby. Old people are cute and only occasionally problematic, not to mention they give the best advice. But do babies have decades worth of knowledge? Absolutely not.
With that being said, I've always gravitated towards my Dzia-Diza. "Dzia-Dzia" is Polish for grandpa. Cool, right? Anyways, this man was a total badass, I love that guy. He and I shared a short, yet wonderful, eighteen years together on Earth. In that time, we've shared good laughs, made some phenomenal memories, and learned countless lessons. I discovered a lot about life from his experiences, and honestly, I feel as though everyone deserves to read just a few excerpts from his amazing life. Here is just one chapter of the many chapters from the book of my Dzia-Dzia. Take notes, people, this is some good stuff.
Ernie Miskiewicz was nothing short of wild and he never let his age stop him from having fun. I always valued spending time with my Dzia-Dzia, so I'd go over to his house on Saturdays when I was small. He and I would go to church and out to dinner. My mom was catering for work at the time, so she'd often pick me up late, but Dzia-Dzia never minded. He and I were both night owls, so we'd spend our evenings together watching "Mamma Mia!" or something of the sort. 
I remember one night my mom picked me up and Dzia-Dzia asked when she her next shift was. She told him, assuming it was just in casual conversation. Little did she know, Dzia-Dzia was plotting something grand. Sure enough, at the next wedding she worked, my mother ran into my grandfather. Despite his age, Dzia-Dzia was by no means sedimentary. He had things to do, people to see, and tasks on his bucket list to check off. This man wanted to crash a wedding, so he did. 
I don't think I was able to grasp the depth of Dzia-Diza's life at the ripe old age of eighteen. Looking back on it now, I find both humor and inspiration in this story. The mother of the bride approached Dzia-Dzia, asking if he was a part of the groom's family. He scooted his little walker forward and responded, "I'm the wedding crasher." I get chills thinking about that line. It just seems like a scene from a movie.
Turns out, the bride and groom loved him and welcomed him to their reception, no questions asked. My mom, on the other hand, was mortified to see her father-in-law crashing the very wedding she was working. Fast forward a decade or so later, we still laugh about Dzia-Dzia's antics as if they happened yesterday. Now, I can pull a few life lessons out of this story: make your own fun, age is just a number, and definitely draft up a bucket list. 
I feel like life nowadays is so fast-paced 一 sometimes we forget to slow down and embrace simplicities. Whether doing his afternoon crossword, driving his 2010 Mercury Milan through town, or crashing a wedding, Dzia-Dzia moved with ease through life. While I figure life out, I carry his stories with me in hopes of turning out as content as him. With that, I submit to you, live like Dzia-Dzia. Buy a motorcycle in your 70's, crash a wedding, and dance (the Macarena) like no one's watching.