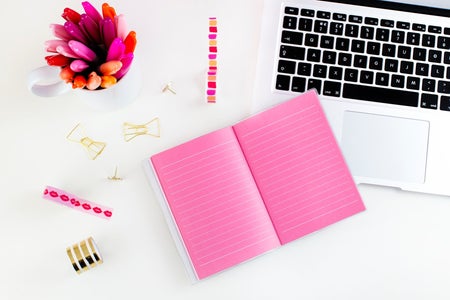 How to Start Prepping for Your Summer Internship (Now)
Thinking about beginning my summer internship in June currently has me both jumping for joy and shaking with nerves. Any internship presents an opportunity to learn, network, and immerse yourself in the real world as a ~working professional~. You worked so hard to get this job; now you have to make the most of it. Here's a few tasks to check off your list, even starting now, so that when your first day arrives, you're feeling more than confident. 
1.

Do your research/reading 

The best way to feel prepared for the workplace is to be knowledgeable in your field before starting the job. This is not as daunting as it sounds, and no employee is going to expect an intern to know every detail about their field. This step can be simple. If you're interning in fashion, be sure to pick up each copy of Vogue leading up to the summertime, and maybe even join a blogging community to absorb every hot trend. If you're interning in politics like me, dig out your old government textbooks and breeze over the pages. Just taking 20 minutes out of your day could go a long way, and it will definitely benefit yourself and your employer while contributing to your company. 

What is it that you really want to accomplish this summer? Make yourself some tea and throw your thinking cap on. Make a list of small, achievable goals to hopefully accomplish over the summer. Keep in mind, not every goal has to be work-related! If you have an attraction you're dying to see or a coffee shop you just can't help but visit, jot it down on the list. Achieving these goals will give you the boosts of confidence you need to stay motivated while slaying your summer internship. 

3.

Start gathering a wardrobe

Who doesn't love to feel like a girl boss with a business professional wardrobe? No matter what kind of attire your internship requires, building a wardrobe before summertime hits is essential to avoiding last minute stress and unnecessary spending. Start now, digging things out of your closet and of course, online shopping. Stores such as Ann Taylor, LOFT, Banana Republic, and J. Crew are all great options for buying business casual/professional attire that will keep you both stylish and reserved for your work day. Remember the rising temps and maybe opt for sundresses and midi-skirts to show off your taste. 

4.

Plan time for self-care

In order to stay sane while working a potential 9-5, be sure to plan time to yourself for relaxation and stress relief. Whether this is getting to the gym, signing up for meditation or setting aside time for a Gossip Girl binge, your body and your mind will thank you later. Make a go-to list of activities that prioritize both your physical and mental health. This will undoubtedly keep you in the best shape overall to rock your internship. 

 

5.

Keep in contact with your supervisor

This tip is super simple yet so essential. A million questions could be rushing through your head leading up to your internship start date. Instead of stressing yourself out and worrying, give your supervisor a call or shoot him/her an email! They'll be more than happy to help, and chances are they'll be impressed with your promptness. 

6.

Plan out/practice your commute

If you want to avoid unnecessary worry and the trauma of being late on your very first day, practicing your commute is definitely worthwhile. Whether you're driving, taking the subway/metro or simply walking, mapping out your routes and estimating time will calm your nerves and familiarize yourself with the norms. Clearly, if for instance you're interning in NYC this summer and you're currently living in State College, it's not easy to transport to the nearest Subway station and time your travel time. Instead, try looking up the average travel time on Google or a New York blog site. Every little bit helps!

There's nothing more satisfying than crossing out a completed task. Better yet, buying a planner will keep you feeling absolutely accomplished while also keeping you organzied throughout the summer. Jot down every plan that comes to mind, ranging from dinner plans to gym time to important presentations. You'll notice a huge difference in your mindset and anxiety won't have a chance. 

8.

Plan time to spend with friends/quick getaways

The summer is still yours! However, if you don't plan ahead of time, you may be feeling like it's all work and no play. Organize visits and quick weekend getaways with your friends. This not only guarantees time for fun and laughter, but it also gives you something to look forward to when you're desperate for motivation. Beach trips, camping, or even just a movie night or night on the town with some of your best girlfriends could greatly improve your mood throughout a draining work week. 

9.

Try to meet other interns beforehand

Bonding and forming friendships with the other interns at your company could have a massive positive impact on your overall experience. If you can, try and reach out to the other interns before starting at the job. I know what you're thinking, but I believe this can be done in a way that doesn't pin you as a lonely stalker. Utilize social media for the better! 

This is your excuse to binge-watch YouTube instead of finishing your homework. Look up any video pertaining to workday necessities. Useful technology, beauty products, and lunch ideas can all be found on YouTube. A coordinated backpack or tote will leave you looking, smelling and feeling fresh as you make the most of each day. 

11.

Relax, you earned this!

Remember that YOU earned your internship. Keep your head up and ask questions! You're going to have the best summer yet.