Since the high school days, I've been wearing foundation practically every day. Unless I was running late, staying at home or doing something that required physical activity, applying foundation in the mornings was a part of my every day routine. I'm not one to cake a thick layer of makeup on my face because 1) I don't like how liquid foundation doesn't look very natural on me and 2) well I'm not gifted with the artistic skills of killer smoky eye and seamless blending. So to give you some perspective, my coverage includes Bare Minerals Loose Powder Matte Foundation and IT Cosmetic's Bye Bye Under Eye for dark circles and concealer. These products together gave me the natural coverage I wanted for my every day appearance.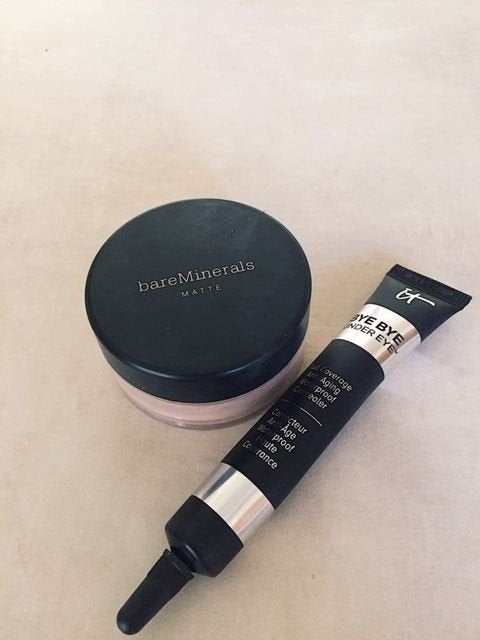 Photo by Erin Lalli
I was never embarrassed if I didn't have on foundation – more so over the lack of concealer and mascara because I probably looked like a zombie in the mornings, but hey you win some, you lose some. My skin was relatively clear with a few blemishes popping up every once in awhile as typical for a stressed out teen. I developed a somewhat minor acne problem on my forehead freshman year of high school but I immediately went to the dermatologist. She set me up with a topical gel and I was smooth sailing from that point forward – it was like it never even happened.
Fast forward to the last week of this past spring semester. I was doing the whole "let's pack instead of studying for finals" thing, and as I was going through my medicine cabinet, I noticed my topical gel was expired. I decided to toss it. I figured a week or so before getting another one would be fine, and maybe I even grew out of the acne issue since I didn't have a flare up once I started using the gel.
It turns out I was so wrong. I noticed the bumps slowly coming back on my forehead and also around my mouth shortly after I started my summer internship. The stress of the new job definitely made it worse, and I have a horrible habit of touching my face when I know there are blemishes on it, so yes I commit the crime of popping and picking at them. I tried calling in a refill for my prescription but naturally, the brand was no longer being covered by my insurance. Why didn't I schedule an appointment with my derm as soon as possible? Well, the office was only open on the weekdays and since I worked 8 – 5 every day, I didn't want to try to get off work and explain why. In hindsight, I easily could have, but part of me was hoping it was a temporary flare up and it would just go away as the summer progressed and the salt water worked its magic.
It got worse, especially in August. I was caking on so much foundation and cover up so that my coworkers hopefully wouldn't notice. I finally reached the point where I was beyond embarrassed and called for a new prescription for a similar gel. After about two weeks of using that, I didn't notice any difference at all. Panicking, I called to set up an appointment and I luckily got one a few days before I had to move back to Pitt. I was put on a heavy duty antibiotic, a topical cream and benzoyl peroxide face wash.
At the beginning of the semester, I was using these religiously and although my condition slightly improved, it still wasn't great. I covered up my face every day to hide the pimples and the scars of past ones. I feared that it was the first thing my peers noticed about me. I'm 21, why am I having a serious acne problem? Isn't this a high school thing? This wasn't the impression I wanted to leave people with at the start of my junior year.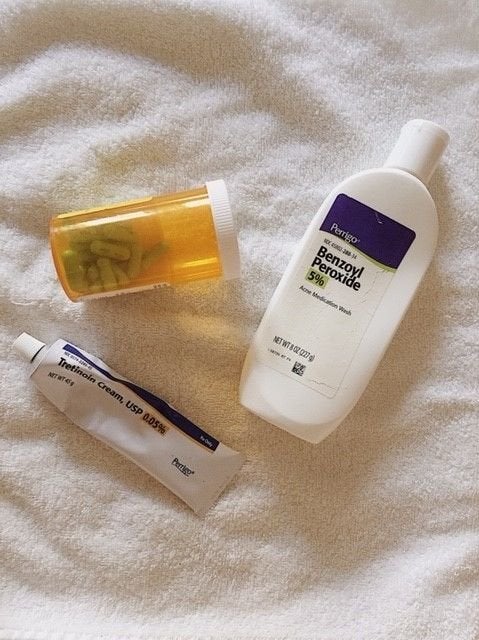 Photo by Erin Lalli
I was dreading this moment, but I realized I had to bite the bullet and stop covering up my face. Everyone would see the red marks and zits in their full intensity. However, I knew this was an important step to hopefully get my skin back to the way it was. In the beginning, I was extremely self-conscious but as the weeks went on, I thought about it less and less and my skin slowly but surely started clearing up. In the beginning I was extremely self-conscious but as the weeks went on, I thought about it less and less and my skin slowly but surely started clearing up.
Now, a few months later, I get a few pimples here and there, and I do have some scarring on my face but I haven't had the urge to put on any foundation or concealer unless I'm hitting the town for a night out. I've learned to feel confident in my own skin (literally) and embrace my natural appearance. If others are going to judge me based on a physical flaw, then that's a shame that they won't get to know what's beneath the marks. Makeup is supposed to enhance your natural beauty, not hide it. I challenge you to let your skin breathe by going foundationless for a week and to focus on loving the real, authentic you!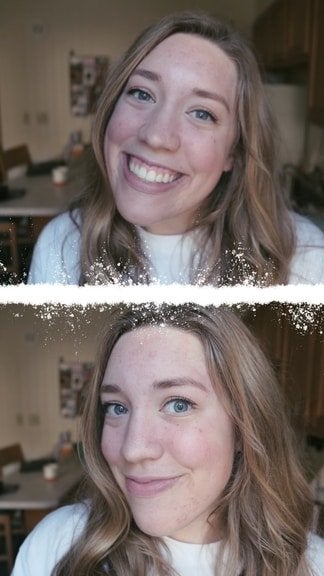 Photo by Erin Lalli