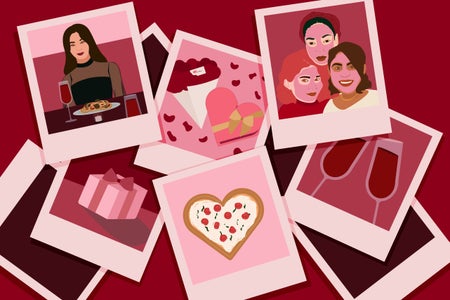 7 Virtual Valentine's Date Ideas
This year is weird, yet again. We are so far into the COVID pandemic that I'm sure all of you know how isolating it can be. If your Valentine is long-distance, COVID makes the long distance feel even longer with travel restrictions and quarantine protocols. But, you can still get out of your routine and have a romantic Valentine's Day date night safely and virtually with these seven ideas.
1.

Order dinner & eat together 

It's hard to mimic a date virtually. But, it's possible if the atmosphere is pristine. Take the virtual dinner date as seriously as you would in IRL. You and your Valentine should dress to the nines, light a candle and simply enjoy each other's company over screens while chowing down on your favorite food. To make the dinner date even more fun, order each other food! If you know your partner loves the sushi place caddy-corner to their home, order them a meal from there and have it delivered to them. Not only will they be pleasantly surprised, but you can show how much you truly know their preferences.

 

You may think you know your partner, but you might not know them like a BuzzFeed quiz or personality test does (joking, kinda). Send each other links to various personality quizzes while on video chat and laugh at how painfully accurate, or inaccurate, they are. 

Since the start of the pandemic, many popular games have gone fully virtual, like Cards Against Humanity or Pictionary. Similarly, the app House Party hosts many games while users can simultaneously video chat. A little competition won't hurt a relationship!

Similar to ordering dinner, send your Valentine your favorite recipe, or even one you think will challenge their cooking skills, and they should send you one too. On video chat, you can film yourselves cooking and hopefully succeeding! End the date by eating with each other on Facetime! *chef's kisses*

5.

Painting with a virtual twist

Even if you and your partner have no creative bones, you may still enjoy painting on video chat. Buy a canvas, paint and paintbrushes beforehand. Then, on video chat, share a paint tutorial to follow live together. Who knows, you may create a work of art. 

6.

PowerPoint presentation

Do you want to give your Valentine a sentimental gift, but don't know how to virtually? A PowerPoint presentation may be the next best thing to a scrapbook. Fill a PowerPoint with pictures, videos and memories timelining your entire relationship and add personal anecdotes. Plus, a PowerPoint scrapbook will hopefully never be lost!

Many infamous art museums are doing virtual tours since the beginning of COVID. This article lists international museums offering this.
You and your Valentine can travel the world without leaving the comfort of your home or quarantine.