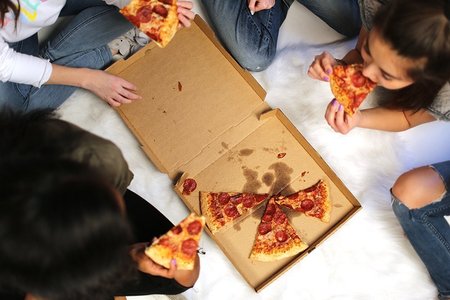 Molly Longest / Her Campus
7 Must-Haves for Your Next Drunken Game Night
Are you too cold or tired to go out tonight? Do you just want to stay in and play games with your best friends? Pop open a bottle of wine and be prepared for some laughs, because these seven games are just what you need for the perfect night-in.
This party game is hilarious and will get you slurring your speech, even if you're 100% sober. Read a nonsense combination of words on the front and guess what common phrase it sounds like. For example, try saying "through wok calves aim" out loud (the walk of shame).

2.

Cards Against Humanity

Is it even a game night if you don't have this one? This game is basically a raunchy Apples to Apples. Get ready to get offensive.

If being manipulative and playing mind games is more your speed, Secret Hitler is for you. In this game, you talk and strategize with your group to uncover who is lying about being a fascist. Watch out, this one gets heated fast!

This game's the same style as Cards Against Humanity, except you're pairing memes and their captions. If you're addicted to Twitter, this is right up your alley.

5.

Telestrations After Dark

The premise is simple: write a phrase, pass to the next player who draws the phrase, pass to the next player who writes what they think the drawing is of and so on (like telephone)! The best part? Flipping through the progression from a well-known phrase to something totally off the mark–and judging your friends' drawing skills.

Perfect for you and your best friends, this card game will reveal what you really think of each other. Assign your friends cards like "who's most likely to do anything for five dollars" and defend your opinions! This one is hilarious.

From the makers of What Do You Meme?, this game is an assortment of cards of truth or dare, never have I ever, most likely to and more. Ideal for a wine night with the gal pals.