Let me preface this by saying: I go to Disneyland a lot. In a total self-care move last year, I saved my money up and bought myself a Signature Pass for Disneyland, and since then, I've lost count of how many days I've spent at the happiest place on earth. If there is a ride, I've ridden it. If there is a show, I've seen it. If there is a limited edition Disney pin/spirit jersey/seasonal food offering, I've probably partaken in it. I've experienced pretty much everything that Disneyland and DCA have to offer, and even more than that, my friends are also Annual Passholders, so it's become a kind of magical getaway from school and stress and worry, that we've been able to experience together. I know that having a pass can be really expensive and that driving to Disneyland (if you're not based in Anaheim) can get monotonous, but honestly, I wouldn't trade it for the world.
There is one thing, though, that I do on a level that my friends don't: I Disneybound. A Lot. And today, I want to write a little about what Disneybounding is, why I love it, and, most importantly, provide a few tips on how to get into the Disneybounding scene in a way that is both inexpensive and comfortable.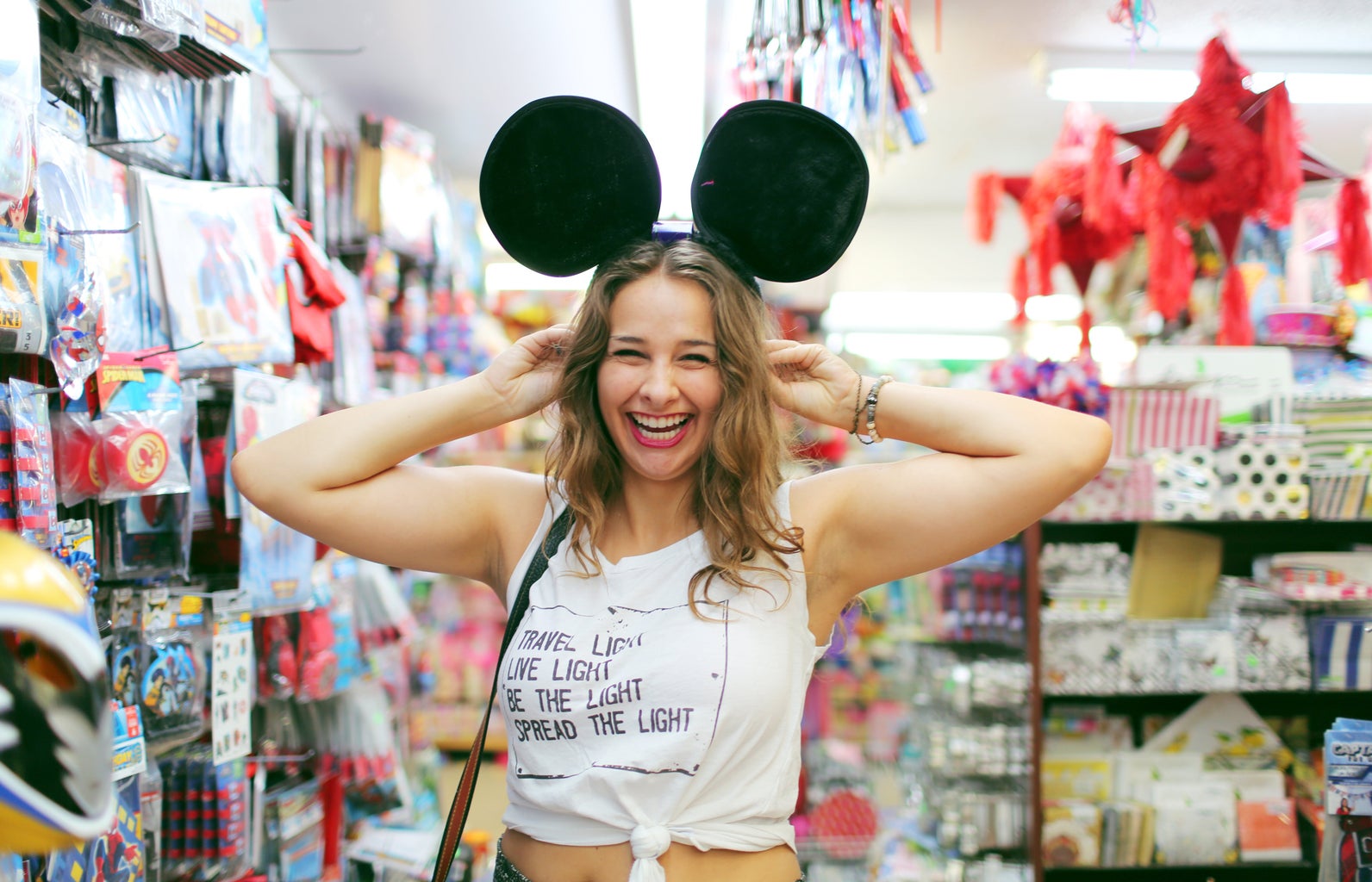 1. So what is Disneybounding, exactly?
Disneybounding is, functionally, a way of dressing up as your favorite Disney character, but using your own clothes and accessories instead of a costume. The term was coined by blogger Leslie Kay in 2011, and has since exploded in popularity for Disney fans across the world. Although people often Disneybound as a part of their trip to the parks, Disneybounding really is for everyone, and even if you can't visit any Disney properties, you can still try your hand at Disneybounding any time you have to dress up! (Even if you're the only one who knows. It sounds cheesy, but back when I was a high school student in Texas, I actually stepped out in a Disneybound to go to church or events, and I found that I felt special & excited about my look even if no one else knew I was emulating a character.)
2. Okay, I get that it exists. But why?
Honestly? It's just for fun. Some people like to do it to take nice photos at the park, or to match with a friend or partner when they go out together. I know that I'm not going to win any prizes or attention or fame for my Disneybounds, and I'm not trying to. Mostly, it's just a chance for me to wear an outfit I wouldn't normally wear or accessories that wouldn't work while I'm in class, and to get to explore my love for Disney movies and characters even more than I usually do. Disneybounding has allowed me to explore what I'm drawn to in the fashion world and has motivated me to really get creative with the looks that I wear to the parks. (Also, I've always been a huge costuming nerd, so taking key colors and silhouettes from Disney cartoons, Star Wars movies, Marvel heroes, and any other Disney property and applying them to my own wardrobe and preferences is something that I love to do.)
3. That actually sounds pretty fun! How do I get started?
A lot of people would probably tell you that the first step to a good Disneybound is choosing a character that you love. I'm going to say that the first step to a good Disneybound is looking at the clothes you have, and picking a character from there. For me, the key to being able to Disneybound often is keeping my budget within my closet, with rare, minor splurges on accessories or clothing kept to a minimum. To keep myself from going out and ordering, say, a lime green jacket to be Pascal from Tangled,  I like to instead look at my closet and ask myself: what's a character that wears a lot of the same colors that I do? If I layer a tee under my dress or add a scarf, does that help clarify the look? And, most importantly, will I be comfortable wearing this to Disneyland all day long? 
Asking these types of questions and being realistic about what you choose to wear to the park will make it easier on both you and your wallet–and it will also make you try out new combinations to see what works, too.
4. My outfit is nearly perfect, but there is this one thing I can get on Amazon that will really take it over the top. Should I go for it?
See, this is where the spendthrifty Disneybounder struggles. I know how hard it can be to turn away from the most perfect hair accessory, or purse, or piece of jewelry, and that you're convinced that your look will be incomplete without it. But, dear reader, I would ask first: will you ever wear/want/like that special little something after your day in your Disneybound is over? Or will it start gathering dust the moment you take it off? I find that often, if I feel like something is perfect for my Disneybound, then it also needs to be something I will really wear in real life–like, say a white mock neck tee I used in my Attack of the Clones Wars Padme Disneybound, or necklace that gave me the perfect Tangled vibes. If it is something that I'll wear to class just as easily as I do to the parks, and if the price is right, then maybe I'll give it a try–but, more likely than not, that Hot Topic bow or Loungefly backpack just won't be a part of my closet after the day is through. So maybe try to take a second look at what you're buying for a Disneybound before you fill your cart. 
5. I'm fully decked out and ready to go. Do you have any tips for how to make a Disneybound look last? 
This is kind of a personal rule for me, but it's served me well, so I'm going to tell you all now: just wear the darn tennis shoes. I know they ruin the look, I know. But if you're planning to be on your feet all day, your chunky FILAS are going to serve you a lot better than your fancy-schmancy Oxfords or flats. And besides, you can just crop them out of any pictures you take, and nobody at Disneyland will bat an eye when they see you rocking your ancient running shoes. (And, if you must wear your fancy crystal heels, please pack a pair of extra shoes and socks. Trust me, you'll want them.)
The second rule that I usually keep, and which I actually find myself using often, is to pack one extra layer to wear in case your Disneybound goes wrong. Usually, for me, that means a pair of lightweight joggers or sweatpants sat at the bottom of my park backpack–something to have, just in case it gets cold or if I get super wet on a water ride. Even if I don't pull out my extra layer (and I often do), I can go into the park feeling more confident and happy with my outfit choices.
Finally, my last rule is: if you want pictures, just take them. Seriously! I've never had someone say no when I asked them for a picture while I was in the park, and even when I was just Disneybounding in my own house, a self-timer and a bit of determination was more than enough to get the image I wanted. If you've gone through all of the effort to pick out a special outfit, don't let a moment of low self-confidence keep you from recording your look. If you love the way your Disneybound looks, why not record it to remember it later, or to share it on social media? Even if you feel a little out of place while you're doing it, (and you can take it from someone who has done this a lot), having a picture of it will help you remember how you were able to use your creativity to style a look no one has styled before. And isn't that kind of the point?