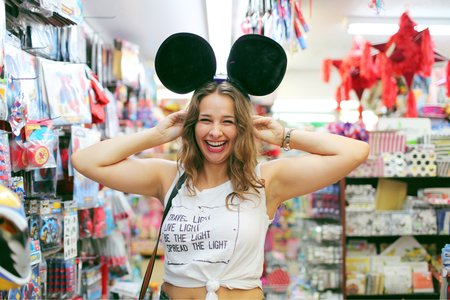 Which Disney College Program Season is Right for You
Hey Pace!  My name is Kaitlyn, I'm a contributor for Her Campus on the NYC campus and a proud alumni of the Disney College Program.  I did the Program as an Attractions hostess in Fall 2016 and I loved it so much that after I graduate this December, I'll be returning for Spring Advantage 2020 in my dream role: Character Attendant!  I figured I would drop in during this glorious Disney-themed week to talk to you guys about what the Disney College Program is and the difference between the two seasons: Spring and Fall!
What is the Disney College Program?
The Disney College Program is a living, learning, and earning opportunity for college students.  Lovingly referred to as the "DCP," this Program offers currently enrolled and recently graduated students the chance to work at either of the domestic Disney theme parks: Disneyland Resort (Anaheim, CA) and Walt Disney World Resort (Orlando, FL)!  Your Program will offer you an entry-level, full-time job as a front line Cast Member that you can hold for as little as a semester and as long as one year.  
Possible roles you can be offered include:
Custodial
Quick Service-Food & Beverage
Merchandise
Attractions
Lifeguard
Resort Front Desk
Character Performer (audition based)
And many more!  The DCP offers housing and transportation to and from your work location and the Disney theme parks, and best of all: you'll get a complimentary self-admission pass for all of the Walt Disney Theme Parks!
The Disney College Program was one of the craziest and most rewarding experiences of my entire life, and I recommend anyone who is interested in applying to visit www.jobs.disneycareers.com/disney-college-program for more information on whether the Program is right for you or not.
The Disney College Program is split into two general seasons: Spring and Fall.  Both seasons offer a regular Program that runs for about 5 months, and both seasons offer an "Advantage" Program that runs for 3 more months to accommodate the summer crowds.
The Spring Program
Applications are open from August-October
Spring Program runs from January-May
Spring Advantage Program runs from January-August
Pros: Spring is a beautiful time to visit the Disney Parks!  At Walt Disney World Resort, you'll have the opportunity to visit two incredible park-wide festivals at Epcot: the International Festival of the Arts and Flower & Garden Festival!  At Disneyland Resort, you'll be able to experience the Disneyland Food & Wine Festival. These can't-miss experiences will allow you to learn more about culture, art, and food alongside a unique park ambiance.  Plus: you'll be home for the holidays! By the time your program ends, you'll be back in school for the Fall semester and ready to celebrate Thanksgiving, Hanukkah, Christmas, and other winter holidays with your family.  And you'll miss those ugly Christmas and New Years Eve crowds at the Parks!
Cons: Spring is definitely not as "glamorous" as Fall.  Fall is traditionally the more popular season to apply for the DCP, since it allows participants to experience the Disney parks all decorated for Halloween and Christmas!  Also, Spring Break crowds are bad, and they last forever.
The Fall Program
Applications are open from January-March
Fall Program runs from August-January
Fall Advantage Program runs from June-January
Pros: Fall is hands-down the most exciting time to visit either of the Parks!  At Walt Disney World Resort, you'll be able to experience two incredible holiday-themed parties at Magic Kingdom: Mickey's Not-So-Scary Halloween Party and Mickey's Very Merry Christmas Party!  You'll also find two more festivals at Epcot: The Food & Wine Festival and the International Festival of Holidays. At Disneyland, Halloween time brings the return of Mickey's Halloween Party.  
The holidays are such a special time to be at the Parks.  I'll never forget the lump in my throat when I saw Cinderella's Castle all lit up for Christmas for the very first time!  The possibilities for creating those tender, special memories are endless when you complete a Disney College Program during the Fall.
Cons: The Fall Program takes a mental toll on many participants during the holiday season.  I personally struggled a lot when I was down there in 2016-- the crowds and long hours took a toll on me while I was already sad from being away from my family for the holidays.  New Years Eve is the most crowded day at Walt Disney World to the tune of 100,000 guests by noon, when the park normally reaches capacity. Many people quit the Program as the season progresses because of how stressful things can get during the holidays.
In conclusion: There are pros and cons to participating in both seasons of the Disney College Program… but no matter which season you think is right for you, the DCP is an amazing, life-shaping experience!  Whether you choose Spring or Fall, you're sure to make friends and memories that will last a lifetime.
Wishing you faith, trust, and pixie dust,
Kaitlyn