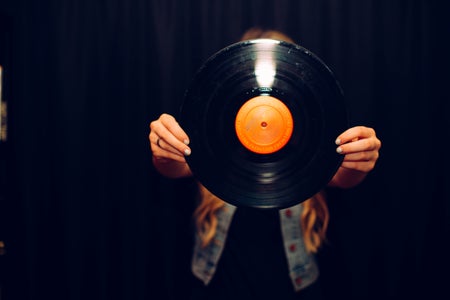 Breanna Coon / Her Campus
These Three Artists Just Stopped the Music World
The music world was rocked to its core yesterday with three powerful female artists making major headlines. Katy Perry announced her pregnancy, Dua Lipa dropped a glorious workout music video, and Megan Thee Stallion dropped her new EP "Suga". From ballads to being strong in court, each gathered the attention of the general public and loyal fans to prove music is in good hands during this season transition.
Katy Perry, real name Katheryn Hudson, dropped her music video for "Never Worn White" unexpectedly but new music was the last thing people were focused on. Our 2010 teenage dream queen announced her pregnancy in the floral aesthetic themed video. Katy joked on her twitter stating that she was grateful to not have to hide it and was overwhelmed with love for her and her new bump. Fans and the general public were shocked but the singer has rightfully received support from nostalgic fans and fellow celebrities. Aside from the announcement, the song is a vulnerable ballad from the singer capturing the audience's ears and hearts. The new era of Katy Perry has started out as a huge success both personally and statistically for the singer as the video has already gained 13 million views on her official Vevo account. Listen to "Never Worn White" on Apple Music or Spotify.

Need some inspiration to get you out of your winter mood? Rising pop sensation Dua. Lipa has brought her 80s inspired workout video for her energetic new song "Physical". The video showcases why Lipa continues to be a refreshing voice in the crowded music field. The video is eye-catching as Lipa leads the workout class with vibrancy and makes fans bop to the catchy beat and lyrics. Her new album Future Nostalgia is set to release April 3, 2020, but has already produced pop statements. The singer released the lead single "Don't Start Now" which has a similar energy to "Physical" both are vibrant and replay worthy songs that will be stuck in your head throughout the next few months. 

Watch the music video for "Let's Get Physical Work Out Video" on YouTube!

Hot girl summer is beginning a little earlier this year as Megan Thee Stallion, real name Megan Pete, drops her new EP Suga. The 9 song tracklist features Kehlani and Gunna on their respected tracks. Fans were ecstatic when Megan announced the project's release as she is currently in a contract battle with 1501 Certified Entertainment and Carl Crawford. When Pete was attempting to renegotiate her contract with the label, they attempted to shut Thee Stallion down by stopping the release of Suga. This situation is not unique as powerful men and companies always take advantage of upcoming artists during contract negotiations. Court cases aside Megan produced a classic and hot girl certified EP. Showing her versatility throughout the EP leaves fans constantly repeating and streaming. Loyal Stallion fans have stuck by and supported Megan throughout the contract crisis. The project has already gained 1 million streams on Spotify showing resistance to the unfair contract battle.  Listen to Suga on Spotify.
Check these artists out on your preferred streaming platform and be sure to listen to their new releases!