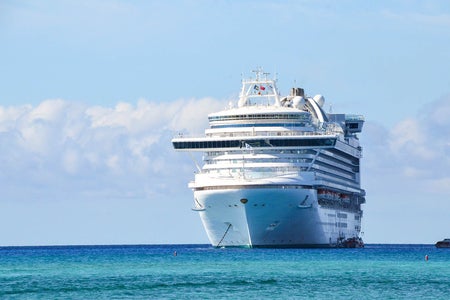 Master The Carnival Cruise
This past winter break, I went on my fourth cruise with my family embarking the Carnival Breeze. We had four ports docking in Amber Cove (Dominican Republic), St. Thomas (USVI), Puerto Rico and Grand Turk. With beautiful sights, an amazing itinerary and endless activities to do, I made the most of my trip and enjoyed being twenty-one as the legal age to consume alcohol on the boat is the same as the United States. Now an official gold cardholder, I feel confident saying that I am beginning to pick up on some of the tips and tricks to cruising and how to make the most of it.
1.

Look at your itinerary

Something that I didn't realize when I went on my first cruise was the fact that most cruise nights have specific attire for dinners, not always wear whatever you want. On most of my voyages, there have been at least two elegant nights where guests are expected to follow some guidelines to get in the spirit looking amazing, ultimately making everyone feel amazing. Be sure to pack accordingly but remember space is really limited. The cabins are all quite small so be as savvy as possible. 

2.

Try different locations 

This tip only applies to those who are of age and plan on enjoying adult beverages. Most of the different bars have different menus and most have their signature drinks. I recommend the frozen cocktails because it's proven that you are 30% more likely to enjoy your drink in the sun!

One of the main activities that cruise enthusiasts partake in is eating. There are endless options for food to eat from sushi to tacos, barbeque and pasta. You will be assigned the main dining room to enjoy dinner but there are always buffets, 24-Hour pizza, burgers and more.

Take this time to relax and disconnect from the internet. Going off the grid may seem a bit impossible at first but being worry-free without a phone in your pocket can be very liberating. You will most likely run into wifi on your days off the boat so you don't need to purchase the wifi package. The good news about all of this is that the app doesn't require the internet (kinda) and you can see every activity planned during your voyage, hours of operation and much more. I don't know how I ever cruised without it. 

Before embarking on your cruise, do some research about each of the ports you will be spending your day at. Sometimes the boat will port at an incredible beach allowing you to relax and save some money by not spending money on an excursion. If you do decide to go down the excursion route, I recommend booking through Carnival as there are many benefits to doing so. 

First of all, it makes the experience effortless as you show up at your designated meeting spot, go through your day of activities, and finish back at the boat. Plus, if it is running a bit late, the boat will not leave you if you are on a Carnival excursion. The same can't be said if you decide to go solo off the boat. 

The towel animals are my favorite feature of the Carnival cruise line. If you are extra nice to your room stewardess, you might be able to request a "zoo" at the end of your voyage. On my last day, we were surprised with seven unique towel animals allowing for an exciting photo-op.
If you are planning a cruise, I hope this helped. If you are reading for fun, I am sorry if I initiated the desire to take a vacation. I'm in the same boat and can't wait until I go on my next Carnival Cruise!