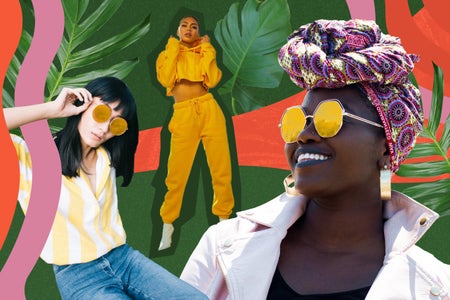 A Guide to Sustainable Fashion
Sustainability is defined in many ways, and some may argue there's no concrete definition. The UN Commission on Environment and Development defines sustainable development as development that meets the needs of the present without compromising the ability of future generations to meet their own needs." However, sustainability is such a broad concept that it cannot be summed in a single sentence. There are environmental, economic, and social nuances to this subject but all in all, sustainability is important because of our current climate crisis and the over-consuming capitalist economy and society we live in.   
Fashion is the third most polluting industry in the world. The dyeing process uses and pollutes tons of water. Synthetic materials like polyester and acrylic create plastic pollution. The factories that fast fashion companies use to create so much carbon emissions.  
Have you ever bought a trendy top only to wear it once or not at all? By the time you find it again, you throw it away because it is out of style. That is not your fault. The fast fashion industry is constantly coming out with new designs and collections. This is to keep you buying new clothes and ditching the ones you bought two months ago. This feeds our consumer-oriented capitalist society that keeps wanting to buy more and more clothes. Not to mention these companies achieve this rapid production by exploiting workers and using dangerous methods. 
Sustainable fashion is the idea that fashion does not need to be wasteful and harmful to the environment and the workers. Here are some guidelines to become a more sustainable, conscious shopper: 
Use what you already have in your closet
Before throwing away your clothes, ask yourself if you can fix it or give it away, so it does not immediately end up in a landfill. 
Ask yourself if you could thrift the clothes you are about to buy
Buy fewer clothes (if you already have a blue turtleneck, you do not need to buy another one)
Invest in a high-quality product from eco-conscious brands
Sustainability in fashion is all about having clothes that will last a long time and will never go out of style (stream "Style" by Taylor Swift). The best way to achieve this is by having well-made basics. 
Mate the Label is a Los Angeles-based brand that makes clothes from vegan, non-toxic, natural, and organic materials. The Foundationals is from the name you guess that they make basic designs that can stand the test of time. Instead of virgin plastics, they use biodegradable plant-based packages or previously recycled plastic and have a 100% recyclable packaging. All 100% recycled materials for labels and tags and tote bags are made from 100% cotton and polyester blend. 80% of donated clothes that end up in a landfill. Fordays is a company striving to reduce that number by being able to incentivize customers. They recycle old clothes through a closed-loop system. You can send them clothes you would normally donate or old for days items for a discount.  
 Jeans are a staple piece in everyone's closet. However, the process of dying jeans uses harmful chemicals and tons of water. Boyish jeans use sustainable materials and processes in an environmentally-friendly and cruelty-free way. They have ethical factories and work with recycled fabrics and materials. They are certified for fair trade and pay their workers an honest wage.
If you are looking for activewear companies that hold sustainable and ethical values, TALA and Girlfriend Collective is for you. Along with their core values, the best part about them is that they are affordable and less expensive than lulu lemon. Unfortunately, many of their styles sell out quickly. But, that is due to their promise to not overproduce their items and sell every garment they make in order not to create waste. Both companies have certified safe and healthy manufacturing centers, fight against child labor, and pay their workers a living wage. TALA's tags are made with paper that you can plant, and the company saves nearly 5,000 liters of water by using recycled cotton. Both companies have 100% recyclable packaging. Girlfriend Collective turns old water bottles into clothes, and TALA makes their activewear out of 92% recycled material. 
Buying shoes secondhand may not be everyone's cup of tea. Veja makes sneakers from fair trade and organic raw materials. The company bans and avoids child labor, forced labor, and discrimination. Thousand Fell is a sneaker company that uses natural and recycled materials. This company has a closed-loop meaning, when you are done with your shoes, send them back to Thousand Fell for them to recycle instead of throwing them out to end up in a landfill. Soludos makes shoes from a plant-based vegan leather made from corn, cork, natural and recycled rubber, organic cotton, recycled plastics. 
Jewelry is a difficult thing to make sustainably and with good materials because there is not an unlimited amount of metals in the world. Ana Luisa is a jewelry company that offsets carbon emissions in their factories and uses 100% recycled gold, sterling silver. They make new metals in a lab, so there is no dangerous mining and finite metals extracted. On their website, they have each type of metal they use and how to care for it. Providing that info makes the jewelry last longer.
Sustainable fashion has been assumed by only having dull, boring items made, however, sustainability can be fun! Lisa Says Gah combats the force of fast fashion by partnering with independent women-owned companies with ethically-made and high-quality products. In a capitalist society run by big multi-billion-dollar companies, Lisa Says Gah gives smaller businesses a platform to boost their sales. Each small business has its own style that makes the owner, Lisa Buhler think to herself, "I have GOT to have this!" Threedays-a Week makes unique and handmade pieces made from recycled materials. It is run by three women and only one seamstress in Connecticut. The women design their clothes to achieve silhouettes and trends from the past. To create a vintage feel with a modern touch. Hundred club sells graphic tees and crewnecks. Each item is made only a hundred to minimize waste and deter from overproduction. The company is also run by a college student from her dorm in the UK.  
Thrifting and consignment shops are a great way to not contribute to the production of new clothes and giving a new life to what could otherwise end up in a landfill. This is actually more sustainable and economically doable than any of the brands listed in this article. Thrifting, however, is not easy, you must be able to have the time to thrift which, is hard for many working students and families. Luckily, there are online "thrift shops", like Depop, and Vinted, that you buy from or even sell your old clothes. This method guarantees a new owner because the seller and the buyer directly communicate with each other. Also, selling your clothes is a great way to make money as a college student!
If you decide to look into most of these companies, you will find that the prices are not comparable to any fast-fashion store you would walk in at the mall. The price of sustainable and ethically made clothing is much higher because of the environmentally-friendly technology used and the living wage they pay their workers. The supply chain of fast fashion is nothing like the ones for the companies mentioned. Additionally, many of these companies do not carry plus-size options, and it is difficult to find plus size clothing in thrift stores. The consumer is not responsible for this lack of size diversity. I hope soon these companies have the means to expand their sizes because the more people who can buy sustainably the better for the planet.    However, don't feel shame in buying from companies out of your price point or secondhand shopping if you do not have the time, but I hope this education about the production of fashion makes you think twice about where and how your clothes are made. Also if you have fast fashion in your closet, keep it!! The most sustainable clothing is wearing what you have until you can't anymore. So keep wearing your favorite Forever 21 denim jacket instead of buying a new one. Having clothes for a long time and caring for them to last is way cooler than buying new ones. For example, have you ever liked someone's outfit and you ask them and they say it was their mom or dad's in the '70s? That's more interesting than any item a luxury brand can ever sell.    Sustainability, in general, is not something that should be placed on individuals's shoulders when 100 companies are responsible for 70% of all carbon emissions. Do not feel pressured to make all these individual changes that you are not ready for. However, your actions affect those around you, and soon you can have a community that educates and fights for the change you want in this world.    There are countless videos and blogs about sustainability and ethical consumption, so much that it might be overwhelming. Here is a list I made of my favorite online resources.
Documentaries:
The True Cost 

"Patriot Act with Hasan Minhaj" episode on fast fashion (Netflix)
Podcasts:
Yikes episode on fast fashion
Pre-Loved podcast
Hopefully Sustainable: episode 3: "Passion Meets Fashion", episode 10: "Powerful Ladies of Sustainability"
Conscious Chatter
TikTok Accounts:
acteevism
theearthlingco
jessicaclifton
eco_tok
sustainablecherub
getwasteed
sabrina.sustainable.life
Instagram Accounts:
thegoodtrade
earthrise.studio
zerowastecutie
ssustainably_
futureearth
chicksforclimate