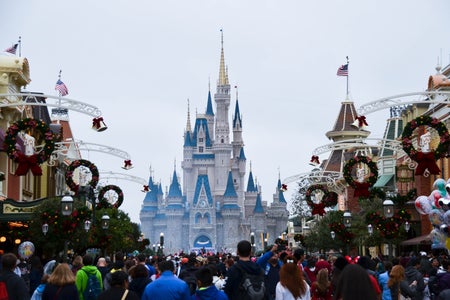 Why I Love Disney So Much
Throughout my childhood, I can remember watching Disney movies and the Disney Channel. I have been to Walt Disney World in Florida four times and plan on getting a tattoo of my favorite classic movie, Peter Pan. So when it was announced that my senior class in high school was going to be taking a trip to Disney World, I got so excited. I created a countdown in my class advisor's classroom, I participated in a majority of the fundraisers and looked up multiple tips for going to Disney. One day while I was controlling the titles for the announcements, which included one about Disney, a classmate asked me why exactly I was so obsessed with the brand. At the moment, all I could do was smile and shrug my shoulders because I didn't have an actual reason — but now I do. I am so obsessed with Disney because it is the only ounce of childhood I can hold onto.
Let me start from the beginning. I first went to Disney when I was 5 years old with my family, along with my Aunt, Uncle, and two cousins who rented a big house in Orlando. Not only did we go to Disney, but we went to Seaworld (yuck!) and Universal Studios. Being that young I don't remember much, but I do remember bits and pieces. Some are sad memories like when the cast member told me I was too short to go onto Soarin, which I was literally an inch too short for (the cast member put a card above my head to prove his point.) But I do have good memories like meeting multiple princesses and getting my very own princess hat.
Now the next time I went to Disney, I was much older. 12 years old at the time. It was a 6th-grade graduation gift from my Dad. He noticed that I was under the weather with it being two years since my Mom passed away, and decided I needed something. The trip included my Dad, my brother, my Aunt and her family, and my aunt's friend. Even though I was excited to go, I was a little upset to find out that my sister would not be joining us. Pushing past that, I was amazed when we showed up to the parks, seeing all the Christmas decorations up at the time, and not having to worry about showing my inner childishness. When I was in the parks, it was like all my depression washed away once I tapped in my Magicband to enter. I could now experience more rides and understand more now that I was older. When it came to the day we left Disney, I started to cry in the hotel lobby. I realized that I was going to leave the one little piece of childhood I had and I had no clue when I was going to experience it again. 
Well, the next trip to my happy place didn't take too long because in 2016 it was brought up that I would go again with my Dad and my brother, but this time with my sister, her husband, and her step-son. However, I didn't know until closer on that we would be going during my birthday. I was ready to get a birthday pin at the park and celebrate my 15th birthday. However, when I got there, it was more than I expected! Not only did I get the pin, but cast members wished me a happy birthday around the parks, on the rides, and even while performing in the parades. Plus, it didn't hurt that Gaston flirted with me! Then my magical day ended with a surprise birthday cake with Peter Pan on it while eating at the one restaurant. This whole trip I didn't have to worry about one thing and was free to act like a child again! Plus, I got to experience my brother-in-law and nephew's first time at Disney, which just made my experience even better!
My last and most recent trip to Disney was for my senior trip. It was a great experience to have with some of my closest friends and to go off and try new attractions that I have never done before. At the time, some people had never flown before, never been to Disney, and had birthdays at the same time, so to be there and experience everyone's reactions to each event was magical. Plus Pandora, the Avatar Land, and Toy Story land were open so I got to walk through and experience all the different things throughout each of the lands.
So, why am I writing this? Well, some people would question me or even make fun of me for the fact that I'm so in love with Disney. So here I am to say screw them! Why should I change what I love because people find it childish and not acceptable to act like it at my age? I had to become mature at the age of 10, so why am I not allowed to experience the childhood I lost? Disney lets me experience that both in and outside of the parks. Through their classic films, through the magical rides, through the friendliness of the cast members, etc. So that's why I love Disney so much, and I will never stop loving it!