I'll be honest: right now is a weird time in entertainment. The COVID-19 pandemic seemed to take so much from us, and just when we were looking for ways to ease our peace of mind during lockdowns, the entertainment world seemed to grind to a halt too, unsure of how to proceed. You would think that the ability to stream things directly into your home at a moment's notice would help — obviously the Tiger King part of the pandemic was a direct result of that — but productions not being able to meet in person has directly led to what many are seeing as a dry spell in the entertainment industry. Many different shows and movies have had their crews and productions put on hold with the advent of the pandemic, such as beloved shows like Stranger Things pausing production back in March and the sequel to the 2017 smash hit, Wonder Woman, Wonder Woman 1984 is being scheduled later and later to come out (the original release date was in June of 2020, the current release one is October 2nd for the United States). It has become more and more obvious that entertainment plays a vital role in our everyday lives. More so, entertainment's ability to bring us together in places like movie theatres is something people all over the country and world miss.
Today, I am here to tell you about a great way to support the entertainment you consume while also supporting a local business — visit the Midway Drive-In!
During this summer, I went to the Midway four different times and saw some amazing classical movies. If you're not local to the area, you might not have heard about the Midway. In fact, you may not even know that drive-ins still exist. Well, they do! Unlike movie theatres, most (if not all) of the remaining drive-ins in America are locally owned and operated. They are staples of the community and keep cash flowing throughout it. Drive-ins also present a unique viewing experience entirely — instead of sitting in a grimy theatre in chairs you may not like, you get to sit in the comfort of your own vehicle, or even outside on a blanket or lawn chairs, while still looking up at a big screen. Having your own private area to talk, eat, and goof off with the people you brought with you is super special and can really help you bond with others. This is also what has enabled drive-ins across the country to open up to patrons during the pandemic so the tradition of going to see a movie stays alive, while also staying hygienic. 
The Midway Drive-In is located in Minetto, NY. Some people may balk at that, thinking, "Wait, I thought it was in Oswego?" Well, Minetto is only about five minutes from Oswego, so don't worry too much about travel times. The Midway has been operating since 1948, originally showing movies that today we now consider classics throughout its 72 year history. If you're unfamiliar with the history of drive-ins, they are directly related to the invention of automobiles in America. While they existed pre-World War II, the car boom of the late 40's and 50's enabled driving to be less expensive, more fashionable, and the preferred method for most transportation in America. It also helped cement drive-ins as a popular weekend plan for people of all ages. At its peak in 1958, there were over 4,000 drive-ins across America. Today, though, drive-ins, like movie theatres, are on a decline, with only 330 left in the entire country. Most consumers are fine with cheap on-demand home entertainment, such as Netflix, that has been steadily destroying the theatre industry. That was, of course, until everyone was stuck at home.
Drive-ins are now seeing a comeback because of the pandemic. People want to have outside activities to do with friends and family, and beyond that, miss the movie theatre viewing experience. Drive-ins are also an extremely safe form of mass entertainment: people stay in their own spaces with the people they are already familiar with, socially distanced from others, and can bring their own food and drinks with them as necessary, making snackbar trips obsolete. Even those who want to take extreme precautions away from the risk of the public can by peeing in their own car if they need to (though I wouldn't recommend it). Those who do leave their vehicles are outside, where experts have shown the risk of contracting coronavirus is much lower than any indoor spaces as long as you are socially distant from others (and almost non-existent with masks).
The Midway has always been family owned and operated since its creation and remains that way today. Any money you spend at the Midway goes right back into the community by giving local people jobs. Beyond that, it also helps support a dying industry that provides a fun, unique, nostalgic, and safe theatre experience. The Midway has taken great care to make sure everyone stays safe during this hard time. They have set up an online ticket ordering system to limit the number of people, instituted a policy of wearing masks when away from your vehicle, have marked off entrance and exits, have put up plexi-glass and other extra food safe-procedures when in the snackbar, and provide hand sanitizer in bathrooms (along with soap, obviously) to patrons. The Midway is a beloved structure to many locals and those from the area, as seen in 2014 when a storm tragically destroyed the screen. The Midway's future was uncertain then, and yet, the community came together to raise money for this historic and incredible place to not only replace it, but update it to the digital screen and projector that they use today.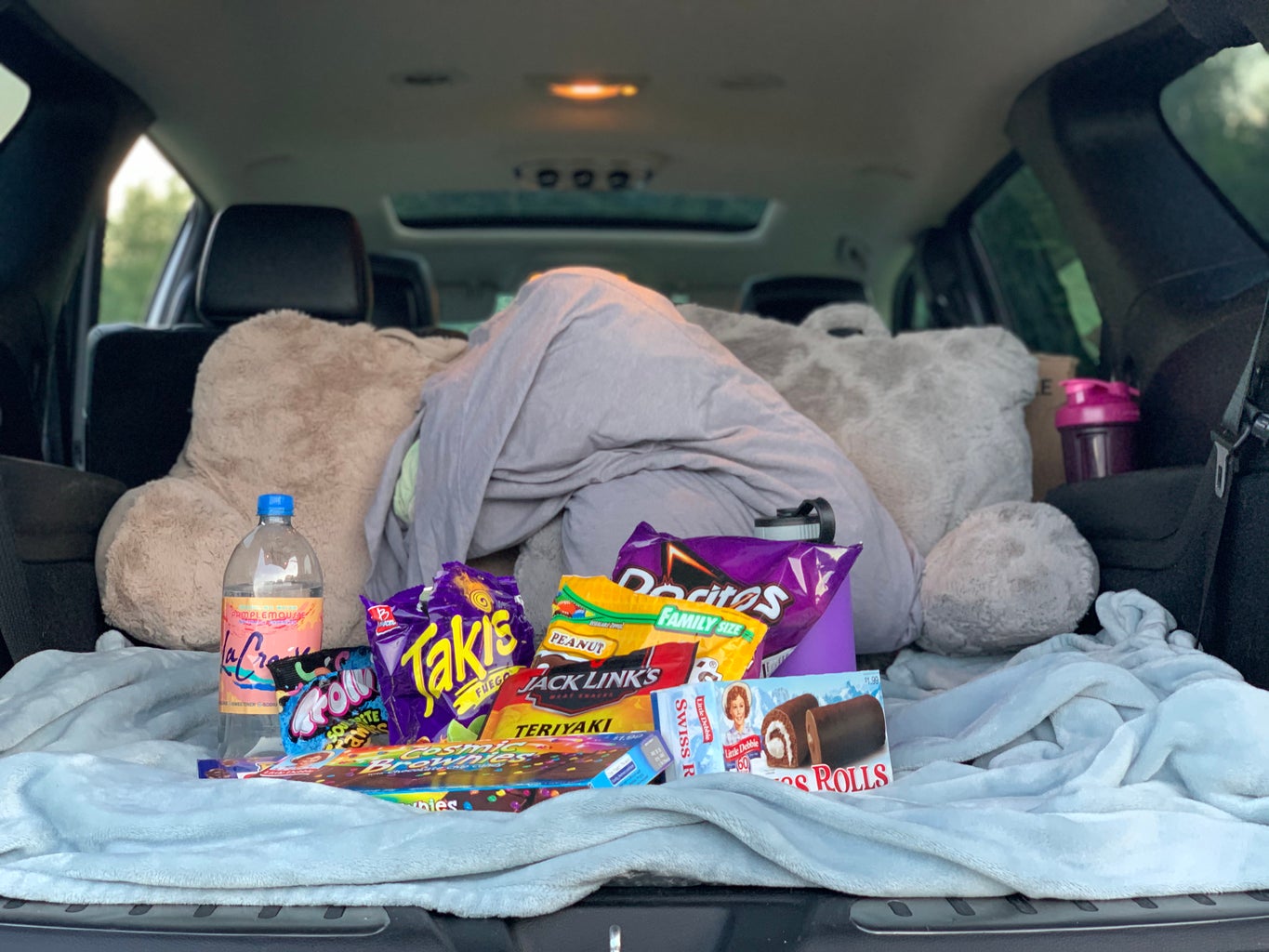 So, now you know all about the Midway and want to visit, but maybe you've never been there before or maybe you've never even been to a drive-in theatre EVER in your life. That's okay! Going to the Midway is extremely easy. Obviously, the first step is to know someone with a car who will go with you. Then, go to the Midway Drive-In's website where you will see an online ticket ordering system. You have to select at least one ticket for the driver, and then however many adult/kid passengers you have with you. Tickets are $9 per person for two movies, so it's $4.50 per film, which is way lower than any conventional theatre. When you get to the Midway (I recommend arriving around 8:00 as the films start at 8:45), you simply pull up a screenshot of the email with your tickets and show them at the booth.  They'll give you a physical ticket at this point, which is just to read out the numbers in-between movies to win a free pizza! From there, they will tell you to park in-between the two posts. Finding a spot is easy, and once you're situated, you can head over to the snackbar and grab some food if you'd like (currently it is cash-only)! In order to hear the film in your car, you will need to turn on your radio (but make sure your daytime running lights are off) to a specific station. Once you've done all that, you're ready to enjoy!
My favorite part of going is setting up the backseat. Usually, I go with my friends Tori and Aly, who have an SUV where we can put foam toppers, cushions, blankets, pillows, and generally get extremely comfortable. We also usually visit the Dollar Store or Walmart beforehand to load up on snacks and drinks that the Midway doesn't sell, or even go to Fajita Grill or Little Caesar's (yes, outside food is allowed!). Once we get our jumbo popcorn, we mix in our Bunch-a-Crunch and it's go time. It has really made my summer and the prices are extremely reasonable for any struggling student. 
As a local and a student at Oswego, if you are a resident here who doesn't have a drive-in in your area, GO while you still can! Your time in Oswego is only so long and the Midway only runs from May-October. The Midway is the only theatre in the area showing new releases such as Bill & Ted Face the Music or Wonder Woman 1984, which will be out later in the fall. These films need our support due to the hard work put into them by their cast, crew, and production and it is unfair that the bad luck of being finished during a year that a pandemic hits forces all 5,800+ movie theatres to close, besides the 330 drive-ins left in America. If you want even the conventional movie theatre experience to stay, supporting the drive-in right now is one of the best ways to do that.
The Midway has been showing amazing vintage films such as E.T., The Goonies, Dirty Dancing, Grease, Back to the Future, Ghostbusters, and others all summer. The Midway just currently had their annual Dusk to Dawn show, in which they showed Jurassic Park and Jaws, among others. Usually during October, they show classic and new horror movies as well. Check out midwaydrivein.com and visit today!