Almost a year after the pandemic started, so very much has changed. Having to stay inside for a majority of the past year has been hard, but it's also given me time to sit down and explore some new things I wouldn't have originally had time for. I've had a lot of time to focus on myself, and despite being in an undesirable situation, there are some positives I'm able to look at. 
Some of the hobbies I picked up along the way were unexpected, while others were just getting back into old habits. An older pastime I picked up recently was reading; specifically, everything in Leigh Bardugo's Grisha universe. Although they're catered for a younger audience, I've had a really amazing time just getting back into the novels and exploring this world I loved so dearly in middle school. It's gotten me motivated to read for at least an hour a day and has in turn made reading for college significantly easier. Not to mention, I've been getting more excited about reading in general, and having the experience be so enjoyable right now has made me more motivated to pick up new series and try content outside of my usual science-fiction and fantasy bubble.
Something I've picked up that's on the newer end of my hobbies is crocheting. Although I started with knitting, I switched over to crochet pretty quickly and haven't stopped since. It's been about 3 months since I picked it up, and I have genuinely had so much fun. Creating new pieces, whether they be clothing, stuffed animals, or blankets, feels so good; something about having a physical creation in my hands is so refreshing. It's kept me occupied when classes are slow or when nothing is going on and has honestly helped me on bad mental health days.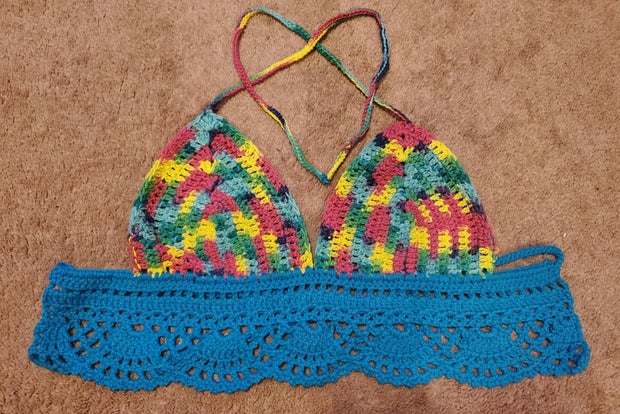 Original photo by Tessa Uline
One last thing I've been able to pick back up was writing. I won't be the first (or last) to admit that a year of quarantining and being hyper-aware of my surroundings has taken a toll on my mental health. It's been an extremely stressful year, and I will readily admit that. Something that's helped significantly is writing. Whether I'm just writing down a couple ideas I had or writing out all my emotions for that day, I've been able to process how I feel a little more easily while feeling safe in doing so.
Despite how difficult this year has been, I've done my best to focus on some of the more positive things. Picking up new hobbies, working on bringing back old ones, and generally focusing more on myself have all proven to be super beneficial. I'm not happy the pandemic is something we had to go through, but I can definitely say I'm happy about the new habits I've picked up along the way. I can only hope that I will carry these helpful habits with me even once quarantine is over.