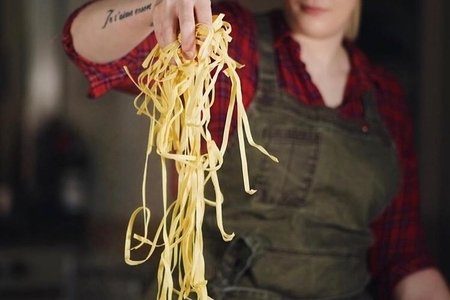 At only 29 (she'll be 30 next month), Allison Fasano has worked at Bobby Flay's own restaurants, Gato and Bar American, in NYC, and has been featured on shows such as Beat Bobby Flay and Chopped, as well as hosted her own TEDtalk about food waste. She was formally the Executive Chef at Salt & Sea Bistro in Jamesport, NY.
I originally met Allison last August at the bar in the Salt & Sea Bistro, and spent most of my vacation in Jamesport eating the food she made & crafted there, which was absolutely delicious. Allison's food, and testaments to her accomplishments simply within the atmosphere of the bistro, were enough to make me curious about the journey she had been on to land both of us right in that moment. Keeping in touch with her over social media after my vacation ended, she graciously allowed me to interview her about her work (even after my phone stopped working during our interview!). Getting her answers about her life experiences being a chef and a woman and what the culinary world has taught her along the way were eye opening, and have been posted below. Some answers have been lightly edited for clarity.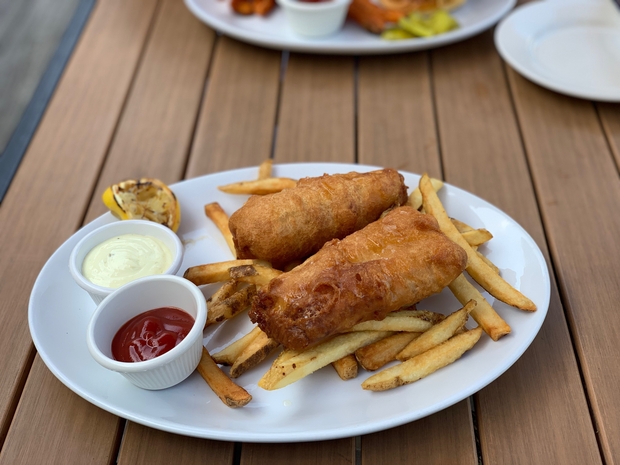 Where did you grow up and how was food & cooking treated in your home? Was there a specific moment when you knew you wanted to be a chef?
I grew up in Williamsburg, Brooklyn. We had a routine of eating together every night at 6pm, to be exact. I had always known I wanted to be a chef, so I had no problem lending a hand. A specific moment was watching Rachael Ray on the Food Network for the first time when I was 11 years old.
Did you go to culinary school?
Yes, The Italian Culinary Institute in Calabria, Italy.
Can you give a basic rundown of the restaurants you've worked in? What has had the biggest impact on you in terms of working in a kitchen versus running one?
I've worked from Pizzerias to Michelin Star Restaurants [author note: Michelin Stars are a rating system awarded by the Michelin Guide to grade restaurants on their quality. The rating system is one to three stars, with three being the most exceptional food & dining experience. Michelin Stars are updated every year.]. I worked up the ladder and earned my stripes. You learn a lot throughout your experiences that you always take with you. Taking a leap of faith and running your own kitchen has its challenges, but it's a step you take to grow professionally.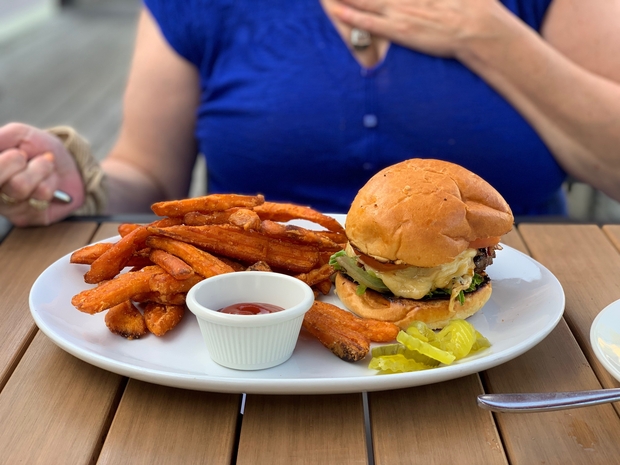 When did you first meet Bobby Flay, and what has he taught you about surviving in the culinary world?
I actually met Bobby my first day at Gato. He has taught me so much in my time working for him -- make it personal and it's always about the food. Also he says it's okay to be nervous because it shows you are passionate. 
What was your experience on Beat Bobby Flay like?
So much fun. It was actually my first show I did and was so excited to finally be on TV.
What was your experience on Chopped like? Is there a difference between what we see happening on TV and the culinary industry at large?
It's a very long day. It's a very iconic show that I was honored to be a part of. It's not about winning for me but the sense of I made it. In the culinary world, it's not always all smiles. We work a lot in the restaurant; long hours, and we make lots of food. There is some stress. It's hard to paint a picture of something we do everyday.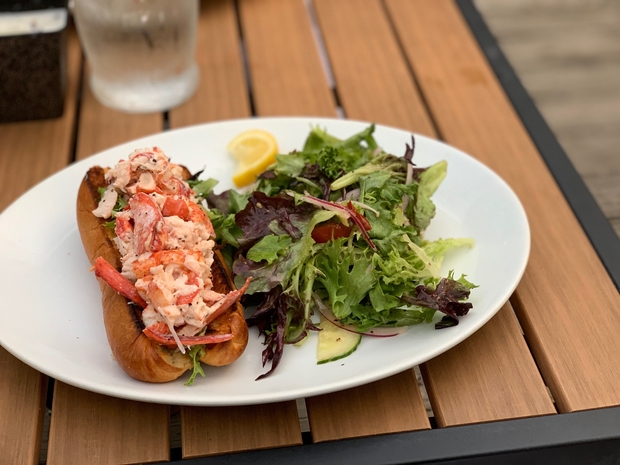 Do you consider yourself a feminist? Do you think you've faced any unique challenges as a woman in the culinary industry? 
Yes I'm always for the girls. Women empower women. We should always build up and support each other, and female chefs have always had challenges in this career, but women continue to make waves. I have worked in restaurants where I had more experience and got paid less than male employees. For me, I just don't want to be a great "Female Chef" but a great chef. 
You did a TEDx talk on food waste and hunger. As someone who is currently in college, I see a lot of these things happening on campus. What do you think colleges and students alike could be doing to change the way food functions during this time in our lives? 
You can start by creating a compost system in your school and help support farmers. Create a shared meal program or do dinners where everyone makes a dish. Aim for zero waste. Why waste when we can feed people who are hungry? Donate any food items you don't see yourself using, as it's always important to give back to the community.
Important question: do you like pineapple on pizza?
I do.
You can find Allison online at @allisonfasano on instagram and Chef Allison Fasano on Facebook.