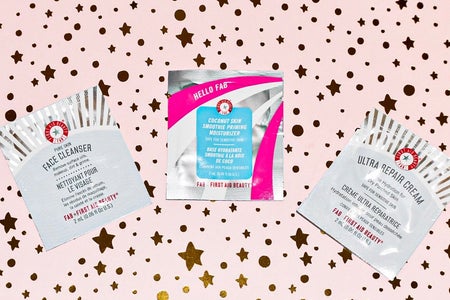 The Scoop on First Aid Beauty's Ultra Repair® Intense Hydration Cream
This is a sponsored feature. All opinions are 100% our own.
As we start to turn the corner into spring, the weather is starting to warm up, trees are beginning to regrow their leaves and, as with every change-of-season, my skin is starting to freak out. Lucky for me, First Aid Beauty was generous enough to provide samples of their Ultra Repair® Cream Intense Hydration facial moisturizer in the Her Campus Survival Kits this semester. 
First Aid Beauty states this cream to be "a fast-absorbing, rich moisturizer that provides instant and long-term hydration for dry, distressed skin and eczema." It contains ingredients such as colloidal oatmeal, which aims to soothe skin irritation skin caused by eczema or other rashes and conditions, shea butter, which acts as a moisturizing agent and protective barrier, and allantoin, which also helps to calm and soothe the skin. It retails for $34 for a 6-ounce jar, or $14 for a 2-ounce travel-sized jar or tube. While a little on the pricier side for a college budget, a little bit of this product goes a long way, so if you choose to purchase it, you will get your money's worth.
Personally, my skin gets more oily as the temperature gets warmer, so I don't love this product for the spring and summer months. It is heavy for a moisturizer, so I found it leaving my face a little bit greasy, and wouldn't recommend it for people with oily skin types. However, the company does advertise it for people with normal, dry and combination skin types and states it to be a rich cream product, so it makes sense that my oily skin didn't love it. I do think the Ultra Repair® Intense Hydration Cream would be a life-saver in the winter when my skin starts to feel really dry and parched. This product also may be useful in the summer if I were to get a bad sunburn on my face, and my skin began to peel and needed some extra moisture and TLC.
TL:DR; I don't recommend this product if you have oily skin like myself. However, if you have dry skin or suffer from eczema, you will probably love this product. It will also make a great winter-time moisturizer or summer time sunburn savior.