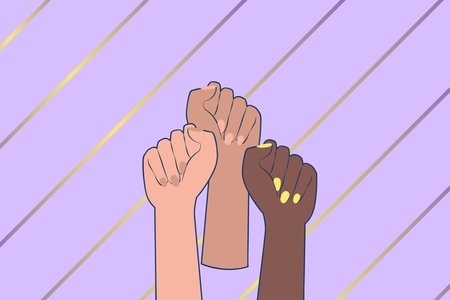 Original Illustration by Gina Escandon for Her Campus Media
Women to Watch: An Empowering Eugene Event
Starting as a love for art and social justice, Dee Etzwiler, CEO of Marching In Their Footsteps, created an apparel brand that combined these passions to empower and educate women about the importance of equality. Their products range from t-shirts to tote bags to posters and stickers. Marching In Their Footsteps focuses on 19 women activists throughout history, which are featured on their products. First launched on the initial Women's March in Washington D.C. in 2017, Etzwiler has inspired women both at a local and national scale. 
To inspire women even further, Marching In Their Footsteps will be teaming up with Allen Hall Public Relations and Women in Creative Industries, two University of Oregon student groups to put on an event that will showcase powerful women and their stories. This event will be held on March 9, 2020 from 5-7 pm in the Crater Lake South Room in the Erb Memorial Union on the University of Oregon campus. A variety of different women, CEO's, owners, founders and directors of different organizations, businesses and companies will speak on behalf of their experiences and success. 
Each woman will speak for about 10-15 minutes followed by a question and answer portion. This will allow attendees to not only excite women to follow their dreams, but see the reality of it and how they can better position themselves to make this happen. Speakers include Brittany Quick-Warner, the CEO of the Eugene Area Chamber of Commerce; Merryn Roberts Huntler, Owner of Made to Hire and former professional soccer player; Kelly Johnson, the Executive Director of the Arts and Business Alliance of Eugene; Erika Rauer, the Executive Director of the Eugene Opera; Kylie Keppler, the PR Director for the Eugene Ballet; Diane Butera, the founder of Eugene Yoga; Toni Pimble, the Artistic Director for the Eugene Ballet; and Kim Dearborn, founder of Kim360PR and an advisor for Redefining Women in Tech.
This feminist-focused event is bringing people together, proving the power of women's voices and showing what they are capable of. Not only will this event highlight the work done by leaders in society, but encourage young women to also chase after their dreams. In addition, it will provide a platform for these women to network and find resources in order to truly achieve these goals.