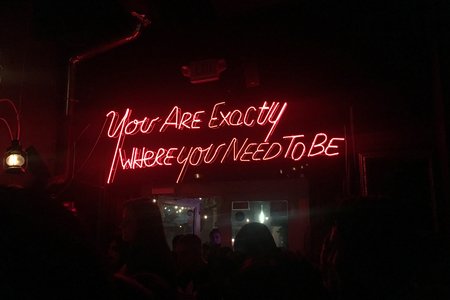 Lindsay Thompson / Her Campus
Recently I have been learning the importance of having a mentor or inspiration. I am a junior in college, and, to be honest, the future terrifies me. I honestly think about my future and fear that I am not going to be able to support myself or get a job every day. I would be lying if I said that I do not have daily anxiety about it. Through daily struggles and worries, something that I have begun to create and form groups of people that inspire, encourage, and believe in me. There are many women that I could put on my inspiration and mentor vision board. Some of these people probably have no idea that I exist, but I look up to them so much. Others are people that I interact with. These are women that push me to be better and give me great advice. These women are helping to shape me into the person that I want to be. I trust these women with my being and look to them for advice often. I think it is good to have a mix of people you look up to as well as people that are there to help and guide you. Right now, I would say I have an impressive list of people. Some of these ladies are people that I look up to career-wise, and others are people that I look up to for other reasons. All such strong women that have helped me become the person that I want to be. 
My inspirations, these are people that have jobs that I look up to or people that have the same values or morals as me that I look up to. My first inspiration is a woman named Jaclyn Johnson. She is someone whose career I look up to so much. I have been recently reading her book "Work Party," it has given me so much insight and tips on cultivating a great career. It is one of those books that I also want to re-read when I am at a different stage in my life to remind myself of the excellent tips. She is a boss, started her own women's conference that has some of the most girl boss women in the creative and other industries. I aspire to have her organization, determination and entrepreneurship. The next person is Hailey Bieber, we share the same values and faith. I love her confidence and openness about her benefits and what is important to her. Someone who has really helped me with my mental health is Rachel Hollis. I read her book, "Girl Wash Your Face," last year, and it was life-changing. I want to read her other book, "Girl Stop Apologizing," after I finish the book that I am reading. I never read. When I was reading her book I could not put it down. I fell back in love with reading after her book. I felt heard, answered, seen. I learned so much by how I see things and the things that I struggle with. We also have similar career interests and values. Next is someone that I feel is such a ray of sunshine. We have the same benefits, think identical, and have similar interests. Though I guess we differ, I adore her. Tanya Rad, she is a host of a podcast, works for E and a host on "On Air with Ryan Seacrest." She says it how it is and is so unapologetically herself. Her authenticity is something that I love. One of my core values that I want to always live by is authenticity. Tracee Ellis Ross is someone that I love. I genuinely love this woman and find her so funny. Like Tanya, she is so authentic and unapologetic. I follow her on Instagram; she is so funny. She is confident, fun, and just a boss—an actress with her hair care line for black women. Lastly, there are a few girls from my high school that I look up to so much. One of these ladies is able to tackle so much. She is on the dance team as a captain, president of her sorority, all while maintaining straight A's. Her determination and organization inspire me. The other lady works as an event planner and has cultivated her career working with an event planner, all while being in school. Truly one of the funniest people that I have ever met. These are all people that have something that I admire. If I were to have a mood board, they would be on there. 
It is essential to have people to look up to but also to have people around to help guide you into the person that you want to be. I am starting to curate women in my life that I can count on for advice, help, and inspiration. The first person is, of course, my mother. I have a special bond with my mom, that is truly unforgettable. She is my best friend, most prominent critic, and number one fan. I go to her for everything. I know she is going, being honest, she knows what my best version is, and my worst version is. She sees me in a way that I struggle to see myself. Next are my boss and a dance teacher. She is the first person besides my mom that I felt understood me to my core. We are so similar and see things the same way. We do not talk often, but when we have the time to sit down and chat, I always spill all the tea on my life. It is nice having someone that understands you and the way you think. Next are two faculty members that I have met at the University of Oregon that have helped me academically and mentally. Freshman year, I began seeing a counselor at the counseling center. My counselor helped me so much. College is hard; it can be difficult for your mental health. It is also a pivotal time to learn about yourself. Meeting with my counselor, I learned so much about myself. Why I think the way that I do and how to overcome self-doubt. She was the person that figured out that I had ADHD faster than any doctor could. She new me deep down to my core. I spent many sessions in tears, but I came out stronger. My struggles were small, but having an outlet to talk through how I was feeling was so beautiful. I do not see her anymore, but I know that if I need anything that I can go to her. Without her guidance, I would not be as confident as I am right now. My academic advisor and faculty advisors are two ladies that I adore. I have had the same academic advisor for about a year, and I genuinely love her. She knows what I want to do with my life and my academic strengths and weaknesses. I email her almost weekly, asking for educational, job, and internship advice. I know that after college, I will still be able to ask her questions. I recently just had a meeting with my faculty advisor, and I am so glad for us to accumulate the relationship that I have with my academic advisor. I have been asking her for her opinions and just random academic advice. I love asking these women questions and running ideas by them. They have helped me a lot in my academic career. My last mentor is someone that inspires me so much. She works in the entertainment industry, which is where I want to work after I graduate college. She is a girl boss who grew up in my hometown. I have loved learning about her, what she does, and how she got there. I ask her so many questions and look to her because she is doing what I want to be doing. These ladies are my people. I think having mentors is so important because they help shape the person that you are. I love that my mentors vary—some personal, academic, and career. You need people on your side to help guide you to become the person that you want to be. No one can do it alone, and it is nice having women that I know support me.