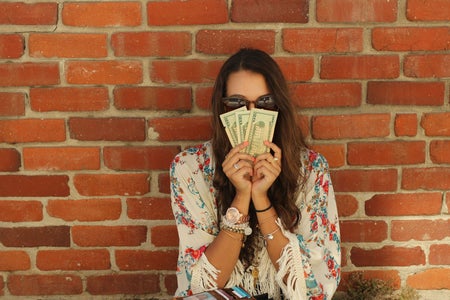 Kellyn Simpkin / Her Campus
Photo by Element5 Digital from Pexels
Shopping for Christmas can be difficult, especially during college. For most people, you begin buying gifts during college because you don't live with your parents anymore, so you're a sole adult. Here's some tips and ideas on how to do it on a budget!
The first tip is to keep the list short. Immediate family, S.O., and super close friends is a good idea (if you and your friends even decide to do something for each other). 
How to shop for your parents
This can be tricky for some, but let's break it down. Group presents from you and your siblings are okay! Get together and buy something big for both your parents or individual presents for each parents. Build in a price for your budget and then start shopping or even find something you know they would want and ask your siblings to go in halves (or however many siblings you have). 
Some simple gift options for parents are:
1.    Gift cards. They seem too simple at times but honestly, they will appreciate them, especially if you get them cards to places they go to often. Get your mom a card to her favorite nail/hair place so she doesn't have to pay for it next time or she can get an extra pedi that she needs! A gift card to their favorite date spot would be perfect, too! Odds are, they are in desperate need for a night away.
2.    Personalized gifts. Personalized gifts are super easy to find--Amazon and Etsy are my go-tos for these. Your parents (even dads appreciate these) will love something personalized because when they see/use it, they will think of you! Personalized gifts can be practical things they use daily or something nice but either way, they are great!
Shopping for siblings
This is a tricky one, too. Get them things they might need especially if they are out of the house. So, the same rules from parents tend to apply here, too. If they are younger, you can use their interests or just gift cards for some extra shopping they may want to do. 
1.    Card Games: These are good ideas for your siblings that love a good laugh or just something to do with their friends and family. Cards Against Humanity, Uno, and Phase 10 are some good ones for your competitive sibling.
2.    Toys and kits are always safe ones for the young siblings. 
3.    Again, gift cards. But, these ones can be less practical and more for some senseless shopping they may want to do.
4.    Household items are good for the ones that are out of the house. Practical things are great for them so they don't need to get it themselves.
Friends
Personally, I would have that conversation with you friends to decide if you want to exchange gifts or not. In a group of friends, Secret Santa is always a great idea so you only have to shop for one person each. Here's some ideas for friend gifts:
1.    Once again, gift cards can never go wrong! A starbucks gift card or any gift card they will love will save them a few bucks.
2.    A little basket of their favorite things: fuzzy socks, their favorite wine (21 and over, of course), a candle, some candy, and maybe even a few pics of you guys together!
3.    Household items. Buying these for college students will save them a few bucks and keep them from saying, "I keep forgetting to buy that!" when they realize they need it. 
Hopefully this will save you some stress while shopping during this wonderful holiday season!