Caitlin's Pop of Culture: September/October Viewings
Much like this semester, the time has slipped away from me and put me behind on my entertainment viewing. To make up for it, I have everything I watched from September and October in one article. Start scrolling readers, I've got some entertainment content perfect for fall!
TV Shows
"Derry Girls" Seasons One and Two
Starting off the list is a hidden Netflix gem! "Derry Girls" centers around Erin and her four friends as they navigate life in the town of Derry in Northern Ireland during the Northern Ireland conflict of the '90s. This comedy is quick-witted and heavy on all the '90s nostalgia. Each character possesses tropes that allow anyone to connect to them, and their wacky family dynamics will have anyone doubled over in laughter. Beyond the hijinks, "Derry Girls" holds important messages about changes and dreams and the friends who love and support you along the way. 
Rating: A+
"The Politician" Season 1
Given today's political landscape, you wouldn't think people would want to use a political based show as a piece of escapism, but I was one of those people. "The Politician," the first project in Ryan Murphy's deal with Netflix, follows Payton Hobbart (Tony Award winner Ben Platt) in his senior year of high school as he begins to initiate the first step in his long-term goal: to become president of the United States. This plan comes with its difficulties, which take form in Payton's love interest and political opponent, River Barkley (played by newcomer and JFK Jr. look-alike David Corenswet), whose popularity in school poses a threat to Payton's campaign. While this is the show's basic premise, the show goes off in many directions with its themes, which range from mental health, sociopathy and a subplot about Munchausen by Proxy disorder that is remarkably similar to Gypsy Rose Blanchard's life. These plots make the show messy and often too outrageous even for Ryan Murphy's standards. The cast and their performances are what saves the show from being a total failure. Platt's emotional and complicated portrayal of Payton draws intrigue and acts as the show's anchor. Legends Gwyneth Paltrow and Jessica Lange also give strong performances in their supporting roles that make the show watchable. That being said, I do hope the show is renewed for a second season. The first season ends on an awesome cliffhanger, and I believe with a bit of the cookiness out of the way, "The Politician" can really thrive and continue Murphy's streak of quality entertainment. 
Rating: C-
"Ugly Betty" Seasons 1-4
The one thought that occurred to me while watching this show was "Ugly Betty" walked so "Jane the Virgin" could run. Long before "Jane The Virgin" crafted the art of imitating the telenovela, "Ugly Betty" was making strides doing similar things. The show focuses on Betty Suarez (America Ferrera), a recent Mexican American college graduate who, despite her adult braces and quirky sense of fashion, lands a job as an assistant to the editor-in-chief, Daniel Meade (Eric Mabius), of Mode, one of the country's top fashion magazines. Life is not easy for Betty or Daniel at Mode thanks to Wilhelmina Slater (Vannessa Williams), Mode's artistic director, her loyal assistant Marc St. James (Michael Urie) and desk receptionist Amanda Tanen (Becki Newton). Luckily, Betty has her Queens-based family to help her out, her father, sister and nephew. Given the show's original airdate of 2006, "Ugly Betty" was really thinking out of the box for its topics. It's no wonder it was a success in its original run. The show really embraces the idea of being yourself and how the inner self can be much more important than what's on the outside. The show also talks about many social issues like immigration, body positivity, and the LGBTQ population. During this age of reboots, revivals, and sequels, it makes me wonder why networks have not pushed for this show. Especially considering how perfect it would fit into today's world. "Ugly Betty" is an oldie, but a goodie that is worth exploring. 
Rating: A-
Movies
"Four Weddings and a Funeral"
After taking stock of my movie viewing history, I realized how many classic rom coms were missing from it. So, I started with "Four Weddings and a Funeral," a movie so impactful it now has a television series inspired by it. The plot is within the title. This 1994 film focuses on young Brit Charles (Hugh Grant) and his forever alone group of friends. Charles sees his luck turn around, though, after meeting American girl Carrie (Andie MacDowell), but, like most things, the pairing does not work out as planned. But, as the two keep meeting at various get-togethers, Charles seems to think they may be meant to be. "Four Weddings" is very British, meaning its humor is sarcastic and self-deprecating with a deadpan delivery. The movie captures the culture of the British perfectly thanks to its intelligent writing and strong casting. Beneath all of that, the film still holds on to its romantic comedy roots to provide some very sweet moments. 
Rating: A-
"The Dark Crystal"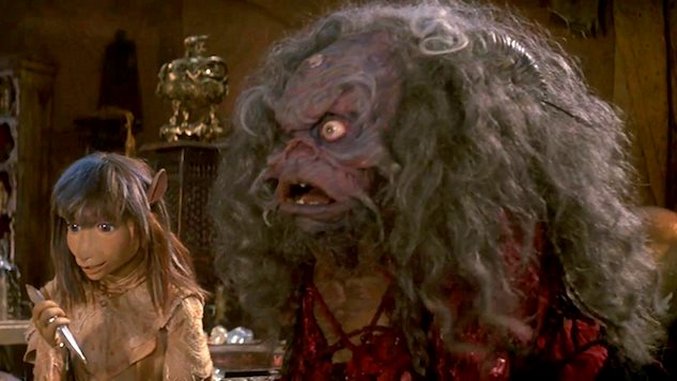 Another show that has resurfaced thanks to a show on streaming services, "The Dark Crystal," sparked my interest after heavily promoting its prequel series. I vaguely remember watching this movie at my aunt's house and be weirded out by the Skeksis, who just loved to "hmmm" all over the place. At twenty-years-old, I still really didn't get this movie. "The Dark Crystal" is a 1982 puppet film from the legendary Jim Henson, the guy who created some of our childhood staples like The Muppets and some of the Sesame Street characters. The plot follows Jen, a Gefling who must save his world from the evil Skeksis by restoring the mythical Crystal. The execution of the story is something to be desired and is what really drags the movie down. But the use of puppetry is something to marvel at. While you may not understand or get the full vision Jim Henson had, "Dark Crystal" is a film one should watch to explore a different, artistic film that has yet to be duplicated. 
Rating: C
"American Animals"
As college students, we often dream about how to make our lives extraordinary either before we graduate or after. But, hopefully, those plans don't involve stealing priceless books. Based on a true story, "American Animals" revolves around four college students as they plot to steal several priceless books from Transylvania University in Kentucky. Evan Peters ("American Horror Story," "X-Men" Franchise) is at his best here playing a questionable stoner and has great ensemble members to support him, who also inhabit their real-life counterparts.  Using a unique storytelling technique to intertwine fact and fiction, "Animals" is unique and somewhat profound entertainment that questions whether or not these criminals deserve any type of understanding. 
Rating: B+
"Late Night"
It's a no brainer that late-night television looks pretty much the same. It's a white male-dominated field, so wouldn't it be great if we got some diversity? "Late Night" explores just that. Starring Emma Thompson, "Late Night" follows late-night legend Katherine Newbury who's old-fashioned, out of touch show has put her at risk of losing it all. Enter in Mindy Kaling's Molly Patel, a young woman with big dreams and no experience in late-night comedy, but snags a spot on the writing team for diversity reasons. Thanks to Molly, Katherine and her all-male writing room gets shaken up for the better. At the center of this film is the relationship between Katherine and Molly. Kaling and Thompson have a good dynamic that is capable of carrying the film. "Late Night" also brings up many topics relevant to today's world of late-night shows in the workplace, like diversity hires and sexual harassment. While it gives a space for conversation about these topics, they do not alleviate enough time to have a proper discussion that could spark change. "Late Night" simply imagines what the world could be without giving any strong solutions to the problems.  
Rating: C
"You've Got Mail"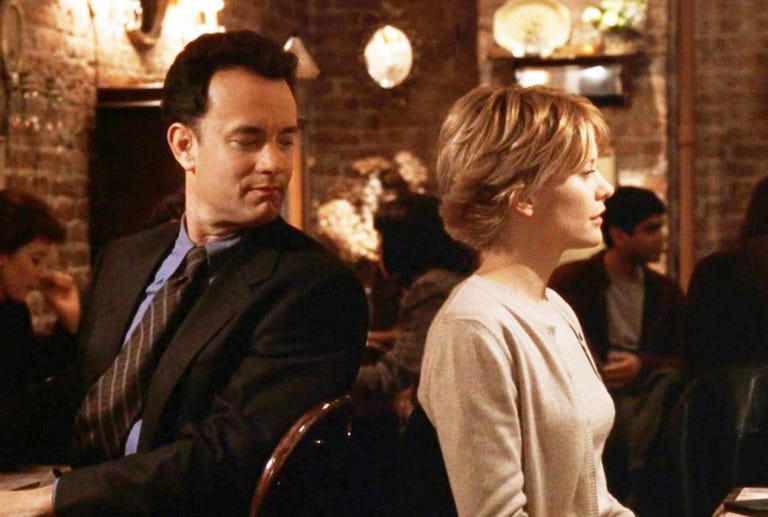 Back to our classic romantic comedy line-up, I watched this classic Tom Hanks and Meg Ryan film. Ryan stars as Kathleen Kelly, a struggling local New York City bookshop owner, in this film with Hanks starring as her big corporate bookstore rival, Joe Fox. Naturally, these two hate each other, but at the same time, they're unknowingly falling for each other through an online chatroom. This film put me into a cozy fall mood thanks to its music selection and beautiful NYC scenery. The talent that is Tom Hanks and Meg Ryan are what really hold the film together. They make their characters with somewhat messy love lives likeable and provide fuel to the romance. Beyond that, the film does seem to run out of steam towards the end, putting it below the mark for an exceptional movie. 
Rating: C
"When Harry Met Sally"
Meg Ryan is well-known as the queen of the romantic comedy, and that track record started way back in 1989 with this film. "When Harry Met Sally" tries to answer the big relationship question: can men and women really be friends? After sharing a car ride to NYC years earlier, Sally (Meg Ryan) and Harry (Billy Crystal) finally get off on the right foot to start a friendship, but feelings start to get in the way. The film doesn't necessarily fail or succeed at answering the question but instead focuses on how important and special it can be to find the person that gets you. Although the film is older, it has aged like fine wine, and its combination of a smart script, great direction, great cinematography and excellent chemistry between the leads is the reason behind it. Everything about this film brought a smile to my face and has quickly entered the list of my favorite movies.
Rating: A+