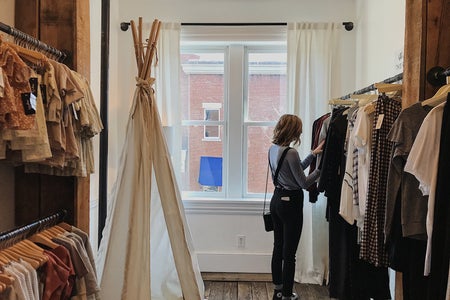 While we all may be familiar with Miranda Priestly's tough candor from the movie, Devil Wears Prada, the actual luxury Prada brand, started by Mario Prada in 1913, is now being forced to also get taught a difficult lesson in sensitivity after being ruled insensitive to certain cultural and racial associations. 
Coffee errands and Hermes scarf pick-ups are certainly cruel trade-offs for any fashion closet intern, but Prada the brand, like many of the other major fashion houses, have recently been found faulty of various cultural and racial faux paus. 
Giphy
In December of 2018, civil rights lawyer, Chinyere Ezie, posted a picture showcasing the various discriminatory mishaps conducted by many luxury brands, indlucing Gucci, Prada, Dolce & Gabbana, and Dior. Prada's feature was an image of its downtown storefront window. In its display were Paradamalia figurines, or monkey-like figures, dressed in blackface. Ezie, who works for the Center for Constitutional Rights, was outraged.
A Gucci blackface sweater anda D&G video, charactercuring Chinese culture, quickly fanned the flames, especially on Twitter, where accounts like Diet Prada took on Ezie's frustrations.
Although many of the brands, including Prada, apologized for the offensive subject manner, accusers are still heated, so much that the New York City Commission on Human Rights has been seeking further satisfaction. The process has been culminating since February 4th, which for the fashion house, means tempers are high as we make our way into yet another NYFW.
Giphy
Prada did deny any purposeful forms of discrimination. However, the investigation has led to Prada's promise to externally be monitored for the next two years, in addition to committing itself to internal education and outreach programs with minority communities, both with their team here in New York and in Milan. This means that Miuccia Prada, her husband, and other major brand executives at Prada will be attending racial training sessions.The general counsel of Prada will report back on executives compliance and progress.
Cases, such as Prada's investigation and the city's inquiry into Dior's Sauvage campaign, which plays off Native American stereotypes, demonstrate a new ground for policy control here in the city. Now crossing over to monitoring the fashion houses that pave the Soho stores, the city will begin to strictly examine these brands' images and campaigning details.
And the industry has felt the exposure. Rattled by city intrusion, the creative forces of some of our favorite brands are feeling limited by the watchdog eyes of the city municipality. Willing to do almost anything to remain at the top, luxury brands, like Prada, cannot afford to tarnish its good reputation as a staple of couture design. The Prada case specifically could even move to be a violation of human rights, if the court so decides.
It is no surprise, therefore, that the brand decided to found its first Diversity and Inclusion Advisory Council, last February, a following that has preceded in almost every major fashion house since. The house had equally been found to have not one black employee by Ezie during investigations, so the council will act to report on the progress of diversity both in NY and in Italy.
Overall, the steps toward diversifying an industry curated on image may be for the best. With it, comes new ideas, new inspiration and hopefully new design. While the new implemented monitoring and reporting may cause for a sort of breathe-down-your-back environment for the designers at Gucci and Prada, the sort of pressure will hopefully and eventually fade to a conscious aversion of the discriminatory for respectful design. In many ways, the changes are long awaited, and for fashion, this could be for the best after a year of cultural don'ts highlighting fashion headlines, more than the actual runway did.
However, there is always the opposite effect, which poses, where will you stand? Will the city's influence on the fashion houses' work limit the sort of creative process they have long endured? Will it change the way art is made, provoked and purposed? Fashion has a legacy for breaking boundaries. With government influence being introduced, we have to ask, are we sacrificing a sort of imagination that comes without city or state pressure?