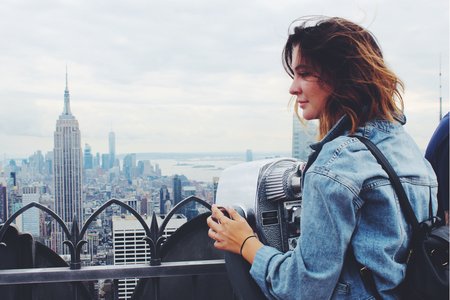 Anna Thetard / Her Campus
Our March Podcast Recommendation: Schnitt Talk
Hosted by former sorority girls and NYC newbies, Ellie Schnitt and Alanna Vizzoni, Schnitt Talk offers brutally honest commentary on how to navigate relationships, friendships and just generally surviving as young women in New York City. 
As a newly minted New Yorker, if I can even call myself that, in trying to navigate my way through college social life it's incredibly helpful to get some perspective from someone who's been through all of it before. From learning to love yourself more than Chad from Kappa Apple Pie, to cutting out toxic friendships, to actually useful career and money tips, Ellie and Alanna perfectly balance sound advice with witty commentary and some seriously hilarious stories — my personal favorite being how one of their followers bought hundreds of dollars of weed from a dealer she had a crush on when she didn't even smoke, and then slept with his brother to get his attention. At the very least, the duo will make you feel better about your own life choices. 
Their "For the Boys" segment is also one of my favorite features, where they break down subjects that for some reason are incredibly hard for men our age to grasp, like the importance of having attractive Instagram pictures and why they shouldn't pretend to have feelings for women if they only want sex. 
If you're not sure where to start, here are some of my favorite episodes that I've sent to every single one of my friends in need of some credible advice.
Stop Doing Crazy Shit For The D
Remember when I mentioned the girl who bought hundreds of dollars of weed she wasn't going to smoke to get a guy? This is where that story comes from. In this episode, Ellie and Alanna give some empowering advice on how to stop catering to lame frat boys who probably don't own toilet paper and to instead start recognizing your own worth. If you or a friend have fallen into some seriously embarrassing habits for male attention, this is the episode for you.
Extreme Spring Cleaning
While we typically think of spring cleaning as a literal time to finally wash our makeup brushes and throw out that crop top we were never bold enough to wear, it's also the perfect time to cut out some relationships that are no longer making us happy. We've all had friends who make us feel worse after hanging out with them, so why keep them around? Ellie and Alanna remind us that it's okay to Marie Kondo our personal lives, too.
Snacc: Are You Clingy?
For anyone who's ever felt insecure that they're being clingy in a relationship (haven't we all?), Ellie and Alanna help clear that up immediately, claiming there is no such thing as being clingy. Instead, it's simply just not the right relationship for you. They also discuss the incredibly annoying dating faux-pas known as "haunting," and give some pretty great perspective as to why we shouldn't take it personally when a relationship isn't working out.
If you're searching for a new podcast to listen to, this one is great for hearing stories and advice that pertain to college-aged women like ourselves. From discussing how they've approached situations we've all found ourselves in, to how they've dealt with the aftermath, Ellie and Alanna are a great duo whose podcast is well worth the listen!