"Winter is coming," and I'm not just quoting Game of Thrones. If you are in NYC or on the East Coast, you know how cold the winter gets. Investing in a good winter jacket is essential. Every time I walk down the streets of SoHo, I would always see someone in a Canada Goose jacket, and I just can't help but roll my eyes. No shade to Canada Goose but there are so many other jackets out there! And I am here to help everyone break the cycle. If this is your first time purchasing a winter coat or you're in the market for a new coat, here are some of my recommendations. 
Puffers (with down):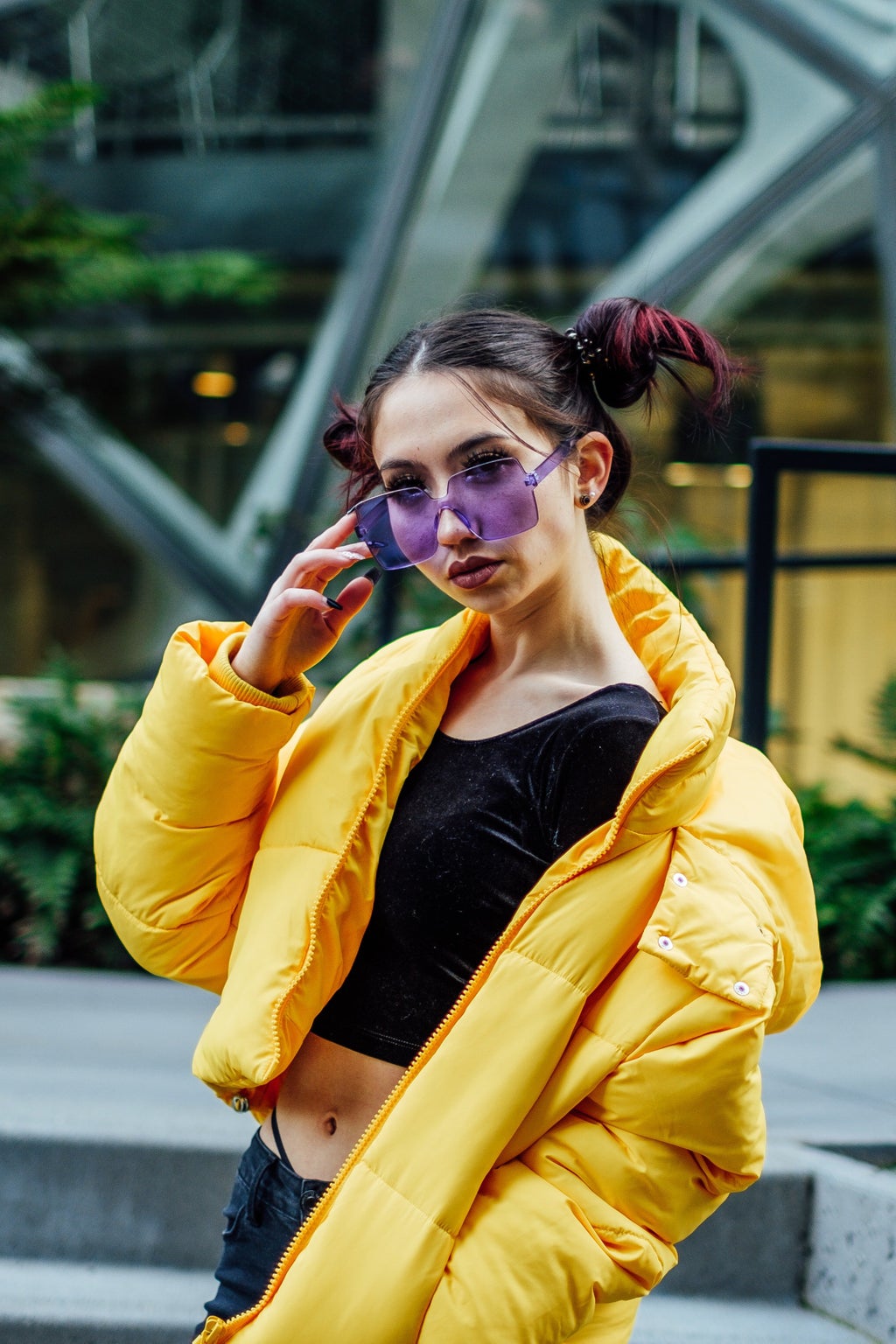 Patagonia Silent Down Jacket – $  (sustainable) 
Besides being a great sustainable brand, Patagonia makes warm and long-lasting winter jackets. If you are looking for a stylish puffer on the less expensive side in terms of down jackets, I seriously recommend this one (and this one only, the other designs are a "no" from me). This down jacket is made using 100% recycled down and 70% recycled polyester. So off the bat, you don't have to worry about your carbon footprint. This jacket is also 700 fill, which in terms of fill power scare (an actual scale) is considered "very good." Look, if Reformation is carrying this jacket on their website, you know it is IN! 
*I have personally tested this item  
Mackage – $$
My personal favorite is Mackage for winter coats. This outerwear brand was established in 1999 in Canada and is one of the few companies that really integrates fashion into warm, comfortable winter wear. If you are thinking about purchasing a Mackage down jacket, the down to feather ratio is 9:1. The fill power for Mackage has a minimum of 800 fill (ethically sourced by a product of food production) and is just as competitive as Moncler and Canada Goose in terms of helping you withstand the cold.
*I have personally tested this item  
Moncler – $$$
I think most people would recognize this French brand. Moncler is as old as they come. They have been making jackets since the 1950s so you know they know what they're doing. I personally love this brand because they do a great job incorporating high fashion into winter wear, which is not something many companies know how to do right. They even have a special line—Moncler Genius—which invites top designers to create unique designs for Moncler. I wouldn't say that Moncler, as a whole, is sustainable, but I would most certainly say that they are putting in the effort to become more sustainable. They are 100% traceable and verified under the DIST. The fill power of their jacket is 710, which again, is pretty good! But let's be honest, you aren't here for the functionality but rather the style. (I recommend staying away from the Bady jacket. It's plain and very boxy.)
Shearling Coats: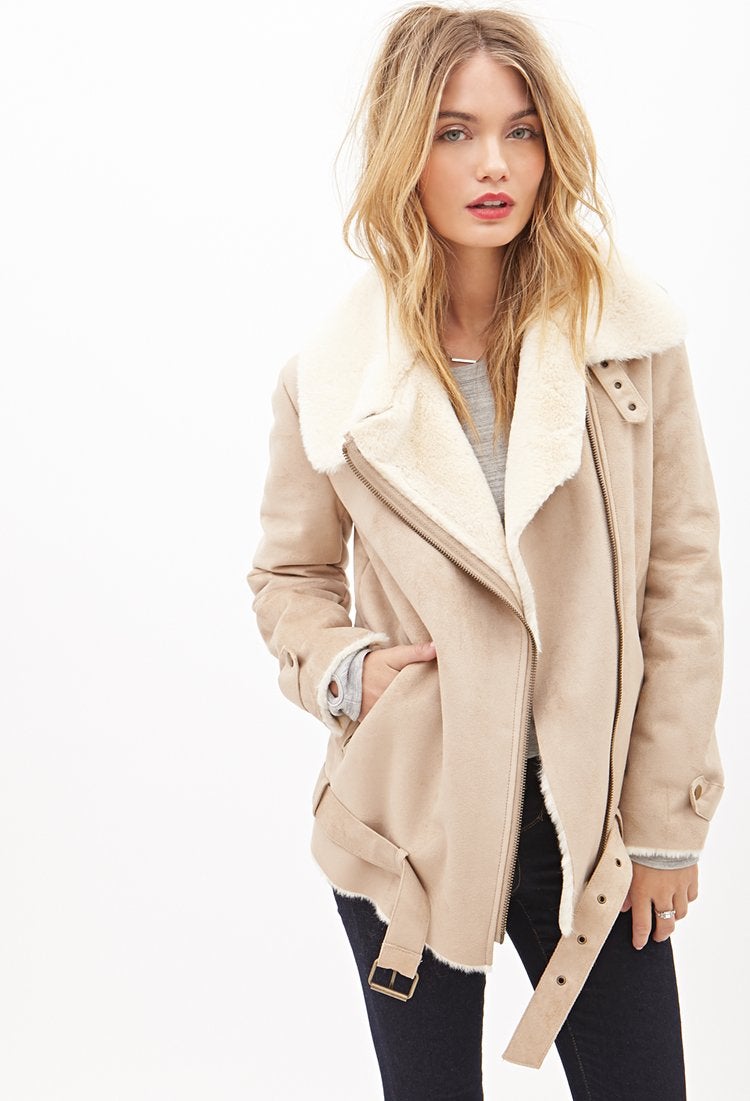 UO Chloe Faux Shearling Cropped Jacket – $
I love the style of this jacket. It's faux shearling so great for vegans and vegetarians. It is a bit on the pricey side for Urban Outfitters, but who says you can't treat yourself! What makes this jacket so unique is the fact that it is a light lime green. With everyone wearing black all winter, this jacket will surely make you stand out! 
Reformation Trolley Coat – $$ (sustainable) 
You know Reformation is the best when it comes to sustainability. Not only that, but they are also very size-inclusive. With each item, you can see the sustainable impact it has on the environment which I think is pretty cool. The Trolley Coat is basically a more structured teddy bear coat. It is made from faux shearling so it's vegan and vegetarian friendly. I particularly like this one as it is pretty long (goes below the knee) and will keep most of your body warm.
Allsaints Farley Shearling Jacket – $$$ 
This jacket is 100% lamb leather. So vegans and vegetarian be aware! I love this jacket. I truly do! It has the biker jacket element without it being too over-the-top. I think this is a great investment. Most of Allsaints' jackets last very long and if you are in the market to splurge…this is it!
Wool Coats: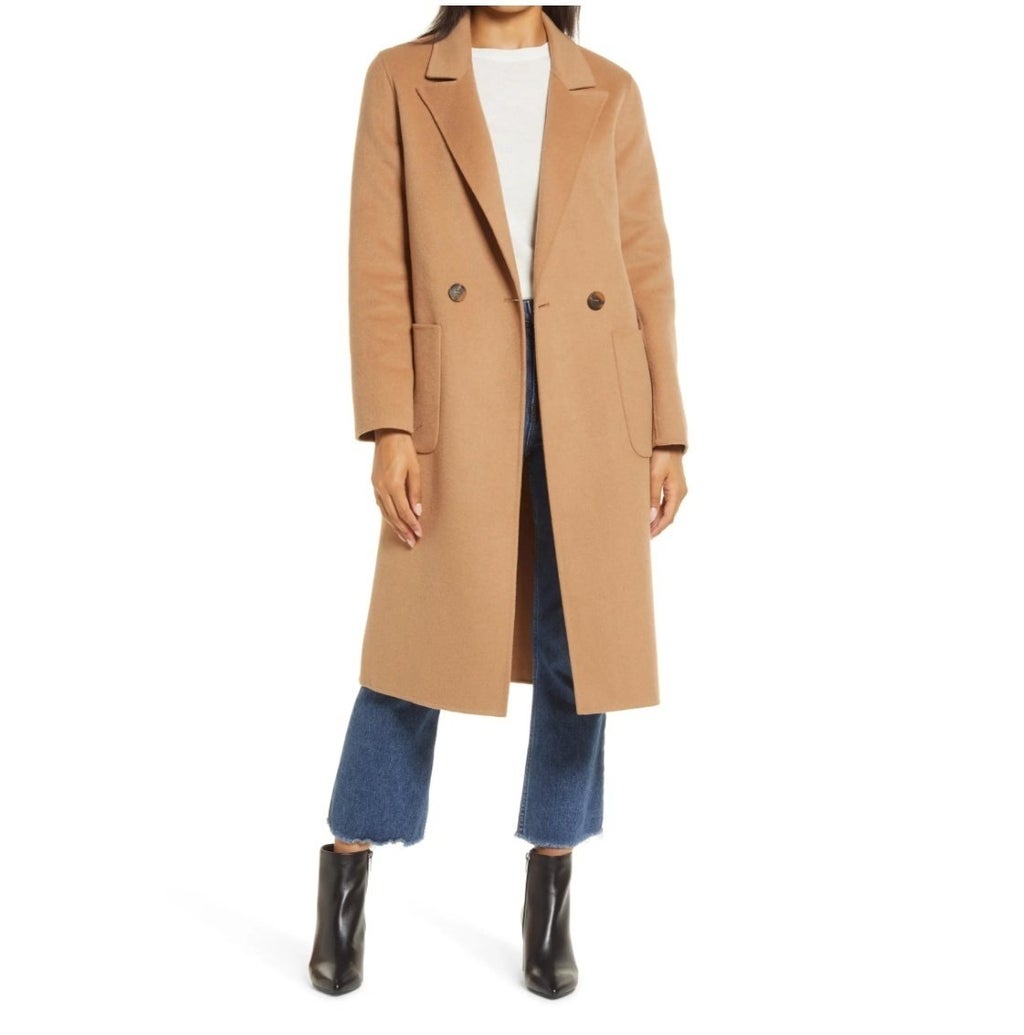 J.Crew Daphne topcoat in Italian boiled wool – $
I love wool jackets and have way too many to count. I think that wool jackets are a timeless piece in any winter wardrobe, regardless of gender. You can dress it up or dress it down. The possibilities are endless—this J.Crew wool jacket is made from Italian wool. Yup! You read that right. It comes from Italy's Manifattura di Carmignano mill, fancy isn't it? That's why it is selling out fast. Head on over ASAP.
Theory Easy One-Button Coat in Double-Face Wool-Cashmere – $$
What's better than wool? Cashmere, of course. This coat is in a lovely peacoat fit. The style is classic and timeless, but the colors available are unique and will give your winter style a pop of color. What is even better is that this jacket just so happens to be on sale for 50% off! So if you are looking for that Black Friday deal, here it is. 
Isabel Marant Etoile Elayo Long Plaid Wool-Blend Coat – $$$
This jacket is for anyone who wants to play with color and to go with a non-traditional style of coat. This jacket has a blue and white checkered pattern and can easily be the next go-to jacket for you. Why should you buy it? Because there is nothing better than seeing a colorful coat in a city of black jackets. 
Let's put an end to the basic Canada Goose jacket. You don't always have to stick to the status quo. There are plenty of other coats out there. Just remember to find a coat that's not only unique to your style but also warm enough for that harsh city cold.