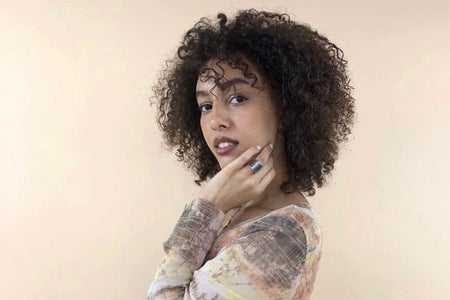 Original photo by Director Daddy
Interview with Vogue Editorial Assistant Akili King
This month I had the opportunity to interview Vogue's very own Akili King. King is currently the Beauty Editorial Assistant at Vogue's headquarters in New York City. When not helping run the MET Gala or testing out the newest facials throughout the city, she can be found writing beauty notes, coordinating brands, and trying out new products . Before joining Vogue, King attended New York University's Gallatin School of Individualized Study majoring in Creative Writing, Africana Studies, and Journalism, along with a French Minor, and after graduating landed the job of a lifetime.
At 25 years old, King is working on incorporating more culture into the pages of Vogue, paving the way for other men and women of color in the industry. In fact, when I asked King what makes her different from her colleagues, she confidently stated that it was her passion and knowledge about her Africana history. When not living a 'Devil Wears Prada-esque' lifestyle, you can find Akili making soulful DJ sets, posting insane pole-dancing routines, appearing in a TY Dolla Sign music video, and yoga! 
Akili is not only extremely intelligent and driven but kind. She gave me an hour of her time, generously sharing her tips and tricks for beauty and career and granting permission to share with other HER Campus readers and writers. I highly suggest following King on Instagram (@akili_) to stay current with her successes (and for her epic yoga videos). 
Q. What did you major in and what makes a good beauty writer?
A. I majored in Creative Writing, Africana Studies, and Journalism, along with a French Minor … I also did a screenwriting workshop and African American history classes because I felt like learning my history was super important in order to be a good writer and have a stronger voice, so that was kind of my concentration because I knew I loved writing my whole life so it was just a chance for me to explore all mediums, challenge myself… I feel like it really sharpened my skills as a writer to explore different mediums and express myself whether it is creatively through writing or research-based from journalism classes and incorporating the history I learned… I think the more well rounded you are as a writer, the better because writing is all based on experiences and telling stories so the more experiences you have, the better. 
[When reflecting back to her shadowing at Essense Magazine her freshman year of college] I remember the woman I shadowed told me, "honestly, I majored in acting, it really doesn't matter what you major in… your major is really just a place for you to explore yourself and your job may be something completely different."
Q. How does knowing your history affect you as a beauty writer?
A. ...Especially in the beauty space, because it can really bring that lens if you want to do beauty or any writing really, knowing your culture and being able to represent your culture is super important. Especially right now because for so long (especially in beauty) and even now there is usually only one type of beauty represented in the media so bringing that lens to as many publications as you can I think is your superpower
Q. Do you think New York University prepared you for the field you went into?
A. Yeah, definitely, 100% I mean obviously I got to curate the classes I took which I think I did a good job of because they were so writing heavy. So, I think it definitely prepared me in terms of quick turnarounds and being creative in that sense. I also think that just being in New York may be even more so than the classes I took. It was definitely the biggest preparation being in a big city and navigating the different communities within the city, making friends, getting around by myself I think really prepared me. Being in a fast-paced city already prepares you for fast-paced environments. Now when I look back, I think I was able to come this far largely because of my college experience… It is definitely like throwing the baby in the water, you just have to learn how to swim.
Q. How did studying abroad in Paris influence you?
A. I think just being in a city that is so fashion-forward definitely changed the way I think about fashion. Beauty and simplicity… Parisians are chic and simple and effortlessly cool. So, I think that definitely has influenced my style. It even affected my writing for sure, I feel like the language is very poetic. 
Q. Did you always want to work for Vogue?
A. What I wanted to do did not become quite clear to me until my freshman year in high school. I just knew that magazines felt right for me. Even then when I realized that I didn't have the confidence in myself to think I could actually do it. So, that was a whole other journey or believing in myself in my writing and my creativity. I think even before I realized what I wanted to do, I definitely saw that those interests were there. Even as a little kid, I would make little books with pictures and collages out of old magazines. I was always fascinated by the editorial world, even though I didn't realize I could be a part of it… I think college is a great time if you haven't realized what specifically you want to do, maybe think back to your childhood and things that you enjoy. 
Q. What are your passions?
A. Beauty, writing, wellness, fitness, music.. .With beauty the umbrella is so big now it is no longer just products, it's skincare, mental health, it is like an inside out approach… if you feel good, you will look good. So, the fact that I can write about the things that I have always been obsessed with even as a little kid is exciting because for a long time I felt like I couldn't put all the things I like into one.
Q. How do you feel confident in yourself when working with so many women with cool/interesting aesthetics?
A. I think in general no matter your environment, it is important to recognize that you are a unique person and talented and as cheesy as it sounds, it's true that you are a more exciting version of you than a copy of someone else and you have to remember that in any space you go in. It also goes back to my earlier point of knowing your history. That is something that has given me a lot of confidence especially with minorities and minority women for so long we have not seen our images in magazines or on TV - at least not as frequent as the mainstream portrays so I think it is important to do your own digging and do your homework as to where you come from. For me that has given me a deep sense of comfort knowing that I have a really beautiful history of women and men before that look like me and brought something to the table and now I am just carrying that torch. That really anchors me especially in a space where I am one of few WOC. I also think making sure you are doing things authentically and not always because of how it looks. Always try to operate from an authentic place because that is where you produce your best, most honest work. 
Q. A piece of advice for navigating yourself?
A. I used to write lists in highschool of all the things I was good at whenever I felt like I was being hard on myself or comparing myself. I would then write a list of all the things I liked and wanted to do more of and simple things like that really ground me and remind me that I have a lot of things going for me so I shouldn't focus on the one or two things I don't have or am not doing like someone else.
Q. Do you think working for a company like Vogue is more about connections or luck?
A. I think it is a combination of all those things including hard work because it is essential to have a network while in college but I think if you do not have the hard work to back it up or the kindness/friendliness/work ethic/experience then the network does not really matter as much. For me, my friend only referred me to the Vogue job because she knew that I had written before and interned at magazines and that I am a good person. It is a mix of timing, hard work, and your network. It is important to be kind to be everybody because you never know who they are. 
Q. What does the typical day look like at Vogue?
A. Honestly, it changes every day but usually on a full day, I get my matcha (love matcha), catch up on my emails, if there is print stuff going on that means I usually have to look up what the next spreads are for the upcoming issue we are working on, I choose the spread that has the most beauty-focused shots, I write the beauty notes, check to see if the model has a contract with a certain beauty brand, work with brands to color match, I help the beauty director call in beauty products for any upcoming stories, I do beauty research, give the closet assistant direction, pitch meetings for website/print, and best beauty Instagrams of the week. 
Q. Where do you see yourself in ten years?
A. I could see myself consulting for beauty brands, writing for multiple magazines, owning my own schedule and time but still doing the things I am laying the groundwork for myself… 
Q. Potential for starting a beauty line?
A. My boyfriend and I have joked about it but I would be open to it. I still have to think about what it would have to be like skincare, makeup, or hair.  I could see it happening one day but probably further down the line. 
Q. What is your best piece of advice for an aspiring beauty writer like yourself?
A. Be yourself, work hard, and don't be afraid to reach out to those you look up to.
Q. What beauty treatment are you missing the most right now?
A. I miss massages and facials a lot because there is nothing like someone working out the stress. Massages were really essential to my stress and beauty routines especially from sitting in an office all day it is good to get that all out. I miss both of those things a lot but I am grateful for my health right now. 
Q. What makes you feel beautiful during quarantine?
A. I think doing a lot of yoga has made me feel grounded and confident but also, spending time with my family has made me feel beautiful. In a traditional sense, braiding my own hair has been really fun and just playing dress-up on days where I can't go anywhere. Even just a pop of lip liner or a fragrance - those little things can really boost your mood.