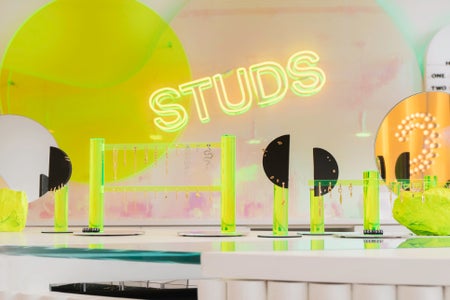 The Bright Future of Ear Piercing
The decision to stick a needle through your ear can be scary enough. Add a dingy tattoo parlor, inexperienced workers and an expensive price tag, piercings of any kind can turn into a cautionary tale. Walking into the bright storefront of Studs in Nolita feels like freeing yourself of memories of piercings past and entering a new world of hygiene, endless options and….earscaping?
When Studs first opened its doors in November, it had a clear mission in mind: revolutionize ear piercings with fun options, trained professionals, and inexpensive prices. Oh, and earscaping, which their website defines as "the combined art + science of decorating one's ear with personalized piercings + earrings, resulting in a form of extreme self-expression." Studs wants to make earrings a new way to reflect your style, explaining their wide range of piercing jewelry-- including an entire zodiac sign collection.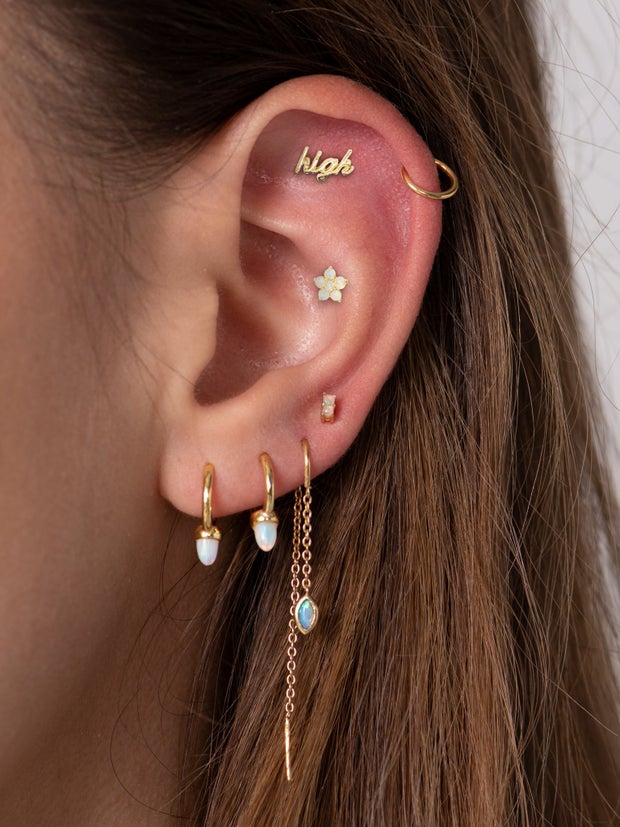 Studs Press Kit
"It's like interior design," says Emma Holland, Studs' senior brand marketing manager. "We wanted to offer something different than just a silver stud."
Experienced piercers know the dread of being pierced with a boring silver ball and having to wait three to 12 months to safely change the jewelry. With stylish piercing options and an entire "earbar" for customers to pursue and purchase from, Studs wants ears to become a place to don your personal style. "It's all about self-expression and having another way to show up in the world," says Holland.  
If your ear is already full or you are looking for new studs and hoops to reflect your personal style, this is where earscaping comes in. With curated looks on the website and instore and in-depth consultations with the piercers, Studs offers everything from massive dangly turtle earrings to understated lightning bolts.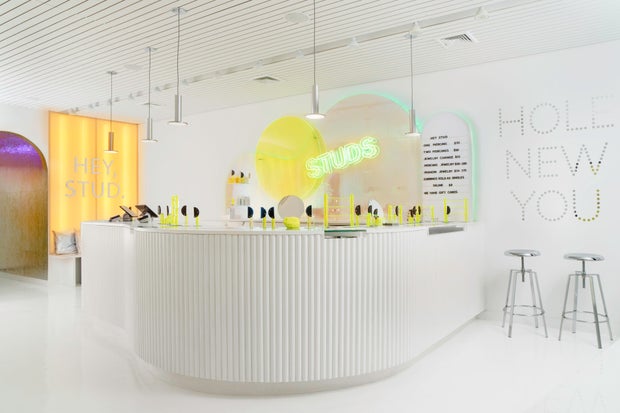 Studs Press Kit
For fickle customers, trained piercers conduct full consultations pre-needle to confirm the layout of your earscape. Once satisfied, blue-haired piercers take customers into the back for the moment of truth. With a thrice-pierced nose and six years of experience, piercer Sage Royal's "Are you ready?" sounds comforting even with a needle approaching your skin. 
With bright yellow walls and silver couches brimming with pillows, Studs stands apart from other piercing establishments, not just dark tattoo parlors, but also Claire's-esque mall haunts. "We want this to be a great place for all ages that doesn't pierce with guns or cost a fortune," says Holland. Piercings are a flat rate of $35 or $50 for two with jewelry starting at $30. 
Studs take appointments every day from 10 a.m.- 4 p.m.. After that, a long line of expectant patrons line Prince Street hoping to sneak in a needlepoint of glam to cap their afternoon. One such person got there early to snag a spot near the front. "My friend had shown me Studs on Instagram," says NYU student Cosette Terriquez, "and I immediately decided I would go the following weekend." Terriquez had gotten two piercings that day and cannot wait until they heal so she can go back and experiment with different earring combinations. "I already have an appointment for next month!"
To make an appointment, purchase jewelery or learn about their new Hudson Yards location, check out their website here!