On November 11, I received an email from Jonathan Sandler who is currently based in West London asking if I was still accepting Author Spotlight requests. In my two years of writing this blog, this was the first time I received an inquiry from an author directly, so I was already very excited to interview him. My excitement only grew when he told me about the NYU roots in his graphic memoir "The English GI: World War II Graphic Memoir of a Yorkshire Schoolboy's Adventure in the United States and Europe." Due to scheduling conflicts, the interview had kept getting pushed back until recently when he reached out saying he was visiting New York City for only a few days. This interview keeps becoming memorable for me since this was my first in-person interview I conducted for my blog.
"The English GI" is a graphic novel adaptation of Sandler's grandfather's original World War II memoir which was published in 1995. His grandfather, Bernard Sandler, attended NYU during World War II before heading into battle in France. The graphic novel follows Bernard Sandler, a 17-year-old schoolboy from Yorkshire, who is on a school trip to the United States and consequently finds himself unable to return home, separated from his close-knit Jewish family in Britain.
Stranded in cosmopolitan New York for an unknown duration, he must grow up quickly. He discovers the pleasures and excitement of Broadway theatre and jazz while developing his own social circle at New York University. But just as he finds his independence, the United States declares war in December 1941, which changes his life once again. Bernard is drafted into the United States Army, joining the 26th Infantry "Yankee" Division. Eventually, he returns to Europe, serving on the front lines alongside General Patton's Third Army during the brutal Lorraine Campaign in Northern France in the fall of 1944.
The book also follows the remarkable story of Bernard's family in England, and the fate of his wider family in Latvia (whom he visited in an epic journey in 1937, also as a schoolboy), during this period.

Jonathan Sandler studied Politics at Leicester University and has spent a large part of his career working in software industry leading and managing complex projects. Jonathan, a keen sketcher, has always been passionate about World War Two history and graphic novels. In 2020, he combined these dual interests and commenced work on "The English GI" which was published by graphicmemoir.co.uk in 2022.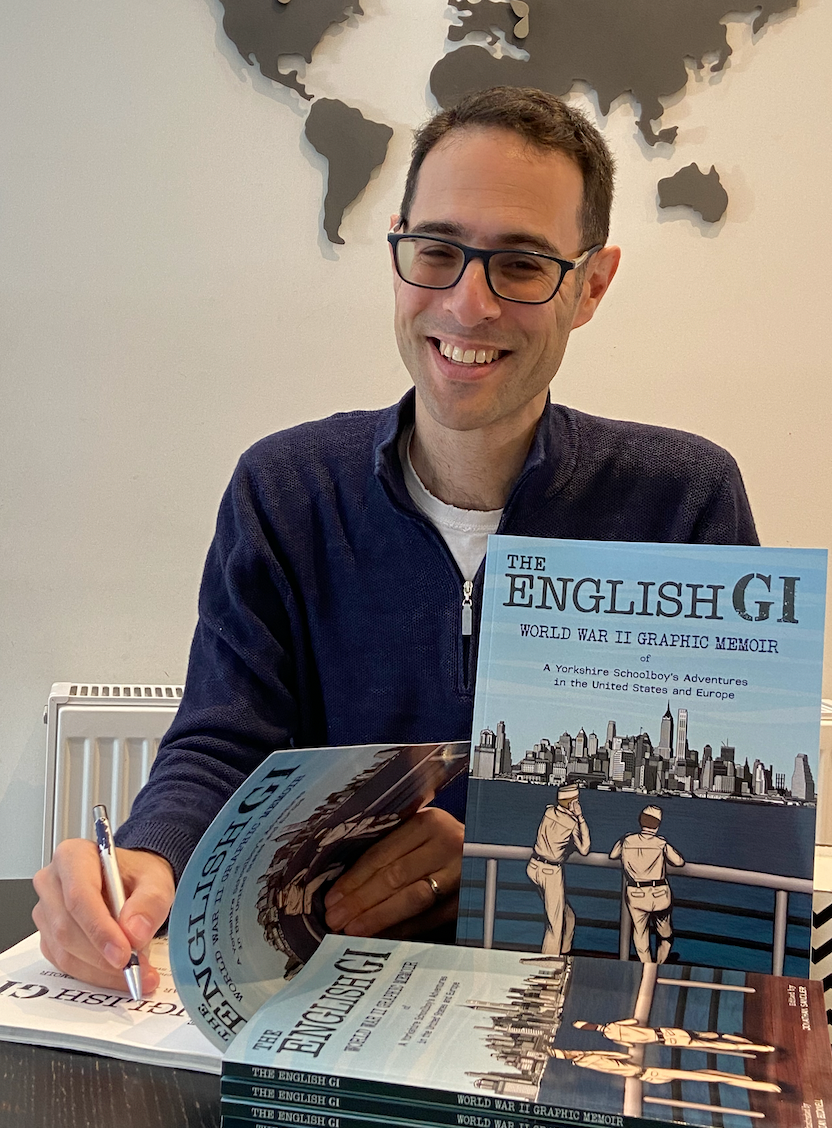 What made you decide to produce a graphic memoir based on your grandfather's memoir rather than rewrite your grandfather's novel for a younger audience? What do you hope this graphic medium will accomplish for your readers?
I've always been a fan of graphic novels. So, I thought this would be a useful opportunity to do one. In the back of my mind, I've always wanted to do a graphic novel, and I was talking about the story of my grandfather with my son. It was one of those moments that I thought 'you know what, let's redo this into a graphic novel.' It was this idea lurking in the back of my mind and a few years ago, I said 'I'd like to do a graphic novel' one day but it never really happened so the opportunity arose.
I feel like there are so many thousands of books out there that I wanted people to read the story and felt [making into a graphic memoir] would make it more accessible. If I gave it to a friend of my parents or a friend of mine, the commitment to reading the book is maybe two or three hours. Whereas you're reading a proper book, and it's more daunting so I thought that was another rationale behind [making my book a graphic memoir.]
Your grandfather's memoir mentions his time at NYU and how it "opened [his] eyes to the wider world [he] was living in [which helped him] realize why the different races immigrated to America." As someone living in London, what about New York has changed your perspective when it comes to what your grandfather said?
My grandfather came to New York, and he was just enthralled by the multicultural environment [such as] the jazz music [and] the theater. But he always said it was a tough place to be [since] there was a lot of poverty and harshness about the place. It was a lot of mixed feelings. The story of discovery about a young innocent boy who is in this metropolis and NYU was part of that story because he started at NYU [on] September 1940 and that's where he met my grandmother as well.
In the Introduction, you write that you hope that readers may "be inspired to research their own ancestry." What else do you hope this graphic memoir about your family will accomplish for your audience who are not directly blood related to your family?
I think everyone has grandparents and great-grandparents [who] have a story relating to World War II. Some people just don't know the story. And that's not always that easy to find out but I hope this will make people more curious. I've spoken to several people who are excited to find out more about their heritage and their family's stories.
Even though your work is inspired by your grandfather, what is something you want your audience to know about you or a point that you'd like to get across that emphasizes who you are as an author?
My process was really to take the words that my grandfather did and not change them too much. There wasn't a huge amount of me being an author and getting that point across. I suggest the intervention that I did was research and working out the story. I found memoirs of people who served so I really wanted to make sure that it was factually correct as much as possible. I think there were so many interesting stories so I got in touch with people that would be the sons or daughters of people who served during the same time as my grandfather. I'm using their stories in this book so there were two or three examples of that.
What are some fond memories you have of your grandfather that no one knows about but that you value and treasure?
My grandfather had an extraordinary life. He lived until the age of 75 which was relatively young. He was really passionate about the arts and theater. He did quite well commercially so he was able to come to New York in his later years. He always just went to the theater [since] that was his passion and the visual arts as well. As a young boy, I was taken around, so I went to the theater and art galleries.
Is there anything you'd like to emphasize about your self-published novel?
There's a reluctance from a lot of people that comics are not real books and actually there is a whole world out there about graphic novels. But I think people just need to know about them especially in the western world sine graphic novels are very much a niche.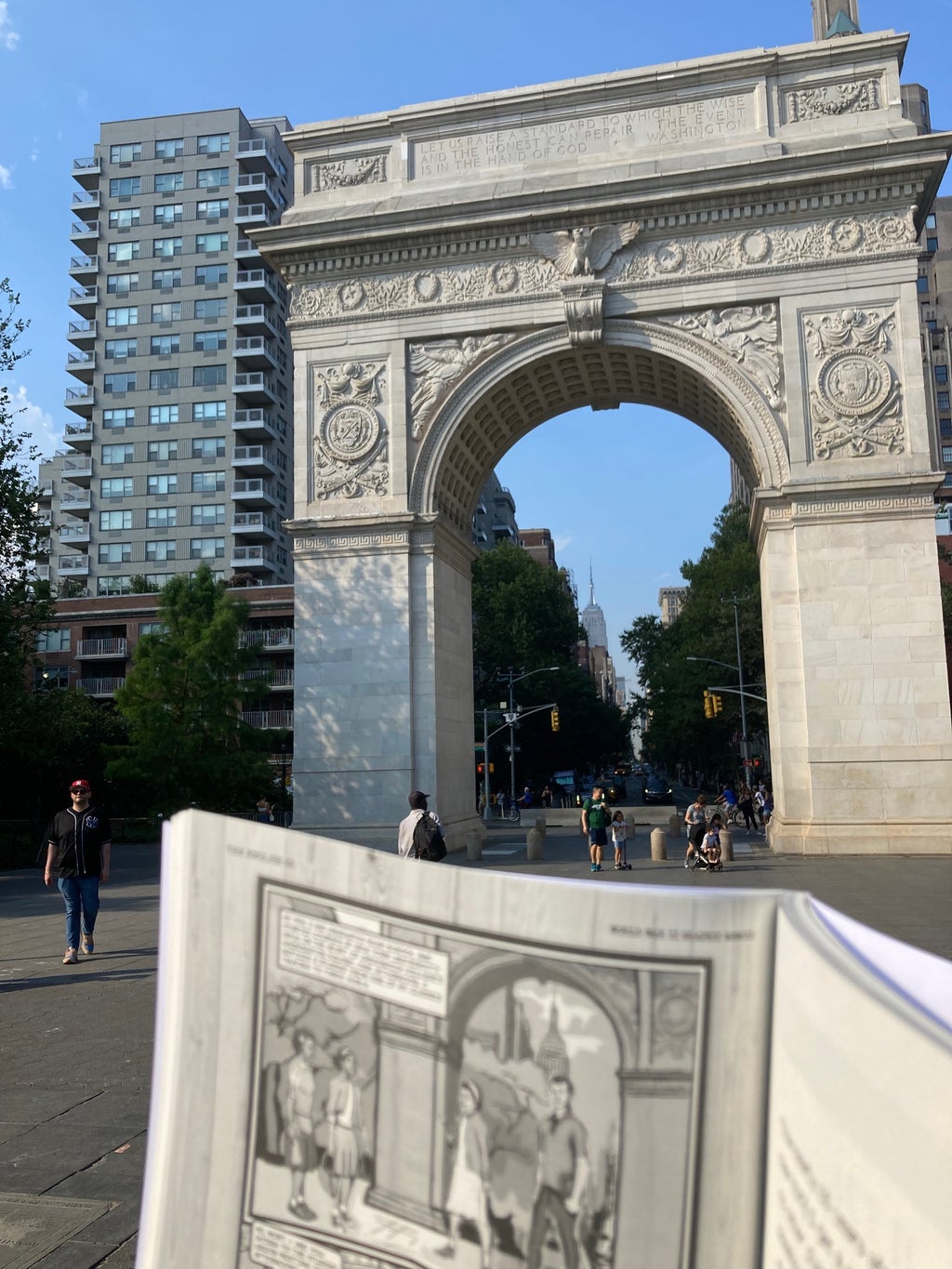 Thank you so much Jonathan for reaching out to me about this! It was lovely to meet you in person after so many emails back and forth since November. Hearing more about your grandfather and what he went though during his time in New York reminded me of my own grandparents and their journey to the United States. Wishing you the best with the success of your novel, and hope to see your name come up again in hopefully another graphic novel!