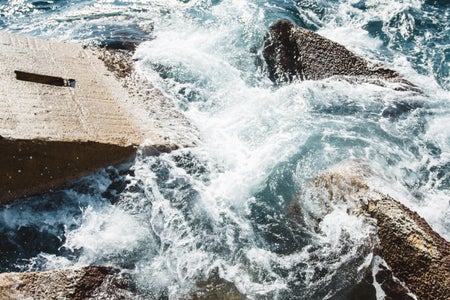 Cameron Smith / Her Campus
Anaya's Film Reviews: 'Waves' (2019)
On the night of November 27, 2019, I had the chance to see Waves (2019) in theaters at the Angelika Film Center located in New York City. It was written, produced, and directed by American filmmaker Tyler Edward Shults and stars Kelvin Harrison Jr., Lucas Hedges, Taylor Russell, Alexa Demie, Renée Elise Goldsberry, and Sterling K. Brown. If I'm being honest, I had no idea what to expect when walking into the theaters to watch this film. The trailer did a great job of not giving away the plot to the audience, unlike many films of today. I knew I was in for a wild ride when given a sneak peek of the fantastic cinematography and stellar soundtrack featuring Frank's Ocean's "Godspeed." My intuition was proven correct.
Now, after my first watch of this film, I did not know how to feel about it. I didn't know if I liked it or hated it.  Personally, I have to sit on a film for a few days until I could conjure up some form of an opinion. But, when the credits began to roll, I immediately rated it 3 stars accompanied by a letterbox review that read "whewwww chile, the chaos…" Again, I didn't know how to feel about it. For context, without spoiling the plot of this film, the first half of the movie starts off slow. We see Tyler's (Kelvin Harrison Jr.) life, which mainly revolves around his relationships and his life. He balances his wrestling career along with his relationships with his father and his girlfriend, Alexis (Alexa Demie). The turning point of this film is what transitions us to the second half. The second half does something completely different, it switches the perspective. Instead of focusing on Tyler, we are now viewing the film through the perspective of his sister Emily (Taylor Russell). This half's focus on Emily as she tries to cope with said tragedy is what turns this film upside down. This gives Waves a unique touch because if you split this movie in half, you could easily have two standalone films. And at first, I didn't know if I liked this move Shults chose to make, but it wasn't until my second interaction with the film that I learned to appreciate it.
About 2 months later, I decided to read a little bit of the screenplay of Shult's Waves, mostly because I couldn't get its tumultuous plot out of my head. And by the fifth page, I was hooked. "Maybe this story fits better on paper rather than a screen," I thought to myself. But after I convinced myself to give Waves another watch on January 22, 2020, I found myself actually enjoying the film more. Upon my second rewatch, I learned to respect the chaos Waves catapults the audience into throughout this film. 
This movie runs for 135 minutes, and while sitting through this film for the first time, I did feel like it dragged a bit. But after reading a bit of the screenplay and giving Waves another chance, I understood that Shults did an excellent job at pacing Waves in the best way he could from script to screen. Now, I will say that this film definitely isn't for everyone. At times, I even found myself making bewildered faces at scenes that I found a bit silly and laughed at the cringey dialogue. But, in the end, I can truthfully say that I did enjoy this film to some degree. What makes me not totally despise this film is the acting, the cinematography, and the amazing soundtrack that makes this drama/musical a vibrant and well-produced project. If you have the time, I think Waves is worth the watch because it is an experience that will leave you thinking about the plot for days. I know it did for me.