The Ultimate Bucket List For Final Year Students
You may have just started your final year at University *cries.*
You may have only just begun *cheers.*Or, you may be somewhere in the middle *mixture of two emotions above.*
Whoever you are, you almost certainly need a bucket list for your time at Nottingham. Being the darlings that we are, Her Campus have generously given you a head start…
1.Get a photo in front of the Robin Hood statue.
This is a crucial 'must have' photo, almost as important as your graduation picture! Make sure to visit Nottingham castle to snap this memory and get a taste of Nottingham's medieval culture.
2. Go to every student night in Nottingham. Whether it's a Crisis Wednesday, an Ocean Friday or a regrettable Oceana Monday, make sure you visit all of the clubs Nottingham has to offer! If you dare, you may even attempt the dreaded 'Ocean Shift,' a 9.30-3.30 time lapse which is not for the faint-hearted.
3. Visit the castle during the Robin Hood Pageant. Okay, I get it. Nottingham definitely over-uses the whole Robin Hood thing, but it is pretty cool, right? As part of the October festival, Nottingham Castle hosts a 'Robin Hood Pageant' in which the local community dress up and re-enact the medieval era. Why not pop along to this event?
4.Snap a photo in front of the Nottingham sign on Uni Park Campus – double points if you're wearing your graduation gown!
5.Attend the 7-legged bar crawl! This night is absolutely legendary and a night that you will never forget (although your memories may be clouded by alcohol!)
Seven friends + fancy dress + legs tied together + alcohol. What could possibly go wrong?
6. Complete one of the food-related challenges at the Rose and Crown.
Try your hand at a super-size food-eating contest. Whether you choose to battle the Fire Extinguisher Hot Wings, the Trash Can Challenge, the 32oz Steak Challenge or traditional Mighty Burger Challenge, anything is a welcome change from pasta and potatoes.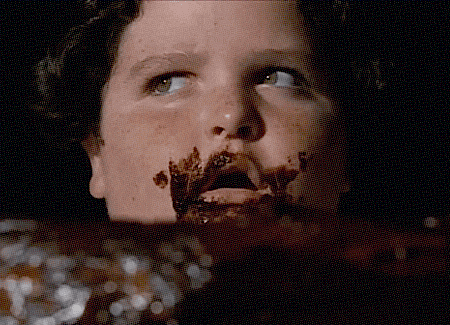 'You can do it Brucie!'
7.Head down to the Lace Market and pay a visit to Bunk on a Tuesday for Chicken wings and Cocktail deals.
Because, really… is there any better pairing than wings and cocktails?I didn't think so!
8. Find the secret door and try the spectacular and science-y cocktails at the Boilermaker in town!
9. Hire a canoe and go boating on Nottingham Lake, (note: try not to fall in!)
10. Have a Halloween house party! Because Students love a bit of fancy dress…
11. Attend the Holi on the Downs festival and take out your passive aggressiveness towards your house mates via powder paint.
12. See a concert at Rock City or Capital FM Arena!
Now that we've started you off, it's your turn! And believe me, once you get started on compiling a list, the possibilities are endless…
Edited by Lucy Jackman
Sources:
http://www.flaminggrillpubs.com/flaming-challenge/
https://media.giphy.com/media/cOWNPwDDh1tYs/giphy.gif
https://i.embed.ly/1/display/resize?key=1e6a1a1efdb011df84894040444cdc60&url=http%3A%2F%2Fpbs.twimg.com%2Fmedia%2FBpc0OsNIUAAcQxk.jpg
https://scontent-lhr3-1.xx.fbcdn.net/hphotos-prn2/v/t1.0-9/1375989_10202192883202021_392156076_n.jpg?oh=79c4062dad153241120f8e399bc95cae&oe=5690C7B1
http://www.flaminggrillpubs.com/Media/Images/food/flaming-challenges/challenge-2-burger.jpg
https://media.giphy.com/media/cOWNPwDDh1tYs/giphy.gif
http://or8design.com/wp-content/uploads/2015/02/1912541_661575147297948_8398806148123863806_n1.jpg
https://www.nottingham.ac.uk/conference/fac-arts/clas/calfac/images/home-rotate/highfields-boating-lake.jpg
https://scontent-lhr3-1.xx.fbcdn.net/hphotos-xfp1/v/t1.0-9/923022_10201139842958991_1618738066_n.jpg?oh=a8edc25dee0807221aaad11737feec99&oe=56D26441
http://www.alumni.nottingham.ac.uk/NetCommunity/image/Alumni-2014-Events/Holi-on-the-downs-Johnny-S-Photography.jpg
https://s3.amazonaws.com/marklatham-site%2F604-architects-nottingham-rock-city-26-04-2011-20110427/Architects_Nottingham-DSC7499.jpg
http://www.archwayhouse-sherwood.co.uk/out_about.htm