Top five anti-Valentine's day movies
Ah, Valentine's Day. It's the one day in the year that clearly defines whether you're single or in a relationship to the world; if you're in a relationship, you have the pressure of having the most romantic day ever, and if you're not, there's not much that you can do other than sit at home (or go out partying, but that might lead to ill-advised decisions). As somebody that is single around this time of year, I've collected all of my favorite movies that not only do away with the golden, fairy-tale ending, but some hate love all together! It's time to feel seasonal!
IT FOLLOWS
Before beginning this list, I found that most movies that show being in love can also be fatal are typically classed as 'horror movies' – there's definitely a story there, but oh well. 'It Follows' in an indie-horror flick released in 2014 to critically acclaim, showing a girl that is fatally infected with a disease that causes a monster to follow the infected at a walking pace, but never stopping and never getting tired. Watch it if you feel like being single is most possible the worst thing that can happen to you.
HEATHERS Partially created as a response to the John Hughes' prototype of a cheesy 80's teen romance movies, 'Heathers' is a classic for many reasons: Winona Ryder plays the main character named Heather (obviously), the dialogue is snappy, and the film all around develops a toxic relationship while lamenting the real issues with growing up. With a body count. Watch it if you're feeling cynical about the fabricated love found in nearly all movies, or if you're just in the mood for a good film.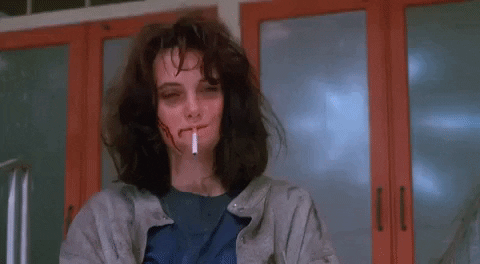 BLUE VALENTINE
Blue Valentine is the undying classic of anti-valentine movies. There's no movie that so accurately shown a couple falling out of love, or just showing that love isn't always enough. Ryan Gosling and Michelle Williams star in the 2011 film that is sure to devastate even the most optimistic of people. It's raw, and tender, and real; a movie to watch if you're just out of a relationship or have your heart broken.
500 DAYS OF SUMMER '500 Days of Summer' is one of the most misunderstood movies of modern cinema, largely because we see it from the protagonists' perspective. Joseph Gordon-Levitt and Zooey Deschanel play Tom and Summer, and navigate their failed relationship in a non-linear structure. As the movie itself says, "This is not a love story. It's a story about love", which especially around Valentine's Day, is something that everybody can appreciate.
GONE GIRL 'Gone Girl' is a movie where Nick's wife suddenly goes missing and all signs start to lead to it being him and the question begins to be asked, "Did he murder his wife?". It's a chilling thriller that showcases Rosamund Pike and Ben Affleck at their best, and shows that there can be a monster hidden under the surface. The 'Cool Girl' monologue is life-changing. It's definitely the worst type of movie to watch on your first date, so the best type of movie to appear on this list!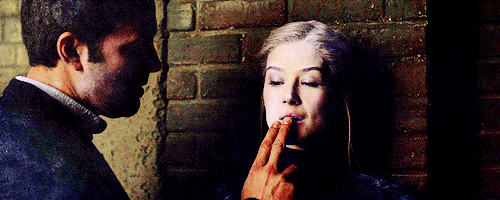 FATAL ATTRACTION Just as Oscar Season rolls around the corner and Glenn Close is considered to be a shoe-in for the Best Actress award, 'Fatal Attraction' is the movie where she really should have won her first Oscar. As the name suggests, the movie shows just how dangerous the dating life and can be. It follows how disastrous a casual fling can become and the devastating effect it can have on your personal life – personally, I'll watch this when I'm next feeling lonely.
GET OUT Like 'Gone Girl', 'Get Out' had couples cringing in their cinema seats when they went to go see this for the first time. It's a thriller that has received an outpour of critical acclaim, being awarded the Best Original Screenplay; a smart and brutal movie, it shows Chris (played by Daniel Kaluuya) meeting his girlfriend Rose's family for the first time. What can go wrong?
LA LA LAND 'La La Land' may seem to not belong to this list at first, seeing as the movie largely centers on the romantic relationship between Mia and Sebastian as they navigate their budding careers in sunny Los Angeles. But this movie is especially important when nearing the end of university life: it shows the struggle of importance between love and your career, and which one you should ultimately choose. Watch if you're struggling to accommodate love in your life, or if you want to feel better after deciding to focus on yourself.
THE SHINING Did we really need another horror movie in this list? Definitely! 'The Shining' is a classic, in terms of the horror genre and movies in general. It depicts Jack's downturn into madness and the negative effects it will have on his family as they stay at a hotel to battle his writer's block. Easily the most iconic movie on this list, it really shows that sometimes it's easier to just stay single! But just remember to watch this movie with the lights on.
DREAMGIRLS So many of these movies depict love as a negative or fatal thing, but really, that's not what single is being about – sometimes, it's more about friendship. Adapted from the Broadway show, 'Dreamgirls' is a 2006 with Jennifer Hudson in her Oscar-winning role. While it focuses more about fame, it does show that sometimes love is punishing as well as it is rewarding and how friendship is always more important. It has really good music, as well as the opportunity to see if Beyoncé can act (spoiler alert: not very well).