Every person I know who has ever gone to ND has always included football as one of the top reasons why they love this school so much. So, when we received the verdict that we would be able to attend the first home game in-person, you can bet that I ran to my laptop to purchase my tickets and then to the bookstore to find a game-day outfit. I had no idea what to expect, what with all the restrictions, but I have to say that my first ND football game did not disappoint!
The morning started much earlier than I had expected; the boys' dorm right by mine got a headstart on the festivities with an 8am slip-n-slide and a dance party to the ND Fight Song remixes. I could just tell that campus was already buzzing; after a lot of uncertainties, everyone was looking forward to taking part in one of the most fun and important traditions on campus! While there was no band playing before the game and no tailgating, campus was by no means dead. Music was blasting from the corners of every quad, and the atmosphere was absolutely electric. 
Stepping outside, the first thing I noticed were all of the fits. Seriously, everyone on campus looked straight out of a Hammes Bookstore advertisement! I saw everything from shiny gold skirts to green body glitter to knee-high shamrock socks, and of course, every look was complete with The Shirt for this year's first game. It was so fun seeing how much spirit everyone has for this school. It was always something I knew, but seeing it firsthand is incredible!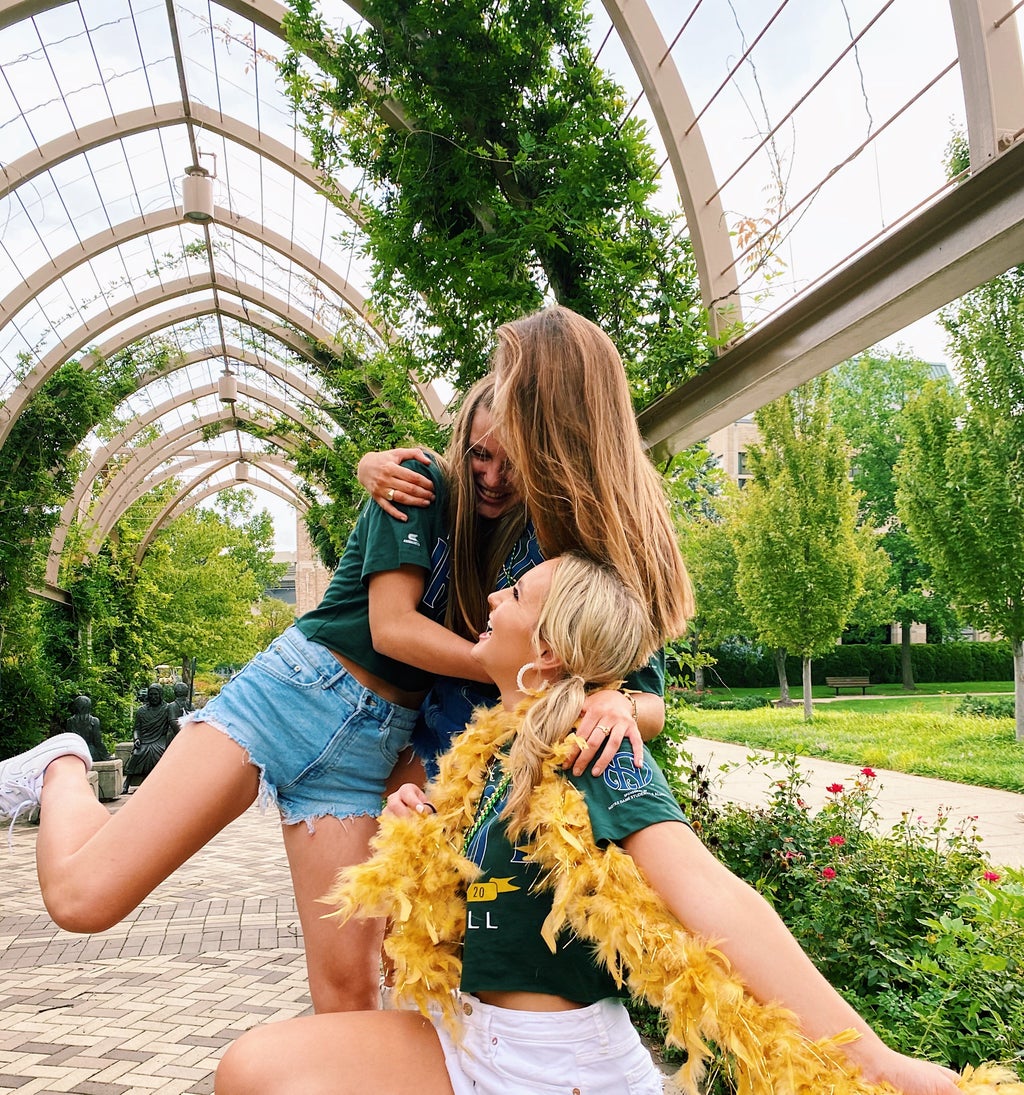 Entering the stadium itself was a completely different experience. It was a little strange seeing the usually bursting stands sparsely filled with students to maintain social distancing, but all I could think about was how lucky we were to be there. The chants and cheers did not let up, and everyone was on their feet, jumping up and down and dancing in hopes of being featured on the Jumbotron. I am proud to report that after consistent screaming and cheering, my roommates and I were in fact featured on the big screen, so I can officially check that off my bucket list. Also, getting to hear the band in the actual stadium was awesome- major props to them for busting out the Mr. Brightside instrumental in the second half. Overall, the energy was absolutely insane; it was nothing I have ever experienced before, and I know it's just going to make "normal" game days ten times more exciting!!! 
The game itself perhaps wasn't the most amazing performance put on by the Fighting Irish, but a win is a win! We put the Blue Devils in their place and ended with a 27-13 score. Still enough points to make your arms feel like jelly when participating in touchdown push-ups! 
My favorite part of the entire game was the end when everyone in the stadium joined together to sing the Alma Mater. It's hard not to get a little teary-eyed as you stare across the field at everyone swaying and singing together, for it just reminded me again of how fortunate we are to be HERE (are you tired of hearing that yet?) and how extraordinary the Notre Dame community is. We have all been through so much together the last month, and yet campus has remained a place of excitement and joy, even with everything that has been going on.
The weather was kind of dreary on Saturday and everyone seemed to be exhausted, so my friends and I crashed, rallied and then spent the rest of the night hanging out at a fire pit on Library Lawn, discussing everything that happened that day. I'm currently still trying to get through my Instagram feed filled with gameday pics, but I'm definitely not mad about it; I love seeing the school spirit everyone here has. Overall, my first game day at ND was an experience I will never forget, and I know it's going to be just as memorable the same time next week as we take on South Florida. And with that being said, GO IRISH!!!
Follow HCND on Twitter, like us on Facebook, Pin with us and show our Instagram some love!