Top 10 Things To Do Over Fall Break
The end is in sight! Only a week and a half of classes and midterms before we embark on break, the dome receding in our rearview mirrors...
Whether you're going home, staying here, or going on some other kind of adventure that includes down-time (sorry Appalachia people - you guys are admirable), here are ten things to put on your schedule for the upcoming week of R&R:
1. Get your nails done
Hit up your favorite local spa and induldge in a relaxing mani/pedi session. If you'll be at home, consider bringing your mom/grandmother/open-minded dad and turning it into a family outing. Check out OPI's fabulous Nordic collection for fall 2014 here.
2. Go shopping for Halloween costumes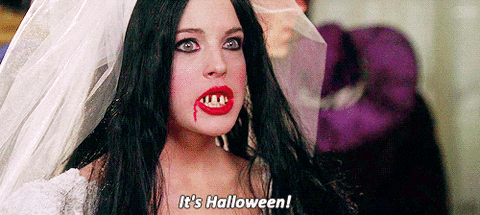 Halloween is on the friday night after we get back from break! Yes, it's going to be an epic Halloween weekend, and fall break is the perfect time to go on a lengthy costume search. You can even make a few unique costumes of your own if you have the time! (Check out this Buzzfeed article for inspiration.)
3. Eat at your favorite restaurant
A week at home is the perfect opporunity to visit all of your favorite local eateries (on your parents' dime...). If you're away from home, still be sure to indulge in quality restaurant food and cleanse your system of the last 8 weeks of dining hall fare.
4. Make a photo collage
At this point in the semester, you've accumulated photos from many football weekends, dances, and other fun nights with friends. This is the perfect opportunity to put those pictures together into an old-school collage for your dorm room. If you're less craft-inclinded, consider making a sleek one on Shutterfly.
5. Read something fun
I wouldn't recommend trying to conquer Moby Dick or Plato's Republic over this very short, precious break from academia. However, fall break is a great time to pick up short, funny books like Bossypants by Tina Fey, Is Everyone Hanging Out Without Me? by Mindy Kaling, or Lena Dunham's new book Not That Kind of Girl.
6. Enjoy a guilt-free Netflix session
Over fall break, Netflix does not equal procrastination. Take an evening to explore some classic films on Netflix (like the brat-pack movies: St. Elmo's Fire, The Breakfast Club, and Pretty in Pink) or watch a few episodes of that series that all of your friends talk about but you've never seen (House of Cards anyone?). Ultimately, it's not what you watch that's important, it's the glorious feeling of watching Netflix wtihout feeling like you should be doing something else. For movie suggestions, click here.
7. Catch up with high school friends
Though many colleges do not have the luxury of a week-long fall break, if you have any friends who do, this is a great opportunity to get coffee and catch up. Also, if you have friends at nearby universities, consider spending a weekend with them and exprerience another college! 
8. Shop for SYR outfits/formal dresses
Do you have an SYR or formal coming up before winter break? This is the time to shop! Bring your mom, your friends, or just go on your own to find great dress options (particularly if your break is somewhere outside of South Bend, with a bit more of a fashion market).
9. Revamp your wardrobe for winter
Unfortunately, we must face the reality that shorts/tank top season is not coming back anytime soon. Fall break is the perfect time to take home the majority of your summer clothes and bring back heavier coats and sweaters from home. 
10. SLEEP
The onslaught of midterms steals from sleep until we are worn down, ill, and have damaged our stomachs from excessive coffee consumption. So when the madness is finally done, indulge in some much needed rest.
Shakespeare knew the importance of some quality shut-eye: Sleep that knits up the ravelled sleeve of care, / The death of each day's life, sore labour's bath / Balm of hurt minds, great nature's second course, / Chief nourisher in life's feast
ALL LESS THAN 2 WEEKS AWAY!
Follow the HCND Pinterest account, pin with us, and remember to keep posted with HCND on Twitter, Instagram, and Facebook!
Images: 1, 2 (provided by author), 3 (provided by author), 4, 5, 6
Sources: 1