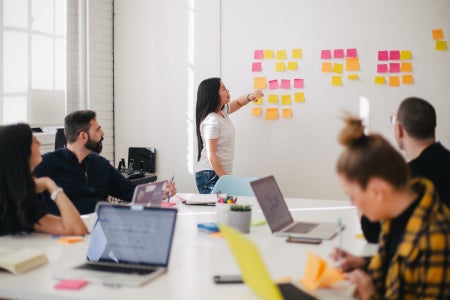 Tips for Finding a Summer Internship
It's easy to get stressed about finding an internship, especially when comparing yourself to friends or classmates who already have summer plans. Even if you have to email organizations and work to create your own experience, there are many different ways to secure summer opportunities that interest you and will further your career goals!
Based on the lessons I've learned over the past three internship-search cycles, here are some tips for finding meaningful summer opportunities. 
1.

Email organizations you're interested in, even if they don't have an internship posting.

I used to think that "true" internships were only positions posted on sites like LinkedIn, but in actuality, the definition of an internship is much wider. Not everyone gets their internship by submitting an application on a job search site. You can "create" your own internship by emailing organizations and asking if they'd be open to having an intern.

Last summer, I wanted to work at an education nonprofit, since I had been interested in education for a while. I did some searching online to find local organizations, then emailed these nonprofits with my resume, asking if they'd like an intern for the summer. Through these emails, I was eventually connected with the Executive Director of the Cleveland Transformation Alliance. She was in the process of creating a research internship, but hadn't posted it yet. Since I emailed them so early, I was offered the position!

Even if you can only find a generic "[email protected]" email on an organization's website, send in your resume anyway. The worst thing that can happen is they won't see it or won't respond. The best case scenario is that they express interest in having you as an intern!

2.

You can get funding from the Center for Career Development!

Some internships are unpaid or underpaid. To address this issue and make opportunities more financially feasible for all students, the Center for Career Development (CCD) has a summer funding program. Students participating in unpaid internships (or paid opportunities that don't cover their full cost of living) can get funds to help them break even for the summer. You must have an internship that meets certain parameters set by the CCD, then fill out a form to apply.

3.

Create a resume and/or portfolio and cover letter before you start applying.

Having the materials ready ahead of time makes it much quicker and easier to apply to positions once they're posted! Although you'll need to change your cover letter for each application, it helps to have a template to work with. The CCD offers cover letter and resume reviews if you're looking for feedback!

If you plan on applying for internships that might require a portfolio of work, build that before you start applying as well. Notion has a "share to the web" function that creates a link to your page, allowing you to create a "website" for free!

4.

Create a spreadsheet to stay organized.

Especially if you're planning to apply to several opportunities, it's a good idea to make a list so you can stay on top of deadlines. I created a table on my Notion to keep track of my applications this year. I made different columns for their deadlines, official position titles, links to apply and more. 

5.

Even if you find opportunities after the deadline, still apply!

I found an internship with Cleveland Magazine that interested me, but the deadline had already passed by the time I discovered it. I emailed my resume and writing samples anyway, and I got a response from the editor asking if I'd be interested in interviewing for a different internship of theirs that was still open. I was just offered the position this week, and I'm so excited!